In what was supposed to be a demonstration of its safety features, the test of a Volvo sedan showed exactly what the car was not supposed to do.
Though it was originally billed as a test to showcase the car's self-parking capability, the Swedish auto manufacturer clarified that it appears to actually be a demo of the car's pedestrian detection and auto-braking systems. You wouldn't know it though if you watched a video of the demonstration.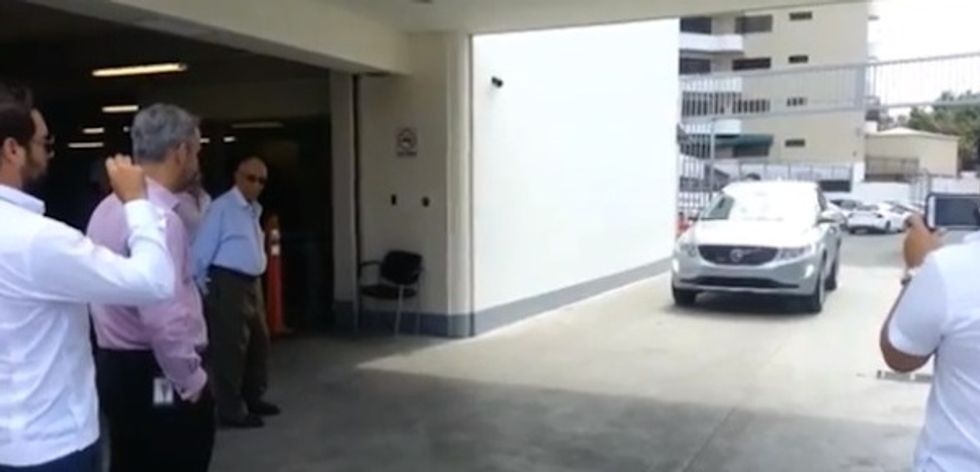 Image source: YouTube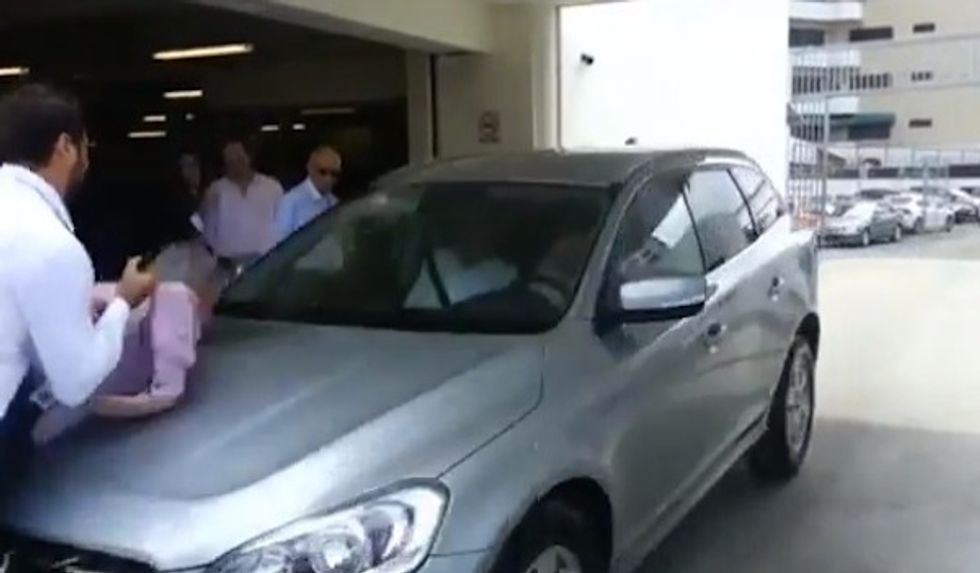 Image source: YouTube
A group of bystanders in the now viral video apparently shot in the Dominican Republic took pictures as the Volvo XC60 backed up. Then, without warning, the car plowed toward them, didn't stop and hit two men.
Just watch:
According to the description accompanying the footage posted to YouTube, the men were bruised but otherwise fine.
"Our sources tell us that the vehicle didn't have the 'City-Safety' feature installed," Remolacha reported.
But Fusion got in touch with Volvo and said its response was "also a bit disturbing."
"It seems they are trying to demonstrate pedestrian detection and auto-braking," Johan Larsson, the company's spokesman, told Fusion in an email. "Unfortunately, there were some issues in the way the test was conducted."
Larsson explained further that the safety feature costs extra and it appears that the vehicle in question didn't have it.
"The Volvo XC60 comes with City Safety as a standard feature however this does not include the Pedestrian Detection functionality," Larsson said.
He also said that even if the car did have this added feature, he thinks it might not have been deployed due to the driver's action.
"The pedestrian detection would likely have been inactivated due to the driver inactivating it by intentionally and actively accelerating," Larsson told Fusion. "Hence, the auto braking function is overrided by the driver and deactivated."
When the company announced this feature in 2012, it explained that it worked when the car was driving slower than 21.7 mph, detecting a pedestrian using a radar unit and camera. If the driver doesn't react in time to stop, the car's auto control brakes the vehicle and, in some cases, deploys an outside airbag to help cushion the blow to pedestrians.
Watch how it's supposed to work:
Larsson added that the company "strongly recommends to never perform tests towards real humans," even if safety features are installed.
(H/T: SlashGear)