Mexican climbers have reported finding frozen mummies where a glacier once stood atop Mexico's tallest peak.
The remains are believed to be two of three explorers who went missing in a 1959 avalanche and were discovered about 3,200 feet from Pico de Orizaba, Mexico's tallest mountain and North America's third-tallest mountain, the United Kingdom's Express reported.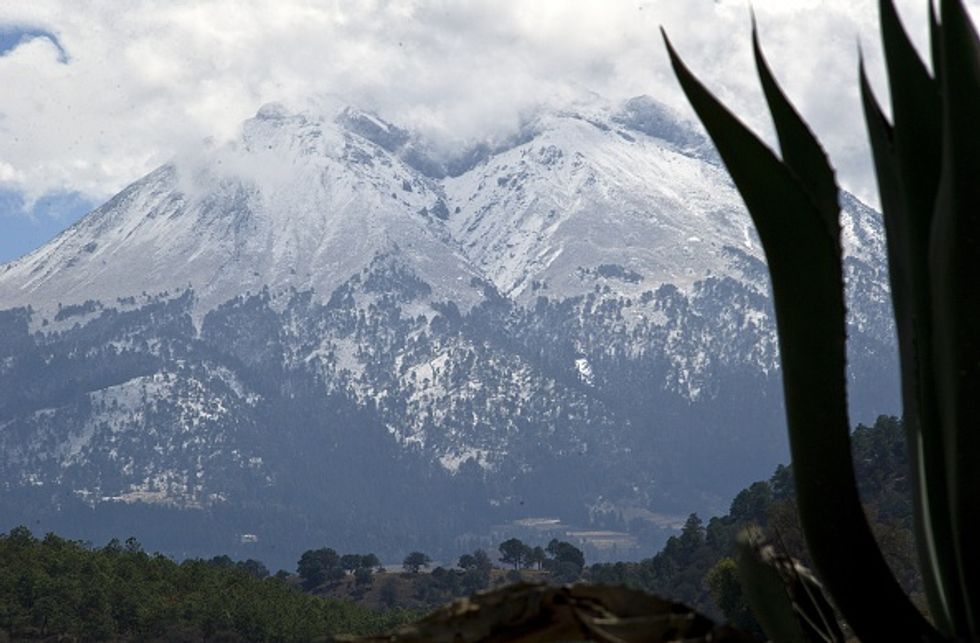 Picture taken from Tlatichuca, state of Puebla, Mexico, on March 13, 2015 of the Pico de Orizaba mountain, where four climbers died in 1959. (RONALDO SCHEMIDT/AFP/Getty Images)
The bodies were found poking out of what was once a glacier more than 17,000 feet above the ground.
Climbers recently found only a head and a hand but they later determined the body parts were those of two different people. The hand appeared to be clutching the other individual.
Three people died in the 1959 incident and three others survived.
Whoa...Mummified bodies found on #Mexico's Pico de Orizaba believed to be climbers from 1959 http://t.co/fBLKbJromZ pic.twitter.com/TPhwbMWiGW

— Laura Dimon (@LauraDimon) April 20, 2015
Hasta noviembre rescatarán alpinistas momificados del Pico de Orizaba. Informactivate aquí: http://t.co/fVr1sWDy8d. pic.twitter.com/zYh0t8RLWL

— Imagen Informactiva (@informactiva) April 18, 2015
Búsqueda de restos del Pico de Orizaba, en noviembre, adelanta edil de Chalchicomula http://t.co/t1zVNzuVPJ pic.twitter.com/x0FPCtYkXe

— Puebla On Line (@Pueblaonline) April 16, 2015
Mayor Juan Navarro of the nearby town of Chalchicomula de Sesma said the bodies still had some skin, tissue and clothing on them. Navarro said officials will eventually recover the bodies but that recent weather, combined with the steep slope of the mountain, has made that difficult.
"They are practically planted in concrete," Navarro said.
Luis Espinoza, 78, was one of the three who survived the 1959 avalanche, and said he believes the bodies are two of the three explorers he was with nearly 60 years ago.
(H/T: Quartz)
–
Follow Jon Street (@JonStreet) on Twitter