Hillary Clinton has staked a position opposite her husband's White House record, while two Republican senators are backing legislation to make reforms. But it's Republican governors who say they have led the way on criminal justice reform — by ditching mandatory minimums for drug crimes and other nonviolent offenses – long before it was being talked about in a serious way at the federal level.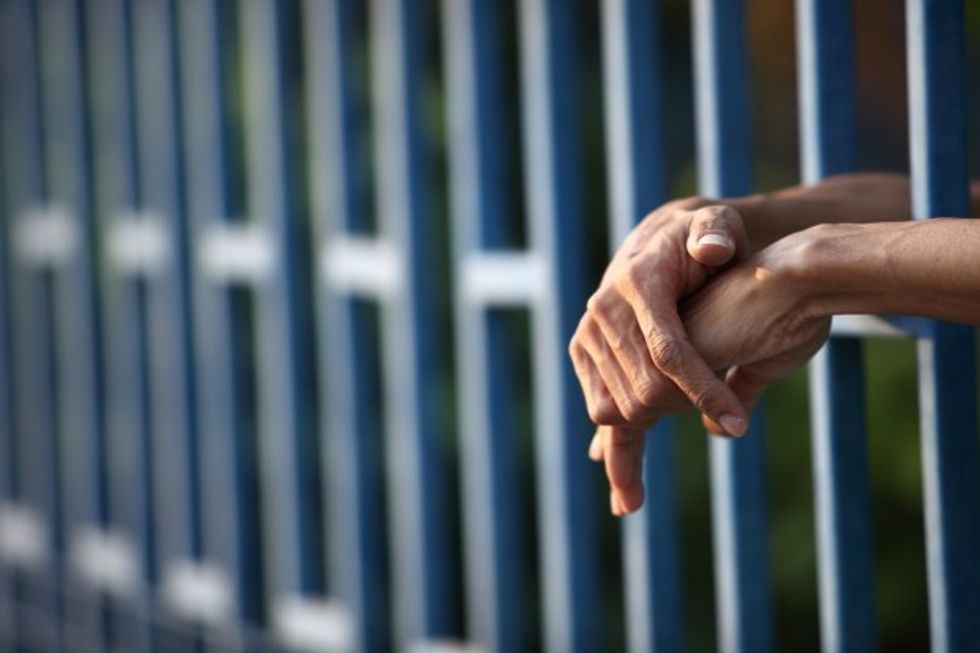 Photo credit: Shutterstock
"While Hillary Clinton and some Republican leaders have just started talking about problems, we are solving them in Louisiana," Louisiana Gov. Bobby Jindal, a likely GOP presidential contender, told TheBlaze in a statement. "I do think that reviewing our sentencing rules for some nonviolent drug offenders makes sense. Which is why in Louisiana we have implemented common sense reforms that, when appropriate, reduce sentences for nonviolent drug use offenders, while focusing on rehabilitation."
For Republicans embracing the reforms, it's a stark change from the party's traditional tough-on-crime stance. But more conservatives are looking at the fiscal costs of increasing prison populations.
Jindal says his state remains tough on crime under the reform.
"Although some are spending too much time in jail for minor drug offenses, it is also true that many are spending far too little time in jail for our current epidemic of sex crimes," Jindal said. "Which is why I have also worked to increase sentences for sex predators and those who prey on women and children. We need balance in our criminal justice system, so that punishments are appropriate to crimes and are not dictated by failed experiments in social engineering."
Meanwhile this week, Koch Industries, run by favorite targets of the left Charles and David Koch, recently called for the Obama administration to release thousands of non-violent offenders from prison. Obama announced the Clemency Project in 2014, which has led to the release of a few dozen inmates thus far.
Koch Industries' Senior Vice President and General Counsel Mark Holden calls the program "a crucial step towards rectifying a clear injustice in the current federal sentencing system," according to USA Today, but added "everyone who meets the common sense criteria set by the Department of Justice should be granted clemency."
Though President Bill Clinton's crime bill imposed stricter sentencing, in a speech last month at Columbia University, Hillary Clinton declared last month that it's "time to end the era of mass incarceration," asserting that one out of every 28 children in America has a parent in prison.
Sen. Ted Cruz of Texas is backing a bipartisan "Smarter Sentencing Act," a bill to reduce mandatory minimum sentences. Meanwhile, Kentucky Sen. Rand Paul is sponsoring a separate "Justice Safety Valve Act" to give federal judges more leeway on sentencing.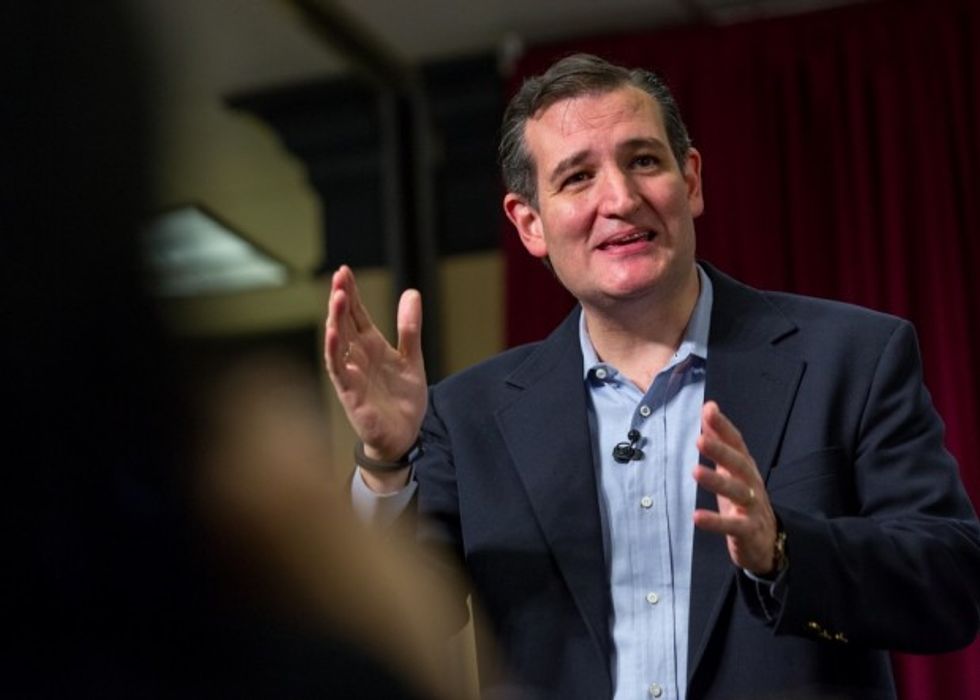 Senator Ted Cruz (R-TX) speaks to the South Carolina Tea Party Coalition convention on January 18, 2015 in Myrtle Beach, South Carolina. (Image source: Richard Ellis/Getty Images)
Retired neurosurgeon Ben Carson, a declared Republican presidential candidate, only partially on board with the reform legislation.
"State and federal prison overcrowding is a very real problem," Carson said in a statement to TheBlaze. "The smart part of the Smarter Sentencing Act focuses on one factor, involving people in our prisons who have been convicted of certain lesser drug offenses and who do not have extensive criminal histories for whom a prison sentence is often not the most effective way to either punish or rehabilitate them."
But Carson added: "The not-so-smart part of this bill will cut all previously imposed mandatory sentences by 50 percent, without distinction for the seriousness of the crime or the criminal. This isn't in the best interest of public safety."
Outside presidential candidate, the entire GOP is certainly not won over. An important gatekeeper on any such reform is Senate Judiciary Chairman Charles Grassley (R-Iowa), who has not brought the legislation to a vote. He contends stricter sentences have led to a drop in crime rates. Meanwhile, Maryland's Republican Gov. Larry Hogan vetoed three bills last month that would have removed marijuana penalties, limit forfeiture of property and allowed felons to vote.
Before President Barack Obama and a bipartisan group of senators met in February at the White House to take serious steps on the matter, governors were dealing with the rising costs of state prisons filled to capacity, often because of drug crimes. Former Republican governors and likely presidential candidates Jeb Bush and Rick Perry both signed onto the statement of principles for Right on Crime, a conservative group in Texas advocating for focusing more on drug rehabilitation than on mandatory minimum sentencing. Among the group's principles are holding the criminal justice system accountable for results, getting a better deal for taxpayers and not growing the size of government.
"It's become too big of a policy matter to ignore," for 2016 candidates, Derek Cohen, a senior policy analyst for Right on Crime, told TheBlaze. He said in 2012, the federal government, states, and municipalities spent more than $265 billion on criminal justice expenses.
"It will likely play an unprecedentedly large role," he said, referring to the 2016 campaign. "There are compelling ideological and policy arguments that resonate with candidates of both major parties, and recent events have brought the criminal justice system in general more into the national spotlight."
Perry has touted Texas reforms as conservative governance, not soft of crime, in promoting more treatment for first time drug users, establishing drug courts and closing prisons.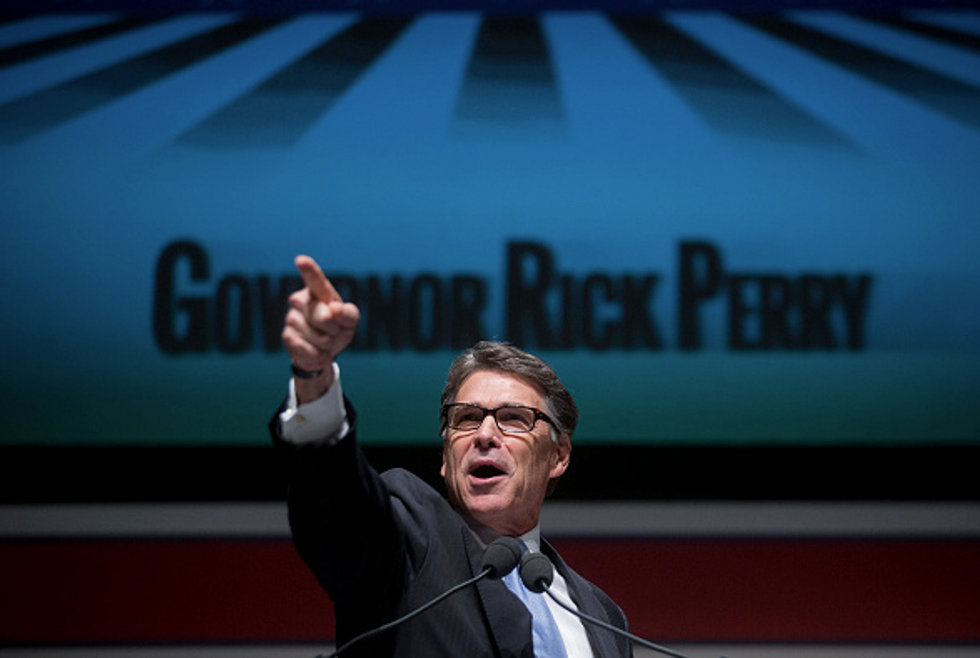 Andrew Harrer/Bloomberg via Getty Images
"We saved $2 billion from our budget, not to mention the countless lives saved. We did all this while our crime rate dropped to its lowest point since 1968," Perry wrote for the Brennan Center for Justice at New York University School of Law. "Our new approach to criminal justice policy is all about results. This change did not make Texas soft on crime. It made us smart on crime."
Perry was one of 23 contributors to a book published by the Brennan Center in in late April titled, "Solutions: American Leaders Speak Out on Criminal Justice Reform."
Among the other contributors to the Brennan Center was Gov. Scott Walker who touted his own record of establishing the Wisconsin Statewide Criminal Justice Coordinating Council in 2012, a statewide and local government and private partnership to get drug offenders back in the job market. This is done through new drug courts and working with potential employers willing to hire those on probation so long as there is random drug testing.
"Our goal is to help open the door for more people to enjoy the freedom and prosperity that comes from having a great job and doing it well," Walker wrote for the Brenan Center. "While some, on the other side of the aisle in the Wisconsin capitol, have said that drug testing makes it harder to get assistance, we say it makes it easier to get a job and helps people live full and meaningful lives. And that job provides many benefits to society as a whole. We have worked to address drug addiction issues without necessitating mass incarceration."
"Proactively identifying and targeting barriers that prevent people from moving from government dependence to true independence and personal success have set the contours of our approach," Walker wrote. "We want every citizen empowered to take charge of his or her life. With true independence, people become educated, obtain gainful employment, provide for their families, find stability and success — and yes, avoid prison."
New Jersey Gov. Chris Christie said the war on drugs has been "in my view, completely a failure," while visiting the Furnum Center in Manchester, New Hampshire, a drug treatment center in the first primary state.
"It's all well and good to be talking about punishment," said Christie, who is expected to run for president. As governor he advocated mandatory treatment over jail and said would advocate for the same at the federal level. "But in the end, what's happening is that our society is being punished."
Christie made a similar point in his piece for the Brennan Center.
Several campaigns referred TheBlaze to the Brennan Center statements by the candidates, while others didn't respond.
Former Arkansas Gov. Mike Huckabee, writing in the Brennan analysis, stressed that he is for law and order. While he served as governor from 1992 through 2007, he came under fire for issuing more than 1,000 pardons or commutations.
"We need to re-examine our incarceration objectives," Huckabee wrote. "The ultimate purpose of the system – beyond establishing guilt, assigning responsibility, delivering justice, and extending punishment — is to correct the behavior that led to the crime. Major first
steps include treating drug addicts, eliminating waste, and addressing the character of our citizens 
and children."
For his part, Maryland's former Democratic Gov. Martin O'Malley focused on ending the death penalty in his Brennan analysis, something he accomplished as governor.
Credit: Getty Images
Non-governors weighed in as well. Florida Sen. Marco Rubio wrote, that "too often that conversation starts and ends with drug policy," and called for taking a larger look at the thousands of federal crimes that shouldn't be on the federal books.
"Congress can and must take sensible steps to begin correcting this serious problem," Rubio wrote for the Brennan Center. "It should start by cataloguing all federal crimes in one statutory location, restoring a standard of intent in criminal law, reining in out-of-control regulatory agencies, and stopping the seizure of the property of citizens to fund law enforcement agencies."
Former Hewlett-Packard CEO Carly Fiorina's campaign referred TheBlaze to an interview the candidate gave to the Valley Patriot, a New Hampshire newspaper, where she said laws aren't applied evenly. She added that stiffer sentencing should be given for white-collar criminals.
"It's clear that there are some people who should be in jail and too many people for whom mandatory sentences are applied unevenly," Fiorina said. "So we have a lot of work to do to in terms of community crime and criminal justice reform."
Few Republicans seemed to be more traditional conservatives than Former Pennsylvania Sen. Rick Santorum, the second runner up for the Republican presidential nomination in 2012. But this month, Santorum told Bloomberg News: "We have to look at the huge rates of incarceration and the ability of a person to be successful in society. We have to take a step back and see if there's a better approach with a lot of these non-violent drug crimes."
---
Follow Fred Lucas (@FredLucasWH) on Twitter