Della Curry, a Colorado woman who up until last week worked as the kitchen manager in a school's lunch room, admits that she broke the law. That law though, she says, needs to be changed.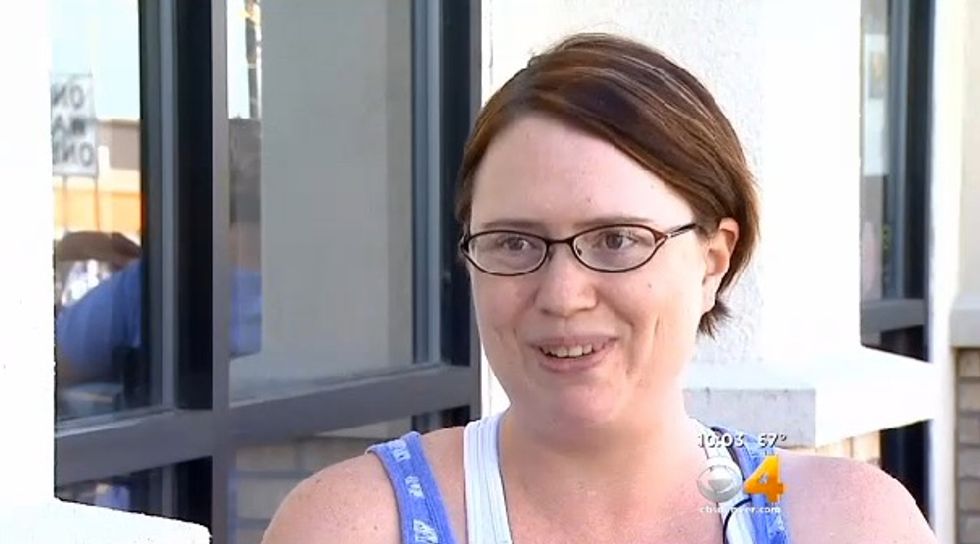 Della Curry admits that she broke the law in paying for students' meals, but she says that she would do it again and thinks the law needs to change. (Image source: KCNC-TV)
According to KCNC-TV, Curry was fired Friday from her post at Dakota Valley Elementary School in Aurora, Colorado, for buying school lunches for students when they didn't have money.
"I had a first grader in front of me, crying, because she doesn't have enough money for lunch. Yes, I gave her lunch," Curry told the news station.
"It is policy to never give out free food ... that is all fine and dandy until you have little kids not on the free and reduced program and their account goes negative," Curry told the Denver Post this week, noting that she's paid for about 20 meals this past year.
Curry said she has paid for meals for students whose parents make above the limit to qualify for lunch aid.
This is not to say that those children would have gone without any food if Curry had not stepped in.
In a statement on its website, the Cherry Creek School District explained that no child is "ever allowed to go without a lunch." According to its practice, the school district provides a meal for the first three times a student forgets their lunch money. The charge goes on their parents account. By the fourth time though, students without lunch money get a cheese sandwich. Turkey is provided on the sandwich if it's available, the district said.
"The district has worked to keep lunch prices low and still meet the federal nutrition requirements," the statement read. "The costs of our lunch program are not covered by the prices we charge. At the end of the year, any unpaid accounts are covered by the general fund which also includes instruction, security, building maintenance and overall operations.
"Again, no child is ever denied a meal due to the inability to pay," the school district reiterated.
Curry said she knew her actions could get her fired.
"I knew the whole time it was a firing offense," she told the Denver Post. "Somebody told my supervisors what I had done, and it is immediate termination. I will take that if we can change the rules."
"I'll own that I broke the law," Curry told KCNC. "The law needs to change."
Darnell Hill, a parent whose child has been helped by Curry when he forgot his lunch money, told the news station the school should "do something different than fire her."
Watch KCNC's report:
(H/T: Daily Mail)
—
Front page image via Shutterstock.