During her primetime interview with the embattled Duggar family, Fox News host Megyn Kelly asked parents Jim Bob and Michelle Duggar about critics who say the popular reality show family is guilty of hypocrisy following revelations that their oldest son, Josh, "improperly touched" several girls, including his younger sisters, during his teen years.
"The main charge we've heard from your critics is, 'They are hypocrites. They preached family values,'" Kelly said in an interview on "The Kelly File" broadcast Wednesday. She went on to paraphrase: "'Josh once said, 'We are the epitome of conservative values, and yet they had this secret and they weren't honest with the world about who they were.'"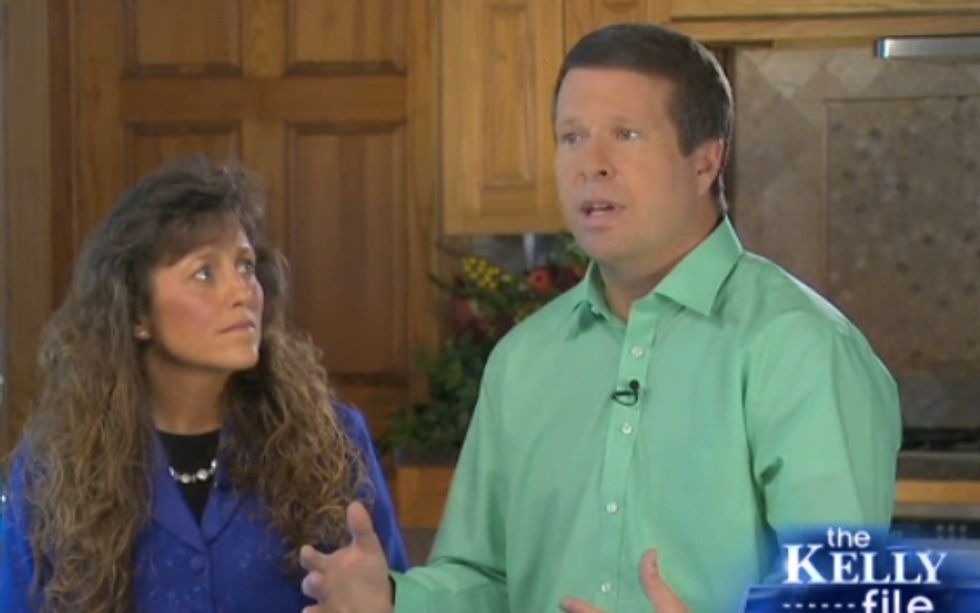 Image source: Fox News
Jim Bob Duggar responded by saying that the private information — which the Duggars said had been dealt with years before — isn't quite something that someone would tell "total strangers."
"I don't think you go up to total strangers and say, 'Hi, my name is so and so' and ... just share everything about your past," he said. "You know, every family has things happen in the familes and some families maybe have darker things than others, but everybody deals with something."
Kelly pressed the family though on the hypocrisy front, noting that critics have been especially vocal about the fact that the Duggars have preached about moral values, while harboring a secret about Josh.
"Our son violated God's principles of doing some improper touching. That was terrible," Jim Bob said. "But, yet, I think it's been recently said, 'What Josh did was inexcusable, but was not unforgivable.'"
The Duggars also said their son was 14 and just turning 15 when the incidents happened and that they do not view him as a pedophile. In the interview, one of Josh's sisters, Jessa Duggar, became the first person to say she had been one of her brother's victims, but defended him, saying that to call him a child molester is "overboard and a lie."
Watch the clip of this exchange below:
(H/T: Mediaite)