For more than 20 years a Wisconsin couple lived in a tiny, unassuming two-bedroom house without knowing that -- while it was special to them -- the home had some deeper history.
Pat Wisialowski bought the small house in 1993, and with her husband, Roger, she was determined to fix it up. After cutting away some rogue shrubbery, Pat discovered a row of vertical windows that illuminated the house . And after a stranger showed up in her yard, she discovered her home was designed by none other than famed architect Frank Lloyd Wright.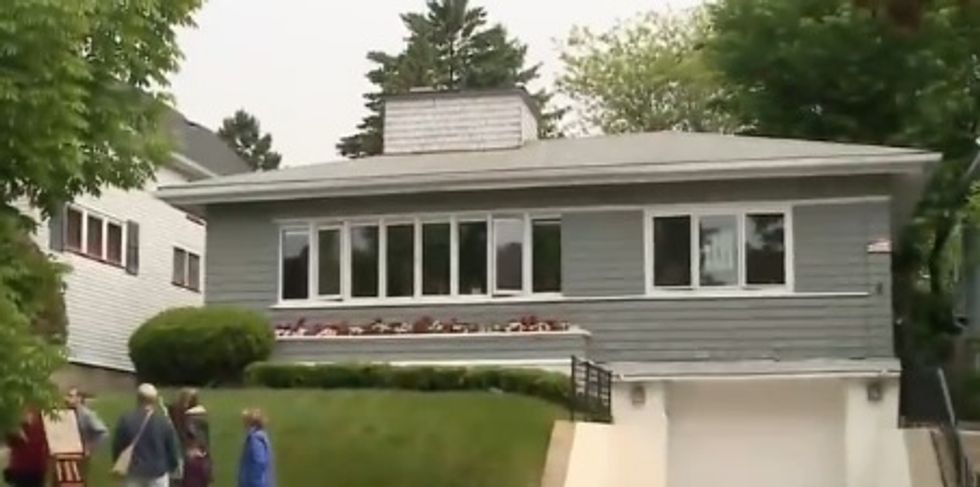 (Image source: WISN-TV)
"This is a little overwhelming," Pat told WISN-TV. "It just sort of confirms, you know, my family and friends kind of always thought it was very special. A very special home, so it's nice."
The discovery that the house was, in fact, designed by the venerable architect wasn't an easy one to make. The Wisialowskis were originally approached by Rich Johnson, a Northwestern University professor and his team. Johnson, who has since died, was an aficionado of Wright's works and helped to discover some of his homes in Chicago.
"It's a gift and a blessing to have this home. It's a work of art," Pat told the Milwaukee Journal Sentinel.
But Johnson wasn't able to confirm the house was one of Wright's before his death, and the Wisialowskis were sure they had reached a dead end. But Roger played cards with the mother of Mike Lilek, the curator of the Wright-designed American System-Built Homes in Milwaukee's south side.
After some digging, Lilek found records which indicated the house really was a product of Wright's, including a 1918 advertisement that billed the home as "originally designed" by Wright.
"This is so incredibly rare and unusual," Lilek told the Milwaukee Journal Sentinel.
The house is reported to likely increase in value up to 40 percent.
While Wright is known for his grandiose projects, such as the Guggenheim in New York or the Fallingwater home in Pennsylvania, the Milwaukee Journal Sentinel said he was largely focused on creating affordable houses for the middle class -- a project he hoped would span across the country.
Pat told WISN that the family plans to preserve the house for others to enjoy and may even consider selling it.