Despite the racial tension building in McKinney, Texas, the situation will not spiral into the chaos similar to what was seen in cities like Baltimore and Ferguson, Missouri, according to New Covenant Fellowship Church Pastor Derrick Golden.
"Peace doesn't happen until God shows up," Golden told TheBlaze TV. "We can request and desire all the things that we want — and we will get them — but the first thing has to start with level heads and a peaceful process. And peaceful doesn't mean no teeth, it just means peaceful."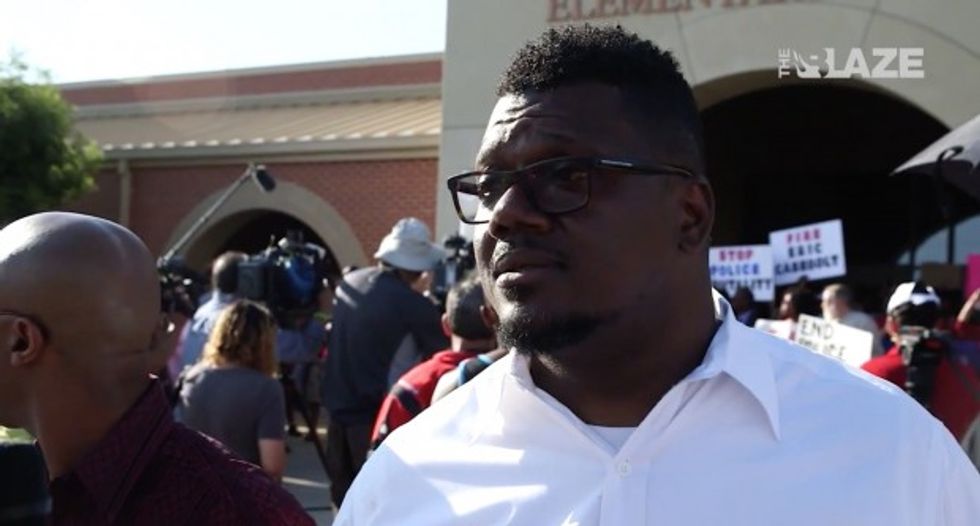 (TheBlaze TV)
Golden said his "greatest" concerns about video footage showing a McKinney officer taking a 15-year-old girl to the ground were both the cop's "behavior" and the "responses of our children."
"I think that the children's response did not predicate the police officer's action, I want to make sure that's clear…however, with some sensitivity, we can train not just them, but also our children on how to interact and respond to authority. It's been done in other cities, it can be done in ours," he added.
The religious leader said he has already spoken to the local superintendent to bring in city counsel to have a conversation on the issue.
But Golden is also very concerned about death threats and threats to burn down homes in the aftermath of the police-involved incident. Again, he said the church plans to step up and keep the community safe and peaceful.
"The brothers of our church…are going to be on patrol in the neighborhoods," he said. "We are already preparing to patrol the area with our brothers. I am banding with my friends that are here and we are going to as a whole unit come together and say, 'This is our city, not on our watch and not while we're praying."
When asked by Lawrence Jones, an investigative reporter for the "Dana" show, if he was trying to prevent another "Ferguson or Baltimore," he quickly replied, "We're not having that."
Watch the interview below via TheBlaze TV:
---