A California man apparently fed up with seeing drones fly around his street could face charges after taking matters into his own hands and being caught on video using a shirt to swat a $1,300 unmanned aerial vehicle to the ground.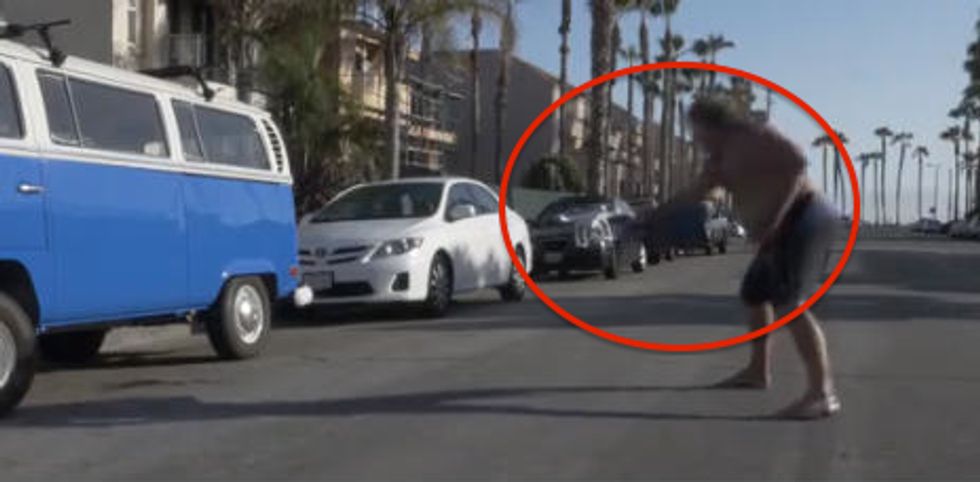 Image source: YouTube
The vehicle was only a few feet off the pavement in Huntington Beach on Wednesday when a shirtless man walked over and warned the drone operators not to fly the machine near his home, KNBC-TV reported.
In the video, the shirtless man is heard saying, "If you put that over my house I'm going to be pissed off. You understand me?"
The man then approaches the drone carrying a shirt as one of the operators calls out to him, "Hey, don't touch that! What the hell?"
But the man didn't listen. Moments later, the man swatted the expensive drone to the pavement with the shirt.
"I don't even think that's legal," the man said afterward.
"It's completely legal," one of the pilots responded.
Mike Luzansky and his employees were flying the DJI Phantom 3 to shoot an instructional video for a new startup company, Lucky 7 Drones. The Orange County Register reported the business venture had moved from Las Vegas to Southern California about six weeks ago with the hope of opening a brick and mortar storefront by this summer.
Lucky 7 filed a police report with the Huntington Beach Police Department. Owners of the company told police they want to file vandalism charges and might also take the man to small claims court.
Police have investigated the incident but have not made any arrests. The District Attorney's office will decide whether any charges should be filed, police said.
But, Luzanksy said, he would be willing to settle the case if the man agrees to pay up for the damage he caused.
"All I want is for the guy to bring me over a check that won't bounce or cash so that we can go replace this for our employee and move on with it," Luzansky said, KNBC reported.
"People are like, why are you flying in the middle of the street? But we weren't flying high or up and down the street or over people's homes," Luzansky said. "We were just showing off the [drone's] sensitivity control."
It's legal to fly a drone in California unless the machine is being used to spy inside someone's home. The city of Huntington Beach does not regulated the aerial vehicles and has not banned them, according to the Orange County Register.
The Federal Aviation Administration does not regulate drones, either.
(H/T: KNBC-TV)
–
Follow Jon Street (@JonStreet) on Twitter