Dani Tsakounis wanted help her brother Tom throw a birthday party for his 60-year-old housemate, so she phoned up Ultrasound Deejays in Maryland to see if the outfit could provide the music.
During the phone call, it came up that Tom Tsakounis' housemate was past partner of his and that Tsakounis, 46, is married to another man — all three live together.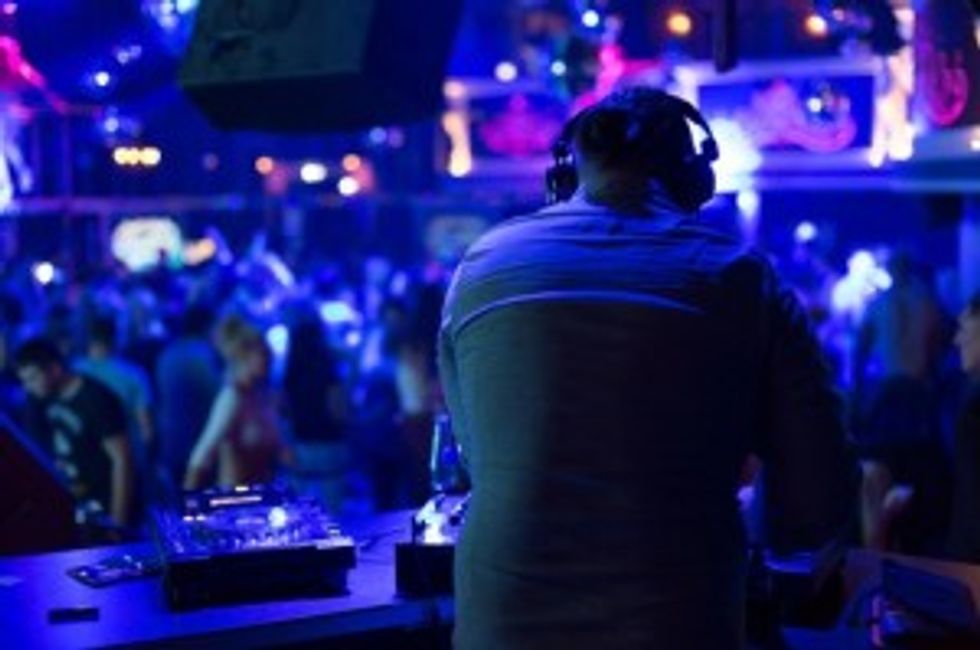 Image source: Shutterstock
Michael Lampiris, coowner of Ultrasound Deejays, broke the news to Tsakounis' sister.
"I just said, 'We won't be able to do it, we're a Christian organization and it would go against our faith, I'm sorry,'" he recalled to the Washington Post.
At that, Lampiris recalled, Dani Tsakounis said to "forget it" and hung up.
But the issue was far from over.
Tom Tsakounis was incensed and registered a complaint with the Montgomery County Human Rights Commission, the paper said.
More from the Post:
Maryland state law has banned discrimination based on sexual orientation in public accommodation — which includes businesses "offering goods, services, entertainment" the law says — since 2001. But the question of whether such laws infringe on the rights of religious conservatives, however, has received increased attention as more gay equality advocates have stepped up to file complaints and religious conservatives have argued that their conscience rights are being violated.

In this case, both Lampiris and Tsakounis were surprised the issue erupted – but for different reasons.

Tom Tsakounis said he had never been denied services in his life because he is gay and was floored to see it happen in Montgomery County – a liberal suburb where he has lived for 15 years. Lampiris, 54, has been living in the county for 30 years and said he had never heard of the law forbidding such discrimination.

Ultrasound Deejays, which he founded in the 1980s with his brother, has a written company policy stating  "we will not be involved in any event involving homosexual celebration or activity. We follow biblical morality."

The company policy states that they are a "family friendly" firm and won't play vulgar music, tolerate provocative dancing or be involved with strippers, "fortune tellers, psychics, or magicians."

"We will always try to provide a bright, entertaining, wholesome and fun deejay style where no one is left out," the site says. "Let us work together to keep America clean and good!"
All of which "made me feel like I got hit in the stomach," Tom Tsakounis told the Post. "You feel like: 'C'mon, in my neighborhood?' But: Wow, yes — in my neighborhood."
The Post reported that its attempts Friday to reach the state and county civil rights offices were unsuccessful.
But the Post said Lampiris seemed unconcerned about legal repercussions. Ultrasound Deejays, he said, has refused to work other events: When a teacher wouldn't agree to try stopping students' raunchy dancing, for example — and then after learning a bridal party included several lesbians.
Lampiris added to the Post that "it's important for us to make a stand."
"We don't want to go against the law, but we also sometimes are called to do that if it goes against your faith. To me it would be like a synagogue having to cater to a neo-Nazi party or black DJ having to do a KKK dance," he explained to the paper.
Tom Tsakounis said they're looking for another DJ for the August party.
Lampiris told the paper he hopes things don't escalate between him and Tsankounis — but if they did?
"We would make a stand if the good Lord is willing," he told the Post, citing the New Testament book of Acts. "We ought to obey God rather than men."
—
Follow Dave Urbanski (@DaveVUrbanski) on Twitter