BALTIMORE (TheBlaze/AP) -- On the heels of a denial for a broad gag order in the case, Baltimore's top prosecutor on Monday asked a judge instead to bar attorneys representing the six police officers charged in Freddie Gray's death from sharing evidence before their trial.
State's Attorney Marilyn Mosby's filed a protective-order motion asking for all discovery materials in the case to be deemed confidential. Just over a week ago, a judge refused to grant Mosby's request for a complete gag order.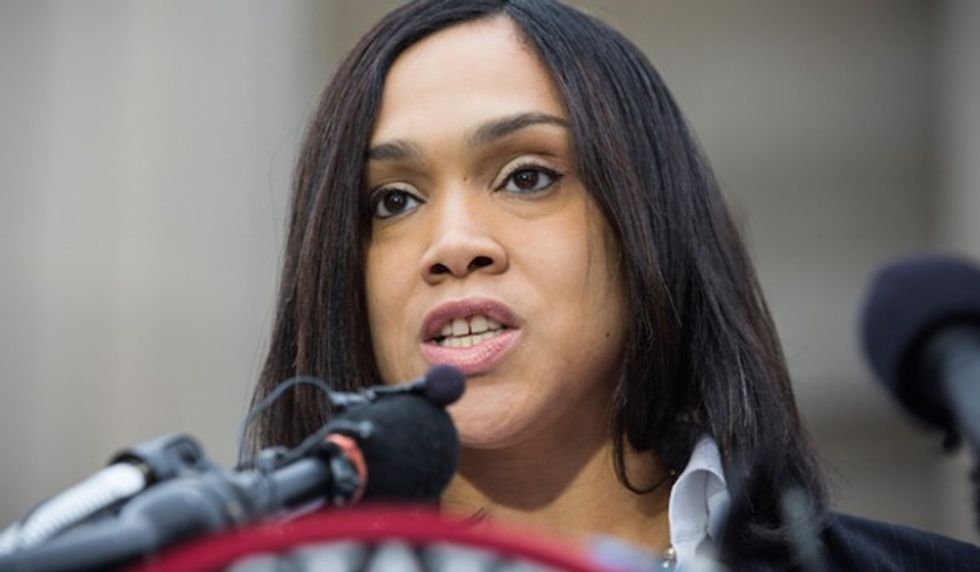 BALTIMORE, MD - MAY 01: Baltimore City State's Attorney Marilyn J. Mosby announces that criminal charges will be filed against Baltimore police officers in the death of Freddie Gray on May 1, 2015 in Baltimore, Maryland. Gray died in police custody after being arrested on April 12, 2015. (Photo by Andrew Burton/Getty Images)
The Baltimore Sun reported the motion would prohibit attorneys from publicly sharing Gray's autopsy and other evidence.
Gray's death from injuries suffered in police custody prompted protests that at times gave way to violence and looting. The officers face charges ranging from second-degree assault to depraved-heart murder.
In Monday's request, the state acknowledged that there is little legal precedent in Maryland for restricting attorneys' release of discovery materials to avoid "unfair publicity," but insisted that the case should be tried "in the courtroom, not the newsroom."
The motion argues that the defense attorneys have demonstrated a likelihood of publicizing the materials "in a manner that might jeopardize the ability to conduct a fair and impartial trial of these matters."
Mosby says in the filing that that her office would consent to making public all materials by court order. But by allowing defense attorneys to "publicize selected aspects of the discovery" they would "continue to generate publicity to prejudice the jury pool and support their argument for removal."
The deadline for the state to hand over evidence in the case to defense attorneys is June 26.
Defense attorneys declined to comment on the state's motion.
---