A Pittsburgh couple stood in an Applebee's parking lot — the woman done up in a white dress, the man dapper in a black tux. There they exchanged vows to officially make them husband and wife.
Though the having an Applebee's awning looming in the background might not be what most people imagine when they think of the setting for a wedding, Antoinette Woods and Mark DeLorenze couldn't imagine it anywhere else.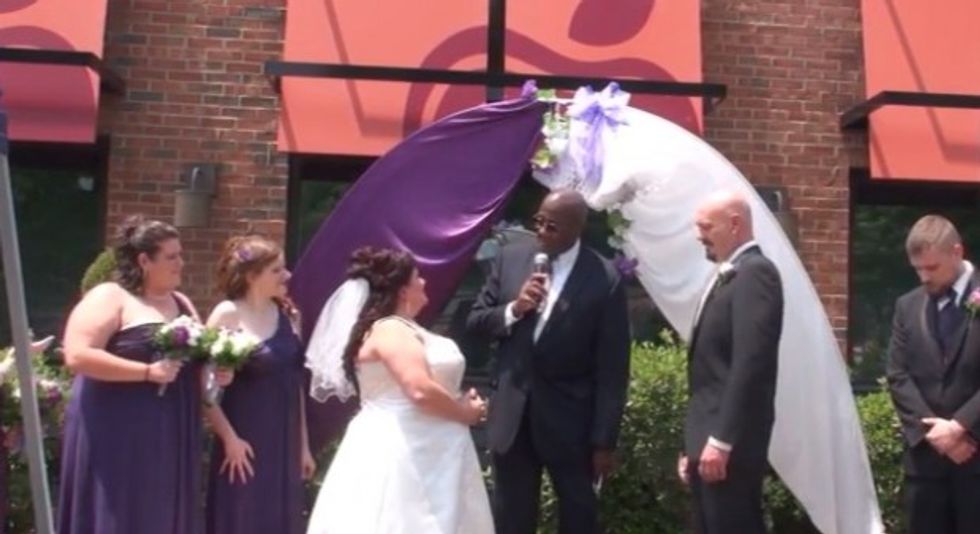 Antoinette Woods and Mark DeLorenze got married outside of a Pennsylvania Applebee's where they met several years ago. The whole event was set in motion by Woods' daughter who made the wish to the local "Jamie's Dream Team." (Image source: YouTube)
Here's how their story started.
Woods wrote in a note to the Pittsburgh-based Jamie's Dream Team, a local wish-granting foundation, that several years ago she used go the local restaurant to study while completing her master's degree.
"The staff was awesome as they knew not to bother me but they brought me my same meal every time with a cup of tea," Woods wrote in the note Jamie's Dream Team posted on its Facebook page. "On the night that I met the love of my life I was working as I always did and Mark was sitting at the bar area with a friend."
When DeLorenze approached Woods in that Applebee's, using what might seem like the oldest pickup line in the book — "he swore he knew me" — Toni wrote that she ignored him at first.
"I was in no mood for a male hitting on me!" the single mother of three said.
Then, she said that he told her of a memory dating back to 1984. He said that he remembered seeing her at a local gas station.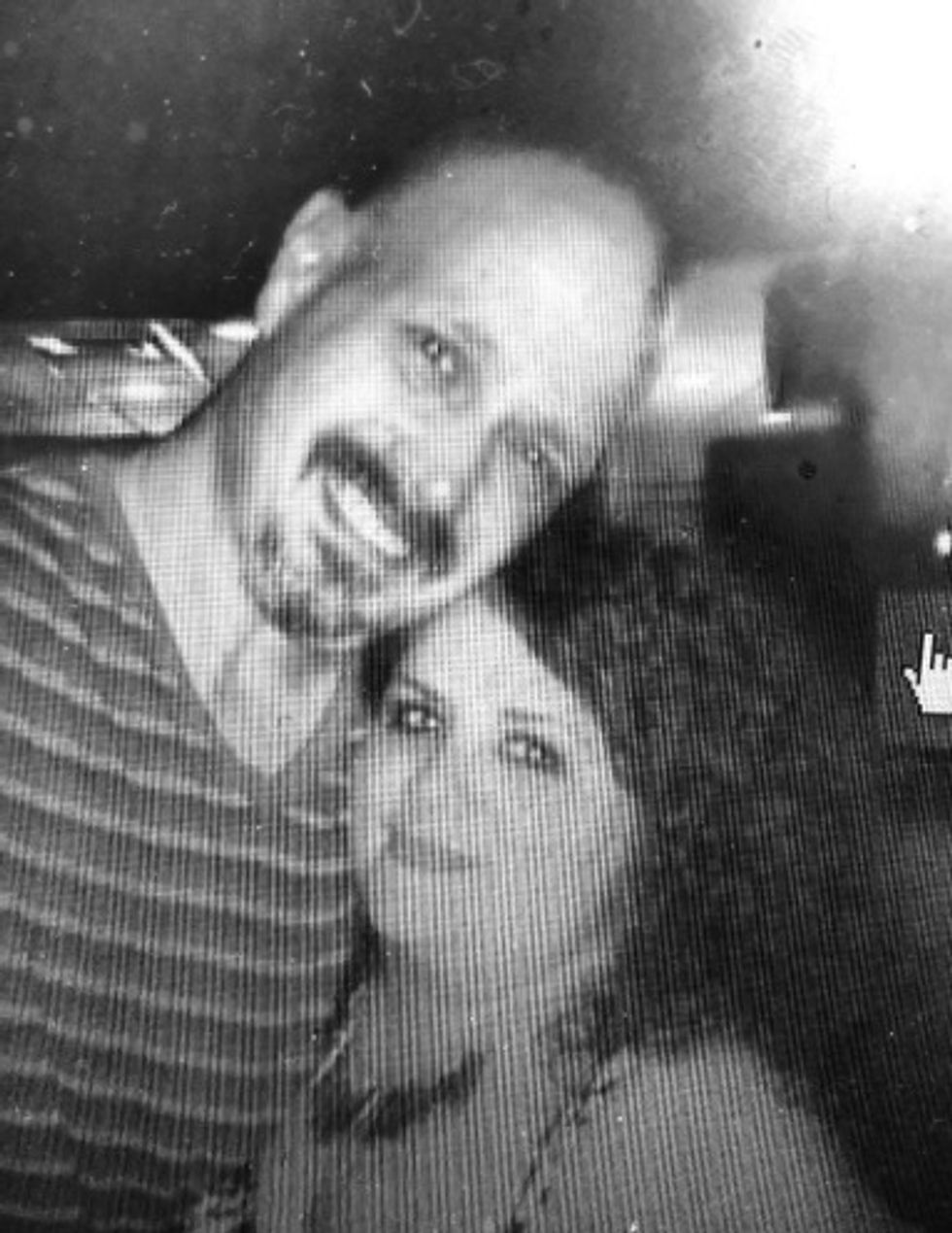 Mark DeLorenze had a chance sighting of Antoinette Woods in the 1980s. He never forgot her and when he saw her again in the 2000s at an Applebee's, he started a conversation with her. (Image source: Jamie's Dream Team)
"The memory of the events triggered my memory and I do remember the event. What is even more amazing is that he never forgot me," Woods wrote. "He said that he waited for weeks for me to come back but I never did. I asked him how he knew it was me after all these years. He simply said that I had the most beautiful eyes he has ever seen and that he never forgot them. As the stories and times between us build I realized more and more how special he was. He was a childhood cancer survivor who related to me my illness and my children's struggles."
Woods and her three children all have mitochondrial disease, a poorly understood disease that relates to the dysfunction of cells' mitochondria, manifesting itself with a variety of symptoms.
The couple has been together since their encounter at Applebee's but never got married officially due to the expense of throwing a wedding.
That's where Jamie's Dream Team came in.
Woods' daughter, Jenevieve Woods, knew of Jamie Holmes, who TheBlaze has featured before, and the work her dream team has done.
The 17-year-old, admiring Holmes, reached out, saying she wanted to help make other people's dreams come true as well, Holmes told TheBlaze in an phone interview. But in their discussions, Holmes said there didn't seem to be a wish that Woods wanted for herself.
"She was very humble. She couldn't really tell me what she wanted for herself," Holmes said.
Jenevieve did, however, know that she wanted her mother and now-stepfather to have a proper wedding.
And Holmes set the wheels in motion.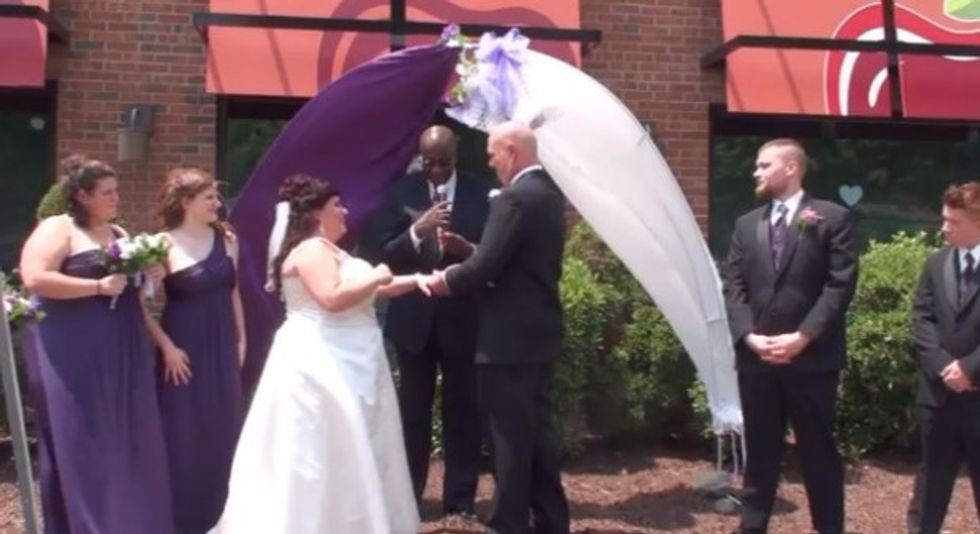 Image source: YouTube
The June 12 wedding took place at the same Applebee's, which donated space and food to the event, where the couple met. Holmes said others donated to the event as well, including a limo service, hair and makeup, and more.
"It was just absolutely unbelievable how we just pulled it off," Holmes said.
"I'm forever in debt to my mom for all the financial things she has done for me," Jenevieve told the Pittsburgh Tribune and Review. "I want to give my parents the sun, the moon, the stars."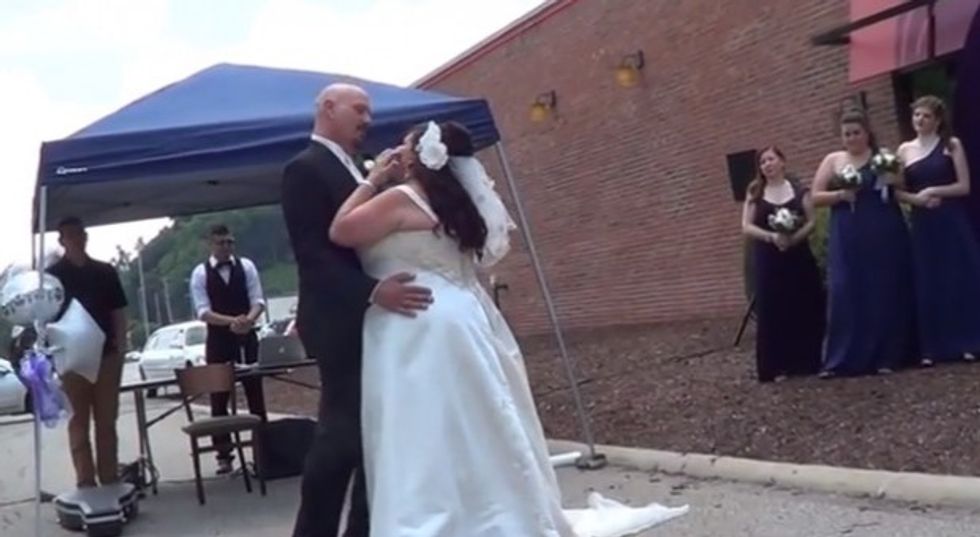 Image source: YouTube
Watch this video from the wedding:
Holmes said she was happy Jamie's Dream Team could help facilitate the event that officially allowed them to "be united as one family."
The whole group is now on a family honeymoon of sorts in Presque Isle in Erie, Pennsylvania.
Learn more about Jamie's Dream Team on its Facebook page and website.