People like Ben Carson. He's polling even with the top Republican presidential candidates in every poll. Still, Sam Pimm, executive director of the Run Ben Run super PAC, and veteran of Republican campaigns, understands why pundits and even voters might not be sure about the doctor's electability.
Pimm points to a strong outpouring of support and strong organization of volunteers going door-to-door and making phone calls already on board. He is counting on that grassroots support to propel Carson ahead in early states to gain more support.
"My answer to that is that if Carson can break through in early primaries, then the people who like him will be ready to jump on board," Pimm told TheBlaze.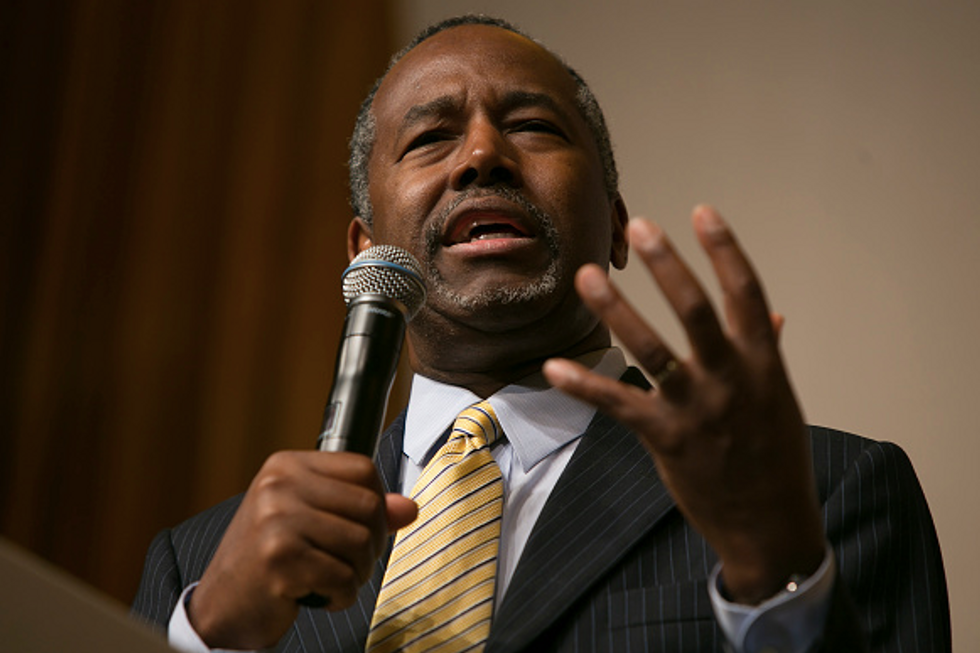 Republican presidential candidate Dr. Ben Carson speaks during the Faith & Freedom Coalitions Road to Majority conference which featured speeches by conservative politicians at the Washington D.C. Omni Shoreham Hotel, June 19, 2015.(Al Drago/CQ Roll Call)
The super PAC is a continuation of the draft committee that gained 500,000 signatures to encourage Carson to enter the campaign. This is phase two of that, Pimm said. It is separate from the campaign.
Despite the perception of an underdog status, Carson, a famed neurosurgeon, has consistently been a top tier candidate in national polls.
This week, a Monmouth University Poll, showed Carson even led every GOP candidate by a slim margin in one poll. Carson was at 11 percent compared to Wisconsin Gov. Scott Walker at 10 percent, Florida Sen. Marco Rubio at 9 percent and former Arkansas Gov. Mike Huckabee.
Carson was among several Republican presidential candidates to speak Friday at the Road to Majority Conference in Washington.
The only African-American in the campaign from either party, Carson said he spoke in recent weeks with the Rev. Clementa Pickney, who was murdered along with eight others this week at a church in Charleston, S.C.
"These things hit so close to home, and if we don't pay close attention to the hatred and the division that's going on in our nation, this is just a harbinger of what we can expect," Carson told the
Carson supporters have argued that the doctor's life story and personal experience would appeal to many Americans. From the podium, Carson talked about his severe anger issues as a young man.
"Lashing out isn't a sign of strength. It's a sign of weakness," Carson said. "Being angry has a lot to do with selfishness."
Carson continued saying that God can heal divisions, just as God helped him as a young man.
"When God fixes a problem he doesn't do a paint job. He fixes it from the inside," Carson said to strong applause.
Pimm, who was the director of field operation for Newt Gingrich's 2012 presidential campaign, said the super PAC does not have a single major donor, as other past campaigns have seen, but is mainly operating on a high volume of small donations.
He rejected news reports that the campaign was unhappy with the super PAC, which are prohibited by law from coordinating.
"There is not a problem at all. We can't coordinate with them, but I have heard they are happy," Pimm said. "We are recruiting volunteers for Dr. Carson. That only helps."
---
Follow Fred Lucas (@FredLucasWH) on Twitter