WASHINGTON — Louisiana Gov. Bobby Jindal said now is not the time to inject politics into the South Carolina church shooting.
"Now is the time for prayer, now is the time for healing. As far as the political spectrum, this isn't the time," Jindal told reporters shortly after speaking at the "Road to Majority" conference Friday, where he began his speech with a prayer for the victims and the families of the nine people killed at Emanuel African Methodist Episcopal Church in Charleston.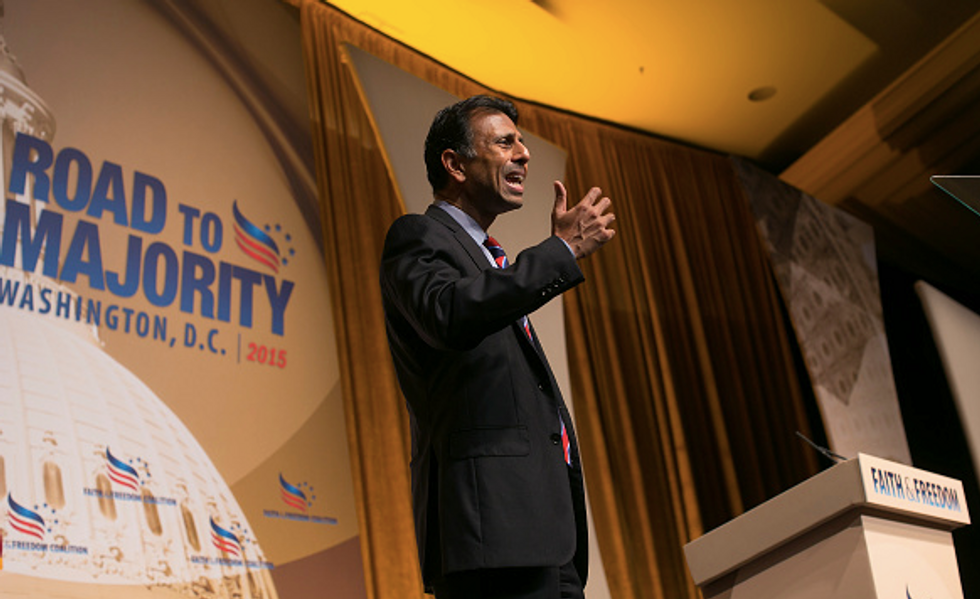 Republican presidential candidate and Louisiana Gov. Bobby Jindal speaks during the Faith & Freedom Coalition's "Road to Majority" conference, June 19, 2015 in Washington. (Al Drago/CQ Roll Call)
"Father Lord we just grieve deeply for our brothers and sisters who lost their lives studying your holy scripture in a sanctuary," Jindal said.
Jindal is widely expected to launch a bid for the 2016 Republican presidential nomination.
After his remarks, Jindal told reporters the nation is united in support of the victims.
"It doesn't matter if you are black or white," Jindal said. "It doesn't matter if you are a Republican or Democrat we can all agree that nine people gunned down in a Bible study in a church, a house of God this evil, evil individual said he spared the life of one of those individuals so he could go and tell others what he has done."
Jindal also said he supported the death penalty for alleged gunman 21-year-old Dylann Roof.
"This gunman was filled with hate," Jindal said.
President Barack Obama spoke about the urgent need for America to realize that such mass violence "doesn't happen in other advanced countries."
Follow Fred Lucas (@FredLucasWH) on Twitter