The right to marry clashed with the right to carry over the weekend in Olympia, Washington, when members of the state's Libertarian Party were barred from a gay pride event because of their support for the Second Amendment.
Last weekend marked the 25th anniversary of the Capital City Pride festival in the Evergreen State, and the Libertarian Party of Washington planned to attend the festival and man a booth — just like in the years past. However, when an attendee called the event's organizers to ask if open carry would be allowed throughout the festival, the libertarians suddenly found themselves barred from the festivities.
James Holcomb, a Libertarian Party of Washington member, said in an interview with TheBlaze that the friction between the organizers and the libertarians began when he inquired if open carry would be permitted during the festival. Holcomb said he knew some members regularly carry their firearms and wanted to ensure it would be OK.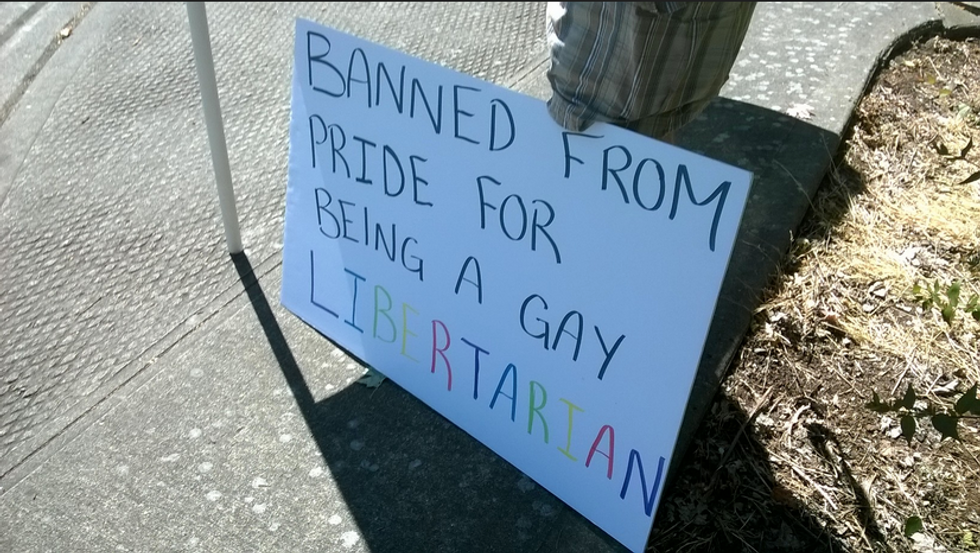 James Holcomb, a 29-year-old libertarian, sat outside a Capital City Pride event for five hours over the weekend after the event organizer banned him. (Photo courtesy of James Holcomb)
It wasn't, and that was that — or so Holcomb thought.
In a voicemail to Holcomb, Capital City Pride chairwoman Anna Schlecht accused the libertarians of attempting to "play games" with her. 
"Your booth and your participation is hereby banned from Capital City Pride," Schlecht said in the voicemail obtained by TheBlaze.
"By the power vested in me, as the chair, you are banned and you will never have a booth as long as I'm involved in Capital City Pride," she said. "Don't bother calling back. I'm very frustrated. I know y'all have a political agenda."
Holcomb told TheBlaze that unbeknownst to LPWA, a local open carry activist group had planned to attend the festival and Schlecht continuously confused the two groups, despite their adamant clarifications that the two organizations were not affiliated whatsoever.
"Our message wasn't even about guns at all," he said. "Our message was about the Libertarian Party and how we stood for equal rights since 1972 when we became a political party. For them to ban us for no reason other than their assumptions that we were with an open carry group..."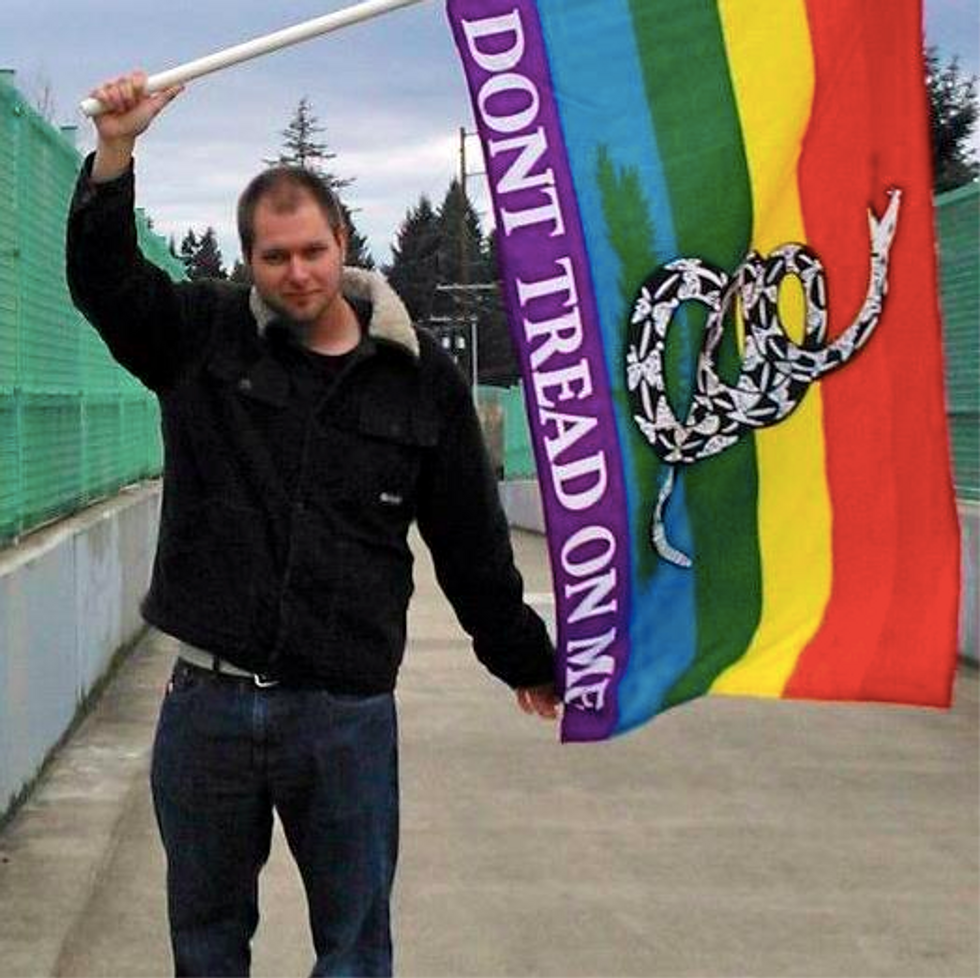 James Holcomb, a 29-year-old libertarian, stands with a rainbow Gadsden flag. Holcomb adamantly supports both gay rights and gun rights and said he was "banned from Pride" for being a gay libertarian. (Photo courtesy of James Holcomb)
Other than the voicemail Holcomb received the day before the festival, allegedly no other members of the LPWA — including those who registered for the booth — were informed that the entire party was no longer welcome at the inclusive event. It wasn't until a LPWA booth organizer, Edwin Pole, showed up at 8 a.m. on Saturday that he was told he could no longer attend.
"She was absolutely, really overacting," Pole told TheBlaze in an interview. "We were complying."
Pole told TheBlaze that both he and Holcomb showed up to the event unarmed, and that while the LPWA had discussed whether or not they wanted to promote gun rights in the booth this year, they ultimately decided against it long before the confrontation with Schlecht. Pole said LPWA members had been asked to show up to the festival unarmed.
"It just shows that the ultra-left who are mainly the organizers of these kinds of events, they aren't really for everybody's rights if it doesn't suit their fancy," Holcomb said. "They want to preach 'we're for everybody getting married and having civil rights,' but it doesn't go for everybody's rights — just them."
Pole said he personally paid the $100 for the booth himself and did not take a check Schlecht allegedly attempted to shove into his notebook Saturday morning. He said that while the check was to reimburse for the cost of the booth, it was "not sufficient" as it did not compensate LPWA for the additional money, time and resources the organization had used in an attempt to get ready for the festival.
Aside from the check, Schlecht provided the LPWA members with a handwritten note that explained Capital City Pride's decision to take away their booth.
"You and your associates are completely free to exercise your 1st Amendment rights to free speech in & around our fair grounds," the note signed by Schlecht said. "You and your associates are free to exercise your 2nd Amendment rights. And be advised that your supreme insensitivity to the recent church shooting in Charleston will be duly noted by festival participants."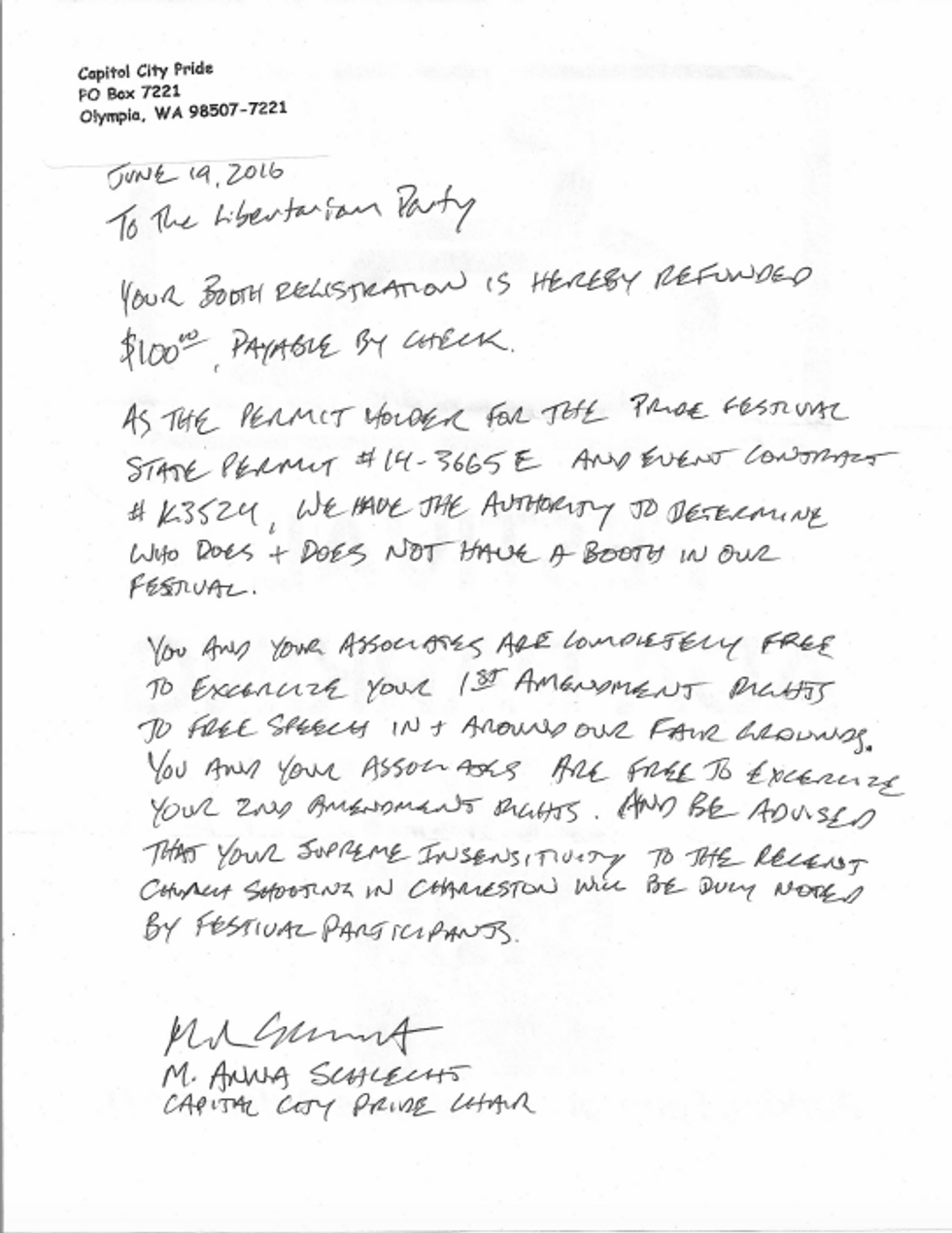 In a handwritten letter, Capital City Pride organizer A Schlecht said the Libertarian Party of Washington no longer has a booth at the festival. She called their support of the Second Amendment "supreme insensitivity to the recent church shooting in Charleston." (Photo courtesy of Edwin Pole)
Holcomb said he spent the majority of the day Saturday sitting outside of the festival and protesting, but was able to return on Sunday and attend the parade as a single participant, not a part of his organization.
In a video posted to YouTube, a few people decked out in rainbow apparel and carrying their firearms attempted to get into the festival — which was fenced off this year — and were blockaded by event officials. Holcomb said these people were not affiliated with the LPWA.
"We are asking you to respect our right to feel safe," one woman can be heard telling the group.
When asked why the gun-touting people were at the festival, they responded that they were there to support gay rights. One man said he was "bisexual" to which an event official said, "Where's your boyfriend?"
"It's your constitutional right to keep and bear arms, very well," one man said in the video. "What are you trying to achieve in bringing these machines designed to kill human beings to this public event? What are you trying to achieve with this?"
"It's disconcerting for those of us in that community who do support the Second Amendment and all of our rights," Holcomb said. "I understand that a lot of times the left tires to say 'you're standing on the shoulders of those who work so hard,' but they didn't do that work so we could all think the same. The community has a diverse population and to exclude the minority of the minority is just atrocious."
In a statement posted to their website, the LPWA said they are "committed to work with the LGBTQ community to protect their hard-won rights despite this unfortunate event."
According to Holcomb, "it's really hard to be a gay libertarian in the state of Washington."
"If you're gay, you're automatically a Democrat. Or if you're a gun owner or enjoy the thought of lowering taxes, you're an ultra-right conservative, and that's just not the case," he said.
Neither Schlecht nor Capital City Pride responded to multiple requests for comment from TheBlaze. However, a few people on the organization's Facebook page defended the organization turning away the gun-bearing people.