Cheryl Bebee says she wishes she never decided to move her family to a smallish town in Harris County, Texas.
Her grandson is one of an unusually high number of children in Highlands, Texas — population about 7,500 — who was diagnosed with cancer. By the time he was 6 months old, Bebee told KHOU-TV her grandson's cancer was considered Stage 2.
"How many classrooms have two kids or more with cancer?" Bebee asked the news station. "It's just unheard of."
Watch KHOU's report:
The Texas Department of State Health Services released a report — the investigation prompted by concerns from community members — late last week that concluded parts of eastern Harris County do, in fact, have higher cancer rates than the rest of the state. The report, however, "does not attempt to determine possible causes," the news release from the department stated.
Childhood glioma, childhood melanoma and childhood retinoblastoma were among the types of cancer that researchers saw more than expected.
"While these cancers are rare and few total cases were identified, the analysis determined that these findings are significant enough to warrant a discussion of whether additional study is feasible," the health department stated.
Though the state report doesn't point any fingers as to what might be causing higher incidence rates, some locals in Highlands, Texas, blame the San Jacinto River Waste Pits, the 14-acre site where waste from paper mills was dumped in the 1960s.
The pits have been cited as potentially harmful to human health by residents for years. The U.S. Environmental Protection Agency made the pits a Superfund Site. The latest update on the EPA's website about the site is that "additional information is needed prior to a recommendation of a cleanup alternative." The agency stated that it would put out a proposed plan for public comment within 2015. In April, the EPA hosted a community open house near the site to share information about its remediation process, studies and next steps.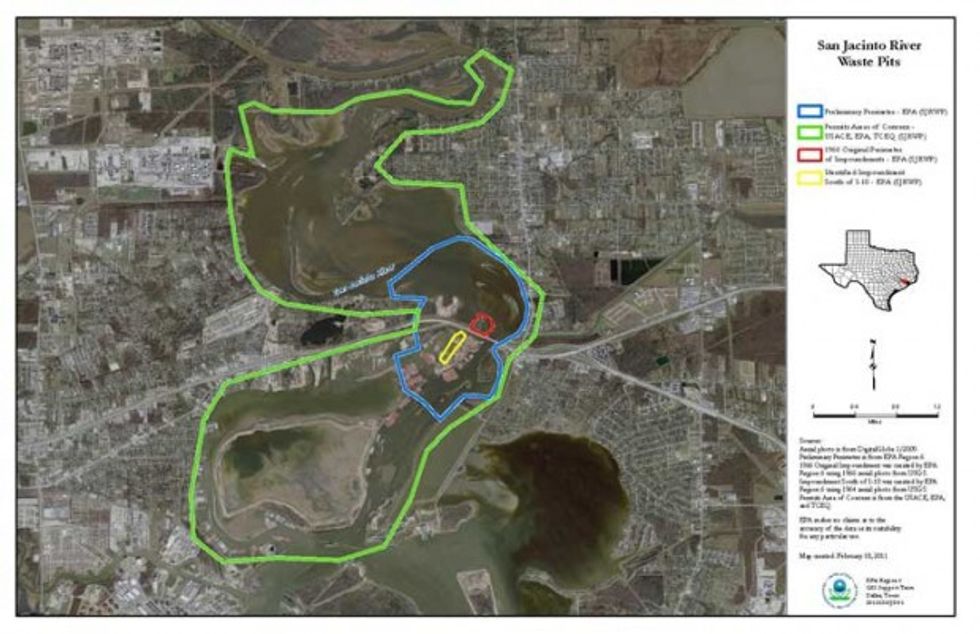 A diagram showing the area the EPA is working on remediating. (Image source: EPA)
In total, 38 census tracts were evaluated for 17 different types of cancer within the time period from 1995 to 2012 with the findings compared to the number that would be expected of the population. Going forward with these findings, state officials will now consult experts to decide whether the department should conduct further research on what might be going on in the area.
In its report, the health department issued several words of caution for interpretation of its findings.
"The assessment step in a cancer cluster investigation has several inherent limitations, and results should be interpreted with these limitations in mind," the report stated. "Cancer is not a single disease, but rather many different diseases. Different types of cancers vary in etiologies (causes or origins) and may not share the same predisposing factors. Cancers may be associated with a variety of factors such as genetics, lifestyle, and socioeconomic status.
"Because cancer is common, cases might appear to occur with alarming frequencies within a community even when the number of cases is within the expected rate for the population," the report continued. "Additionally, cancer incidence data are based on residence at the time of diagnosis. As people move, it becomes more difficult to determine whether living in the area of investigation is associated with an excess of cancers, because residential history is not tracked."
As for Bebee's grandson, he's thankfully in remission, according to KHOU, but the grandmother told the news station she "never [would have] moved here if I would have known."
—
Front page image via Shutterstock.