In the wake of South Carolina Gov. Nikki Haley's call for the removal of the Confederate flag from the state's Capitol grounds, retail giant Walmart and others have said they will no longer sell anything with the image.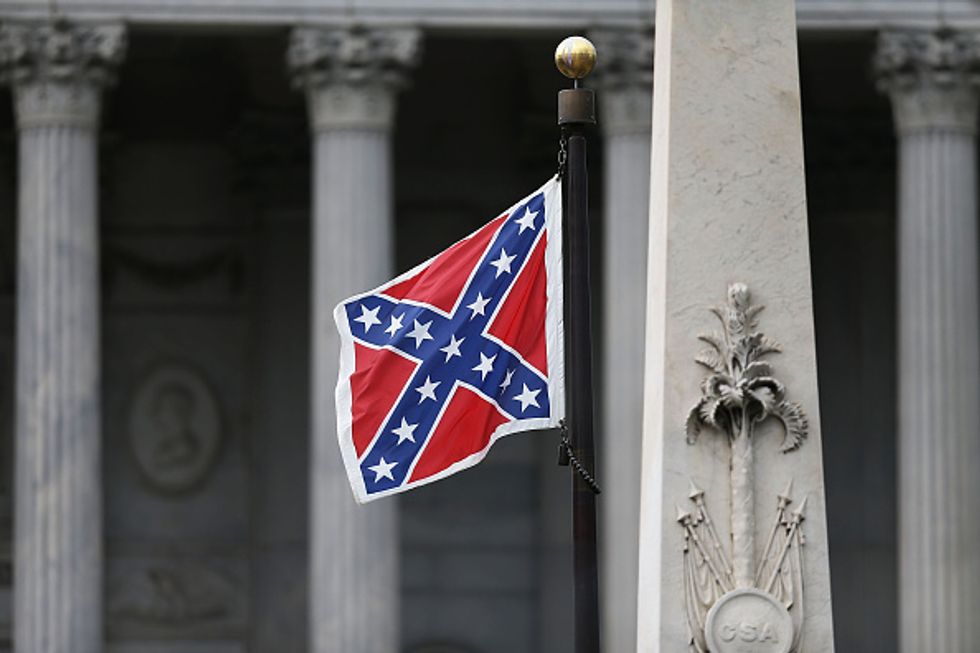 The Confederate flag flies on the Capitol grounds after South Carolina Gov. Nikki Haley announced that she will call for it to be removed, June 22, 2015 in Columbia, S.C. Debate over the flag flying at the Capitol was reignited after nine people were shot and killed during a prayer meeting at the Emanuel African Methodist Episcopal Church in Charleston. (Joe Raedle/Getty Images)
The flag — to some an icon of Southern pride and to others the symbol of America's slave history and white supremacy — has always been a touchy issue for these reasons but has become a hot topic again after police say 21-year-old Dylann Roof shot and killed nine people in a Charleston church last week. Photos that have surfaced of Roof show him posing with the flag, and authorities say he shot up Emanuel African Methodist Episcopal Church with the hope of starting a race war.
"We never want to offend anyone with the products that we offer," Walmart spokesman Brian Nick told CNN. "We have taken steps to remove all items promoting the Confederate flag from our assortment — whether in our stores or on our website. We have a process in place to help lead us to the right decisions when it comes to the merchandise we sell. Still, at times, items make their way into our assortment improperly — this is one of those instances."
Sears Holdings Corp., which owns Sears and Kmart stores, announced a similar move Monday as well, joining Haley, Walmart and others like former Republican presidential candidate Mitt Romney and Mississippi House Speaker Philip Gunn, who have taken a stance against the flag.
Lawmakers in Tennessee are getting into the debate on the flag and Confederate symbols as well:
In New Orleans, Confederate landmarks are targets of discussion:
Reuters noted that eBay and Amazon still have Confederate flag merchandise on their websites. Neither company responded to request for comment from Reuters or CNN regarding the issue.
(H/T: Daily Mail)