PARIS (TheBlaze/AP) -- French President Francois Hollande is holding an emergency meeting of top lawmakers to discuss documents released by WikiLeaks that showed the U.S. National Security Agency spied on Hollande and his two predecessors.
Hollande called the NSA intercepts an "unacceptable" security breach.
France is one of several U.S. allies that rely heavily on American spying powers to prevent terrorist acts and other threats, but Hollande said the country would "not tolerate" such potential threats to its own security, BBC reported.
President Barack Obama and French President Francois Hollande attend a state arrival ceremony for Hollande, Tuesday, Feb. 11, 2014, on the South Lawn of the White House in Washington. Lauding the "enduring alliance" between the United States and France, President Barack Obama at the time had welcomed President Francois Hollande to the White House for a lavish state visit. (AP/Jacquelyn Martin)
Government spokesman Stephane Le Foll said the Hollande will meet the legislators later Wednesday and France's top intelligence coordinator will be going to the United States shortly due to the spying.
The U.S. ambassador to France Jane Hartley was summoned to the French Foreign Ministry after the revelations, released late Tuesday in two French publications and on WikiLeaks. 
The disclosures, which emerged late Tuesday in French daily newspaper Liberation and investigative website Mediapart, mean that France has joined Germany on the list of U.S. allies targeted by the National Security Agency.
The documents appear to capture officials in Paris talking candidly about Greece's economy and relations with Germany — and about American espionage of its allies. While there were no huge surprises, the release angered and embarrassed French officialdom.
"This involves unacceptable acts that have already given rise to discussions between the United States and France," Hollande said in a statement after an emergency defense council meeting.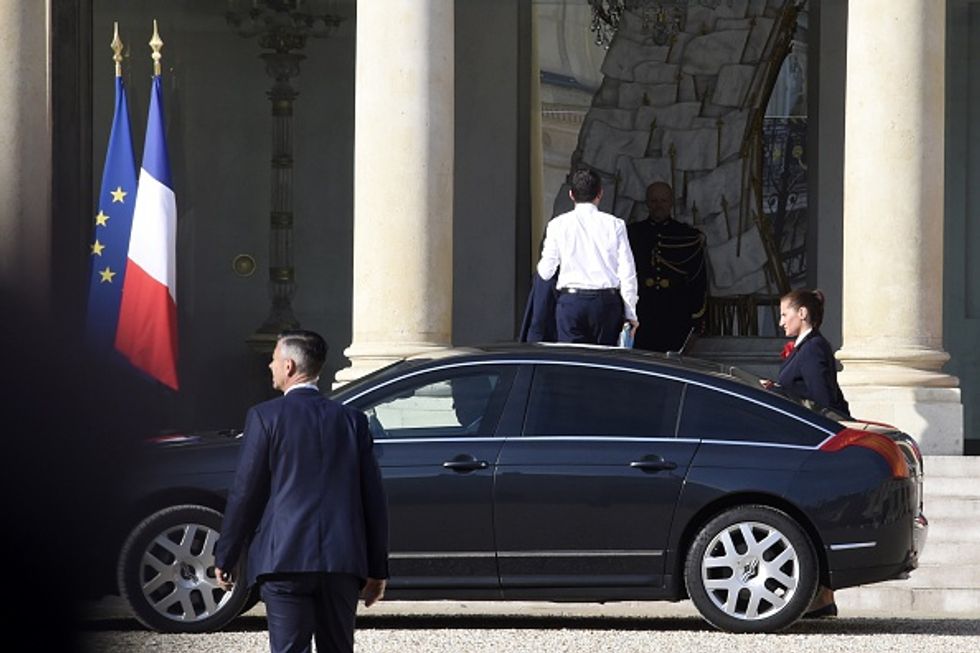 French Prime Minister Manuel Valls (C) arrives at the Elysee Palace in Paris on June 24, 2015 for an emergency meeting of security chiefs after top secret documents released by Wikileaks indicated that the U.S. had spied for years on the current French president and his two predecessors. (DOMINIQUE FAGET/AFP/Getty Images)
The statement said France has reinforced protective measures after the document release, without elaborating.
The release appeared to be timed to coincide with a vote in the French Parliament on a bill allowing broad new surveillance powers, in particular to counter terrorist threats. The Senate approved it Tuesday and the lower house of parliament is expected to give it final approval Wednesday.
There was no instant confirmation of the accuracy of the documents, which covered intercepts from 2006-12 and WikiLeaks has a track record of publishing intelligence and diplomatic material. The leak titled by WikiLeaks as "Espionnage Elysee," would not be the first time the NSA has been accused of spying on an ally's leader. In 2013, the U.S. was accused by spying on German Chancellor Angela Merkel's communications.
"The French people have a right to know that their elected government is subject to hostile surveillance from a supposed ally," WikiLeaks Founder Julian Assange said in a statement. "We are proud of our work with leading French publishers Liberation and Mediapart to bring this story to light. French readers can expect more timely and important revelations in the near future."
An aide to Hollande's predecessor Nicolas Sarkozy told the Associated Press that the former president considers these methods unacceptable. There was no immediate comment from former President Jacques Chirac, also targeted.
U.S. National Security Council spokesman Ned Price released a statement Tuesday evening saying the U.S. is "not targeting and will not target the communications of President Hollande."
Price did not address claims that the U.S. had previously eavesdropped on Hollande or his predecessors.