Warner Bros. is halting the production of all toys and replicas of the popular orange car from "The Dukes of Hazzard" that bears a Confederate flag.
"Warner Bros. Consumer Products has one licensee producing die-cast replicas and vehicle model kits featuring the General Lee with the confederate flag on its roof — as it was seen in the TV series," a spokesman for the company told Vulture. "We have elected to cease the licensing of these product categories."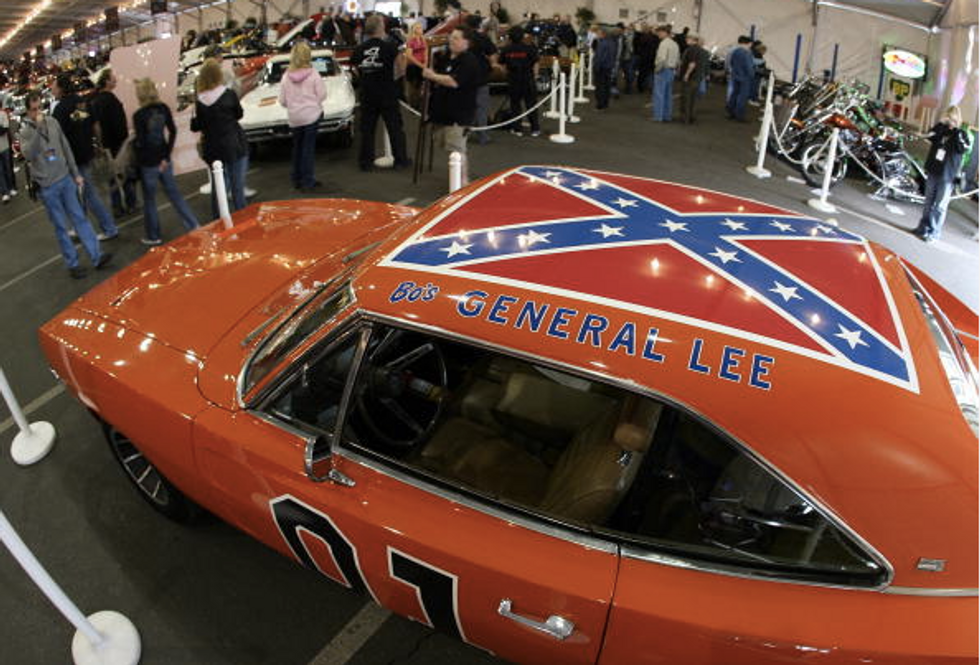 A 1969 Dodge Charger, dubbed "The General Lee" from the TV series "The Dukes of Hazzard," displayed during the 37th annual Barrett-Jackson Collector Cars auction in Scottsdale, Ariz., Jan. 16, 2008. (Getty Images/Gabriel Bouys)
According to WAAY-TV, it's unclear if Warner Bros. will continue to produce General Lee cars simply without the flag or will cease production of the cars altogether.
Vulture reported that Warner Bros.' decision will only affect a single Indiana-based company — Round 2.
Ben Jones — known by "Dukes" fans as Cooter Davenport — addressed the Confederate flag controversy, which was reignited after police say Dylann Roof, 21, attempted to start a race war when he gunned down nine members of the Emanuel African Methodist Episcopal Church in Charleston, South Carolina, last week. 
"That flag on top of the General Lee made a statement that the values of the rural south were the values of courage and family and good times," Jones posted to his Facebook page in all capital letters. "Our beloved symbol is now being attacked in a wave of political correctness that is unprecedented in our nation of free speech and free expression. Activists and politicians are villifying [sic] southern culture and our heritage as being bigoted and racist. We know that is not the case. And we know that in Hazzard County there was never any racism."
Jones and his wife own two stores in Tennessee and one in Virginia that sell "Dukes of Hazzard" memorabilia. He promised that his stores will continue to sell products with Confederate symbols on them "until hell freezes over."
"We are not racists. We despise racism and bigotry," he wrote. "And we think the people who are creating this 'cultural cleansing' are the real bigots in this story."
Warner Bros., joins Amazon, eBay, Sears, Walmart and major flag manufacturers by no longer producing or selling products featuring the Confederate flag in the wake of the Charleston shooting.