In the latest episode of comedian Jerry Seinfeld's "Comedians in Cars Getting Coffee," HBO's Bill Maher elaborated on why he routinely criticizes fundamental and radical Islamists — and his stance has riled up "liberals" over the years.
"They used to boo me because I'm the one standing up for equal rights for women and free speech and respect for minorities, free and fair elections. It's not my fault that these are qualities that are more lacking in the Muslim world than any other culture," Maher told Seinfeld. "But liberals saw this for years as an attack on a minority. But the irony is that they were so tolerant, they were tolerating intolerance."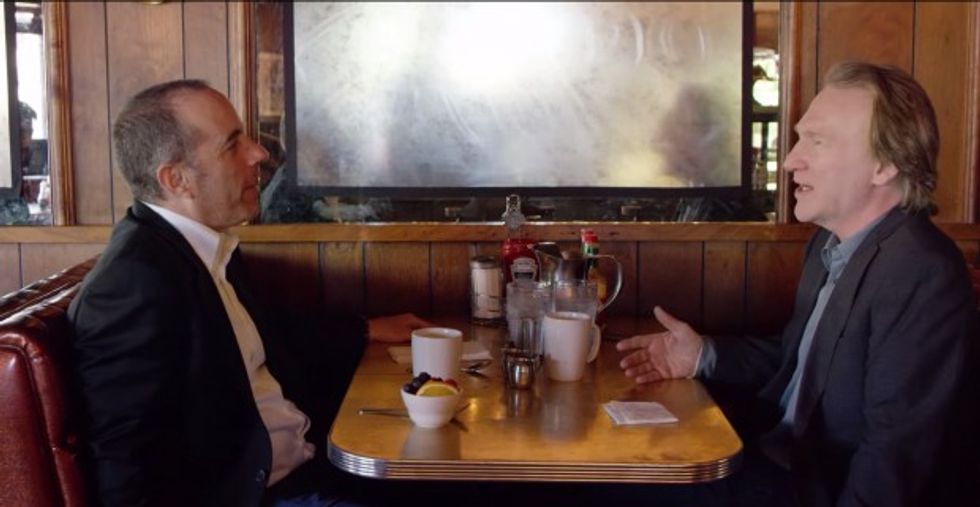 (Screengrab via Comedians in Cars Getting Coffee)
"That's so interesting, that double helix," Seinfeld responded. "So tolerant, you're tolerating prejudice."
On a similar topic, Maher also had a good point about what it means to be "gutsy" in entertainment and media today.
"Everybody says, 'I'm in the no bulls**t zone and I'm no spinning'… That's not gutsy. Gutsy is to tell your adoring fans what they don't want to hear, because it's the truth."
Watch a preview of the episode below:
The full episode can be found here.
(H/T: Mediaite)
---