With the progressive wind at his back, Vermont Sen. Bernie Sanders is emerging as the most viable Democratic challenger, at least in New Hampshire, to former Secretary of State Hillary Clinton for the Democratic presidential nomination.
A WMUR/CNN poll released Thursday evening shows Sanders has narrowed the gap between him and Clinton from 21 percentage points to just 8 points in less than two months, for a Clinton lead of 43 percent to 35 percent.
The poll was taken from 360 likely Democratic voters from June 18 to June 24.
A year ago, Clinton trounced Sanders by 59 percent to 5 percent.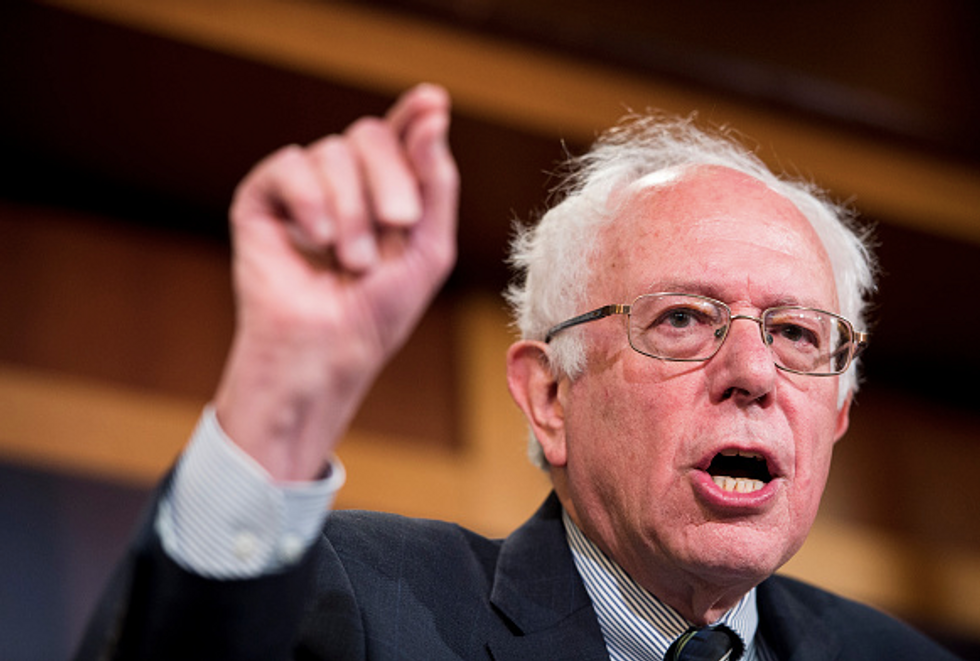 Sen. Bernie Sanders (I-Vt.) holds a news conference, Thursday, June 25, 2015. (Photo By Bill Clark/CQ Roll Call)
Other Democratic candidates, or potential candidates, aren't even close, failing to break out of single digits in the early-voting state: Vice President Joe Biden is at 8 percent; former Maryland Gov. Martin O'Malley, a declared candidate, has 2 percent; and declared candidate and former Rhode Island Gov. Lincoln Chafee and potential candidate Jim Webb, a former Virginia senator, are both at 1 percent.
In May, Clinton bested Massachusetts Sen. Elizabeth Warren, another progressive favorite who opted against running, 51 percent to 20 percent. Sanders at the time had just 13 percent. Much of Warren's potential support appears to have moved to Sanders, a self-professed socialist.
"Sanders was the beneficiary. If you added the Sanders and Warren numbers in May, they added up to 33 percent, and now we have 35 percent for Sanders as the progressives are coalescing around him," University of New Hampshire political science professor Andrew Smith, executive director of the Survey Center, told WMUR.
New Hampshire is the first primary state in the presidential nominating contest, coming after Iowa, the first caucus state. In 2008, Clinton came in a disappointing third place in Iowa, but managed to keep her long primary campaign against Barack Obama going by winning in New Hampshire.
The poll found that 74 percent of Democratic voters view Clinton favorably, while 66 percent view Sanders favorably.
In more good news for Sanders, 41 percent of likely Democratic voters say Sanders represents their values, compared to 30 percent for Clinton. But Clinton was viewed as the strongest leader by 56 percent, compared to just 13 percent for Sanders.
"Hillary Clinton's early numbers had been higher than they reasonably could have been expected to remain," Smith said. "Historically, New Hampshire has had about 40 percent of the Democratic voters be progressive voters. That has been the case going back to 1968 with Eugene McCarthy."