President Barack Obama said justice has arrived "like a thunderbolt" with the Supreme Court's same-sex marriage ruling.
"Today, we can say in no uncertain terms that we have made our union a little more perfect," Obama said Friday, speaking in the White House Rose Garden after the Supreme Court ruled in a 5-4 decision that all states must accept same-sex marriage.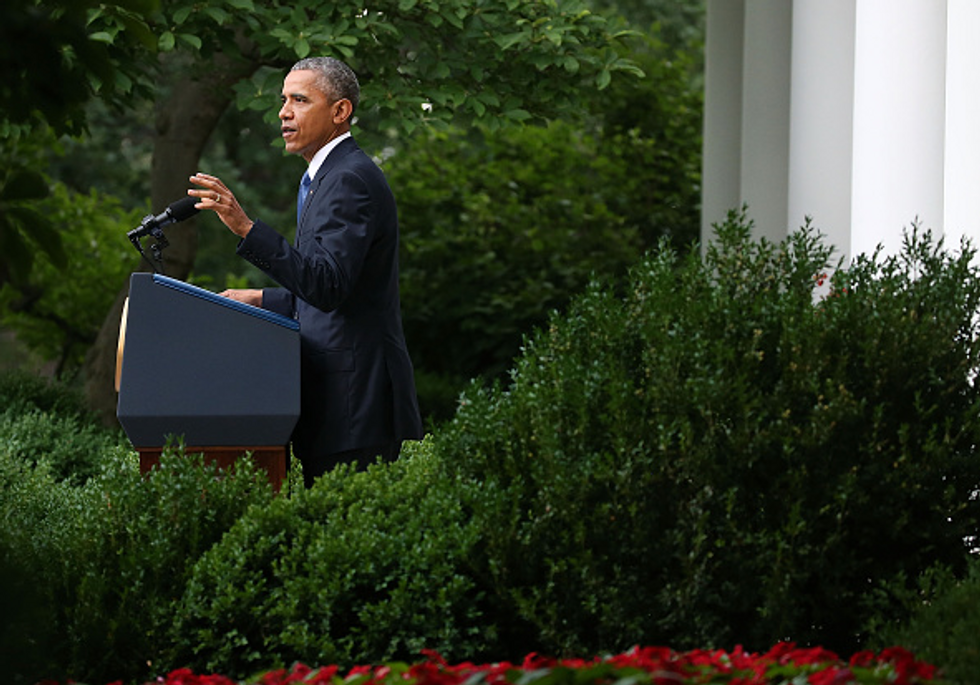 President Barack Obama gives remarks on the Supreme Court ruling on gay marriage in the Rose Garden at the White House, June 26, 2015. The high court ruled that same-sex couples have the right to marry in all 50 states. (Photo by Mark Wilson/Getty Images)
"Progress on this journey often comes in small increments, sometimes two steps forward, one step back," Obama said. "Sometimes, there are days like this, when that slow, steady effort is rewarded with justice that arrives like a thunderbolt."
The justices have "reaffirmed that all Americans are entitled to the equal protection of the law," Obama said.
Obama publicly opposed gay marriage before his views "evolved" before his 2012 re-election. He said there are "sincere" views on the other side, and made a reference to respecting religious freedom.
"Compared to so many other issues, America's shift has been so quick," he said. "We know that Americans of good will continue to hold a wide range of views on this issue. Opposition in some cases is based on sincere and deeply held beliefs. All of us who welcome today's news should be mindful of that fact, recognize different viewpoints, revere our commitment to religious freedom. But today should also give us hope that many issues with which we grapple, often painfully, real change is possible."