When Dapo Oremand first met Jessica McClure, he was her tutor. As an eager college student, he was looking forward to making a little money on the side.
He was surprised to learn, when he met her, that she had dystonia, a condition causing muscle spasms, and cerebral palsy. After that, he said he was surprised to learn how smart she was.
"I had students that I tutored before," Oremand, who graduated a few years ago from the University of North Texas and joined the U.S. Army, told TheBlaze.
"To me she was just an intelligent kid with all this unecessary movement," he said, referencing her spasms.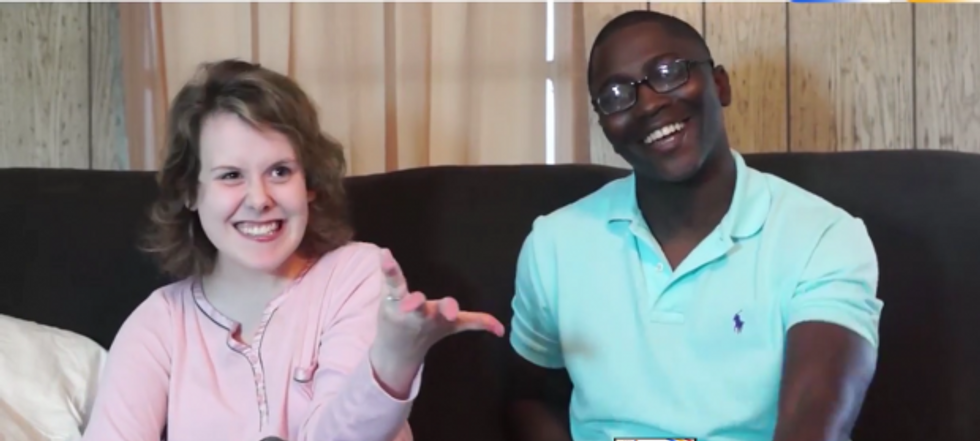 Dapo Oremand, right, is helping raise money for Jessica McClure, left, who has cerebral palsy and wants a service dog to help give her independence. (Image source: Nacho Birthday)
As he got to know McClure, Oremand said she once told him that she believed "God would not make her face something she can't overcome. ... I was like 'Wow, here I am complaining about all this stuff and then there's this girl who sees life differently.'"
Inspired to help McClure, Oremand said he tried to think of a way to help, especially knowing she had an upcoming surgery.
"I spoke to her mom and [she said,] 'Oh you know right now insurance will cover surgery but Jessica is trying to walk and save money for a service dog,'" Oremand said. "I thought, 'great, there we go.' I've seen people in the Army with service dogs."
So Oremand started on his mission to help McClure get a dog, which would allow her to be more independent. But how he's doing it is a little different.
Oremand and his friend started a crowd-funding website based off the idea that people don't always want presents for their birthdays — sometimes people would rather have others donate to a cause. Thus, the idea for the crowd-funding site Nacho Birthday (the name is supposed to be a play on words, sounding like "not your" birthday) was born.
What makes Nacho Birthday different than the slew of other crowd-funding sites that have cropped up over the years?
For one, Oremand said unlike other crowd-funding sites, Nacho Birthday is generally for happy occasions, like your birthday, whereas people use other sites to help raise funds for tragic situations and the like. He also said that unlike other sites, Nacho Birthday allows you to split funds. For example, 40 percent raised could go to one cause and the rest to another.
So far, Oremand has raised about $3,700 of the $20,000 funding goal for McClure's service dog. Watch the video he and McClure made about the project:
Helping found Nacho Birthday and raising money for McClure, Oremand said helps him see he "bigger picture" beyond his job in the military, where he's based in Georgia working in physical therapy.
"Whether I like it or not, the day that I'm out of the Army ... you have to be willing to do stuff outside of it," he said.
While based in Georgia, he said that he's seen a lot of service members come back and enter rehabilitation with many civilians striving to help them.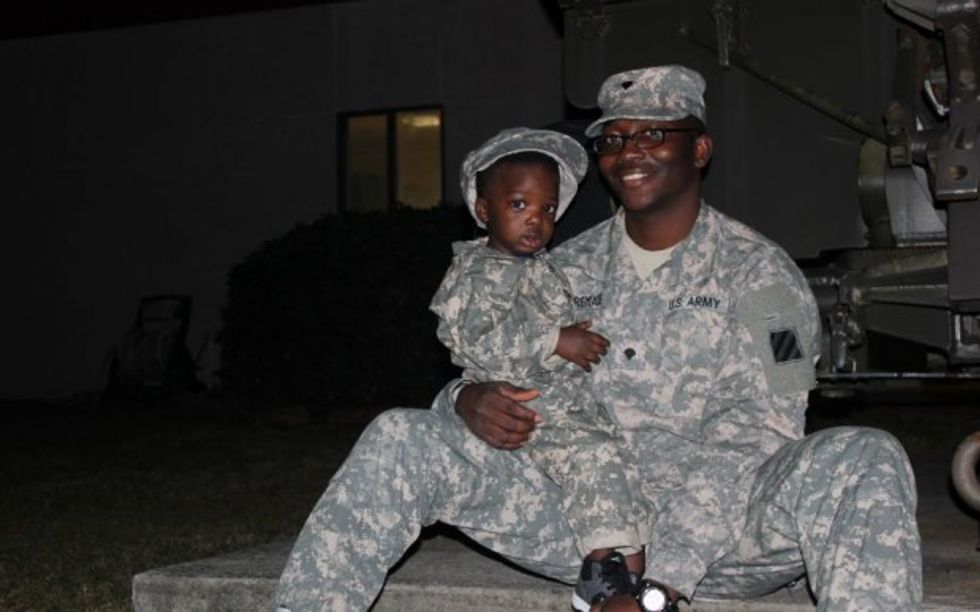 Dapo, originally from Nigeria, decided to join the U.S. Army after going to college in America. (Image source: Nacho Birthday)
"For me, as a person in Army who sees someone who needs help, why not do the same thing?" Oremand said of his efforts to McClure.
Oremand is originally from Nigeria, and asking him what inspired him to join the U.S. military is a common question. It's one he answers with his standard response.
"I love America," he said. "I see a different world. ... I realized how much opportunity there is in this country."
He added that despite having good grades at university in America, if he went back to Nigeria with his skills, he likely wouldn't be able to do anything with his degree because he doesn't know any influential people.
"In a country like this where all I need is to show I'm capable of stuff, whatever it takes to stay in this country I'm doing it, legally," he said.