Virginia Governor Terry McAuliffe used the deadly Charleston shooting last week to advocate for a Hillary Clinton presidency.
McAulifee, a longtime Clinton friend and loyalist, introduced the former Secretary of State at a Virginia Democrats' fundraising event Friday evening. During his introduction, he applauded Clinton's leadership, especially in the wake of last week's tragedy when police say Dylann Roof gunned down nine members of a historically black church.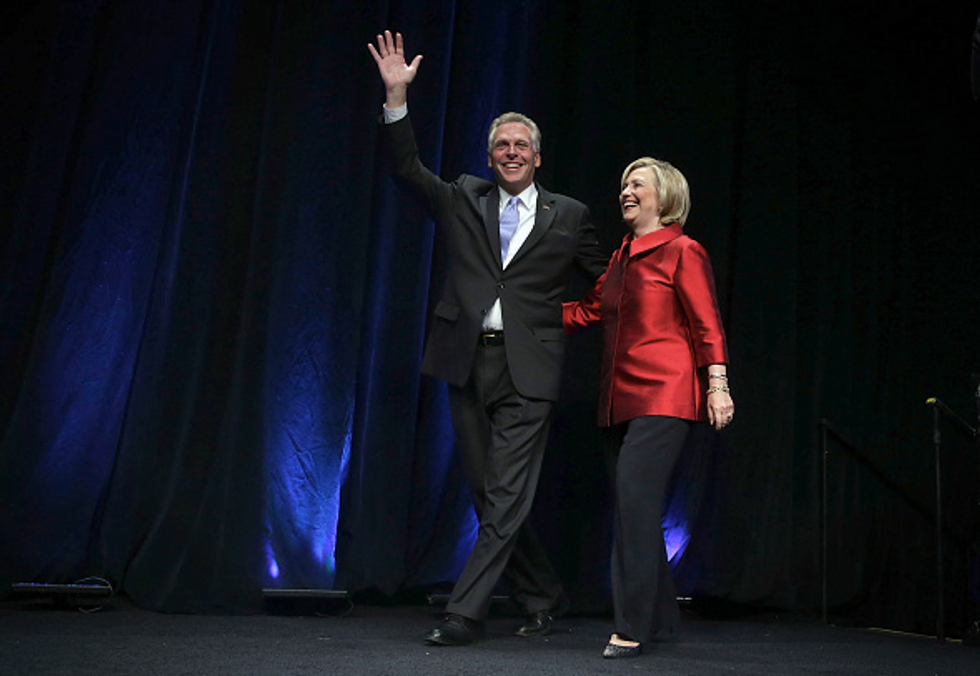 FAIRFAX, VA - JUNE 26: Democratic U.S. presidential hopeful and former U.S. Secretary of the State Hillary Clinton comes on the stage with Virginia Governor Terry McAuliffe during the Democratic Party of Virginia Jefferson-Jackson dinner June 26, 2015 at George Mason University's Patriot Center in Fairfax, Virginia. It's the first visit for Clinton since she announced her candidacy. (Getty Images/Alex Wong)
"In the wake of that unspeakable tragedy in Charleston, South Carolina, many politicians went out of their way to duck the tough issues that terrible act raised," he said. "But not Hillary Clinton. Hillary stepped forward and began a national conversation about race and gun violence."
"It is fitting of the people who lost their lives last week," McAuliffe continued. "Folks, this is the type of leadership that we need from our next president."
During her speech, which was Clinton's first campaign stop in the Old Dominion state, she said she would never stop advocating for LGBT rights, more gun control, and improving race relations.
"He's my kind of leader, a pragmatic progressive," Clinton said of McAullife, who recently ordered Confederate flags to be removed from vanity Virginia license plates. "He prefers common ground to scorched earth."
According to Business Insider, the Democratic Party of Virginia sold tickets to Friday's dinner, but eventually began to give tickets away.
[H/T: The Weekly Standard]