CNN billed a reporter's happenstance sighting of what appeared to be an Islamic State flag at London's gay pride march Saturday as an "exclusive" — until some viewers noticed that the writing on the flag wasn't quite Arabic script.
It was silhouettes of sex toys.
Against the onscreen banner, "ISIS flag spotted at gay pride event," CNN journalist Lucy Pawle reported: "This man dressed in black and white was waving what appears to be a very bad mimicry, but a very clear attempt to mimic the ISIS flag, the black and white flag with the distinctive lettering."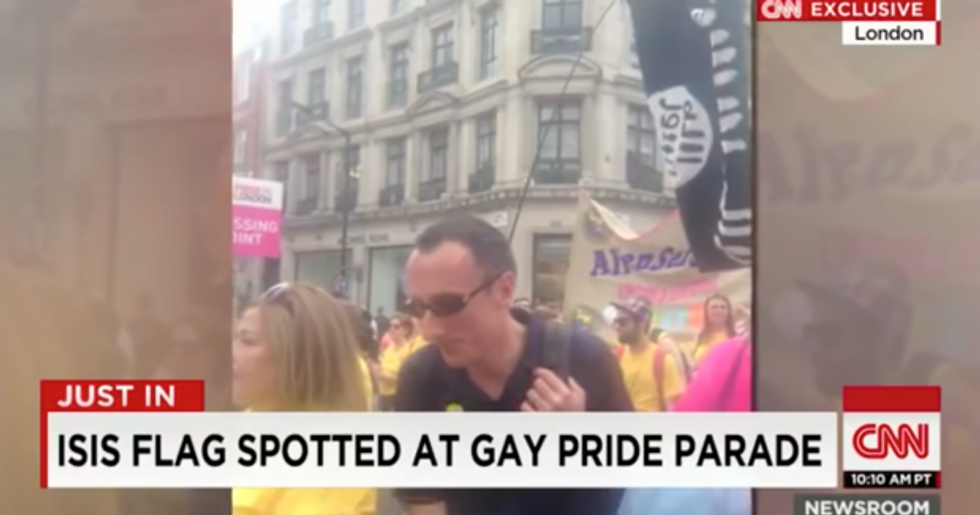 Image source: CNN/YouTube
"If you look at the flag closely, it's clearly not Arabic. In fact it looks like it could be goobledegook, but it's very distinctive, the ISIS flag," she continued.
Pawle added that she was the only one who seemed to spot the flag at the march, and even let police know about it.
After viewers directed messages to her on Twitter pointing out the details on the flag that she had missed, Pawle quickly retweeted their observations correcting her reporting.
.@lucypawle The markings on that flag isn't Arabic. It's dildos.

— Марк Либатике (@markatique) June 27, 2015
@lucypawle the ISIS flag at the Pride parade looked like gibberish because the "text" was actually outlines of sex toys. Obviously satire.

— Jim (@jimdotsg) June 27, 2015
Others later had some fun with the blunder which they posted at the Twitter hashtags #ISISDildo and #DildoFlag, with one user creating a Confederate flag/sex toys meme:
Need @lucypawle to start covering the #ConfederateFlag debate here .. whoops... @CNN#DildoFlag#CNNpic.twitter.com/BmRTEqhcyJ

— Joe Martinez (@teh_joe) June 29, 2015
#Dildoflag Perfect way to show, that terror needs to be defeated by humour!

— Alex Kreutz (@BBsan2k) June 29, 2015
Would you say it was a false-flag op, @cnn? #isisdildo#penis#buttplugged

— The Letter J (@RevJGoodin) June 28, 2015
CNN has since taken the original report off of its website.