Several Iranian news outlets reported Monday that President Barack Obama secretly sent a message to Iran earlier this month regarding the ongoing talks over Iran's nuclear program.
The reports were published just one day before the deadline over the talks.
Agence France-Presse reported that Iran's highest-circulation newspaper, Hamshahri, based its report on an Iranian lawmaker who indicated that "one of the leaders of a neighboring country" had delivered the private message to Tehran.
The report pointed to Iraqi Prime Minister Haider al-Abadi as the message envoy. He most recently met Obama on June 8 during the G7 summit in Germany, then visited Tehran on June 17 where he met with Iranian Supreme Leader Ayatollah Ali Khamenei and President Hassan Rouhani, AFP reported.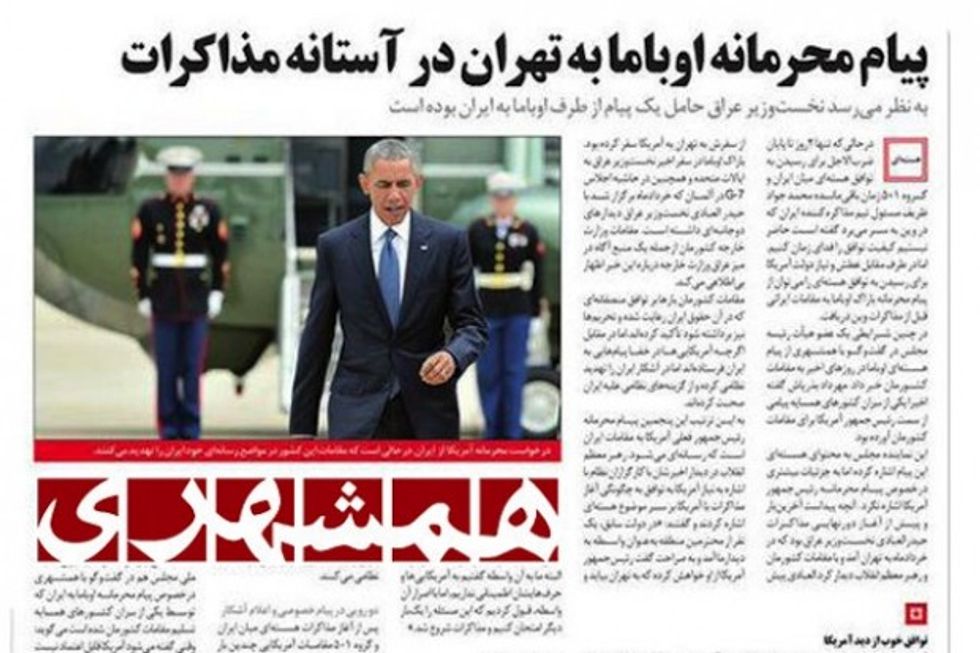 Hamshahri, an Iranian newspaper, reported that President Barack Obama sent a secret message to Iranian leaders this month. (Screenshot: Hamshahri via Mehr)
Iran's semi-official Fars news agency confirmed the account Monday with Iranian Member of Parliament Mehrdad Bazrpash.
"An official of one of the neighboring countries has recently brought a message from the U.S. president to our country's officials," Bazrpash told Fars.
The lawmaker accused the U.S. of presenting different positions in public and privately.
"The contents of the United States' private messages to Iran are different from what the American officials say in the public," he said.
There were no further details reported about the contents of the message beyond that it concerned the nuclear talks.
Iran's semi-official Mehr news agency quoted the Hamshari newspaper report and then pointed to a speech last week by Khamenei in which he appeared to hint at Obama's use of an intermediary.
In a speech to government officials on June 23, Khamenei said, according to Mehr's transcript:
They made a request and chose an intermediary. One of the honorable personalities in the region came to Iran and met with me. He said that the American president had called him, asking him to help. The American president said to him that they want to resolve the nuclear matter with Iran and that they would lift sanctions.
Khamenei reportedly said in his speech that Obama had agreed to recognize Iran as a nuclear power and that the U.S. would lift sanctions in six months.
"Two fundamental points existed in his statements," Khamenei said, according to Mehr. "One was that he said they would recognize Iran as a nuclear power. Second, he said that they would lift sanctions in the course of six months."
"Through that intermediary, he asked us to negotiate with them and to resolve the matter. I said to that honorable intermediary that we do not trust the Americans and their statements. He said, 'try it once more' and we said, 'very well, we will try it this time as well.' This was how negotiations with the Americans began," the supreme leader added.
The Iranian newspaper reported that the Iranian Foreign Ministry did not "have any knowledge" of such a message.
The Wall Street Journal reported late last year that Obama sent Khamenei a message in October about their shared interest in combatting the Islamic State, which appeared to be designed to push the Iranians closer to a nuclear deal.
The Journal reported that it was at least the fourth letter Obama had written to Khamenei since the U.S. president took office.