For a women's luncheon, the University of Missouri at Kansas City hoped to procure Hillary Clinton as its celebrity speaker, but her $275,000 fee was just too expensive.
So instead, the university doled out $65,000 to book her daughter — Chelsea.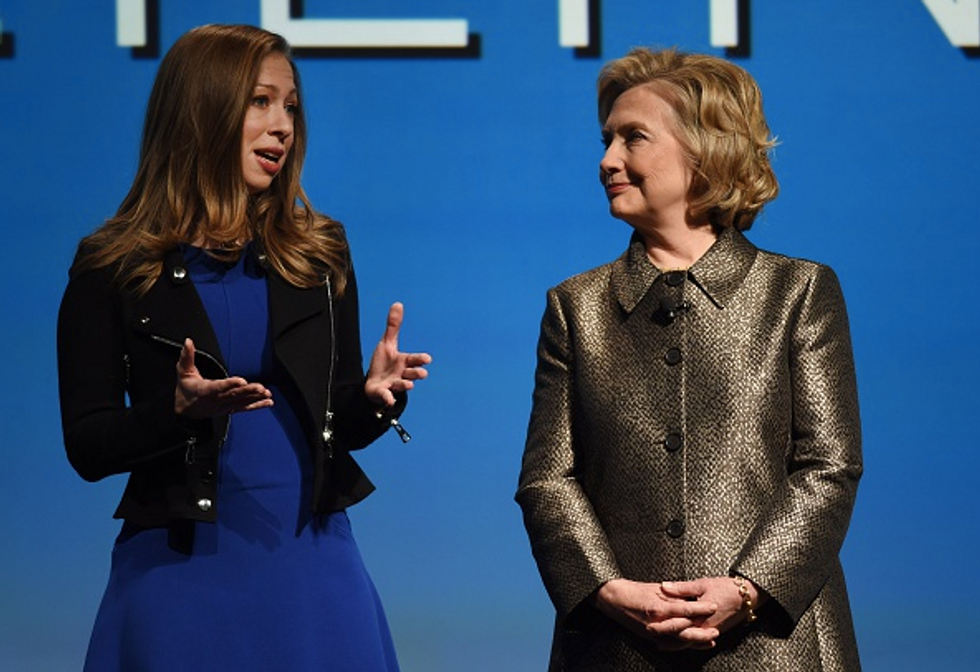 Chelsea and Hillary Clinton speak during a women's equality event, March 9, 2015 in New York. (Getty Images/Don Emmert)
According to 500 pages of documents obtained by the Washington Post, a school official said "Yikes!" in one email when Hillary's speaking fee was disclosed. The school then turned to Chelsea to give a brief 10-minute speech, participate in a 20-minute question-and-answer session and pose for photos with special guests.
The Post said that Chelsea's representatives kept a tight rein on her appearance at the public university and controlled everything from the promotional materials to who would give the introduction speech and what that speech would include.
The Washington Post reported:
The contract stipulated that Clinton would have final approval of everything, such as the selection of her introducer (celebrities, journalists and elected officials were prohibited from consideration), the onstage setup (there must be "room-temperature water" next to her podium along with "two comfortable armed-and-backed chairs" for the question-and-answer session) and the type of microphone provided for her use (both lavaliere and handheld).

In e-mails with university officials, Clinton's aides closely edited the texts of press releases, marketing materials and introductory remarks. Clinton's representatives instructed that a line about her being the daughter of Bill and Hillary Clinton be deleted from one news release and that her title of vice chair of the Clinton Foundation be added beneath her name on an electronic flier. Other materials mentioned her parents, however.
Chelsea's representatives also managed her time on campus, including controlling how long she would spend backstage taking photos with special "VIP" guests (20-30 minutes).
The $65,000 fee, paid in private donations, supposedly went to the Bill, Hillary and Chelsea Clinton Foundation, although the Washington Post said there was no mention of the money going to charity in either her contract or emails between the University of Missouri representatives and Chelsea's own.
The University of Missouri sold 1,100 tickets at $35 each and claimed that the goal of the event was to raise awareness about its new women's hall of fame — not necessarily make money.
Other speakers considered by the university included: feminist Gloria Steinem at $30,000 and journalists Tina Brown at $50,000, Cokie Roberts at $40,000 and Lesley Stahl at $50,000.  
"Chelsea was the perfect fit," Amy Loughman, an alumni relations official who managed the event, wrote in one of the emails obtained by the Washington Post a few days afterward. "It created fantastic buzz in the community."
Hillary Clinton drew some attention last year over her comments that she and Bill were "dead broke" when they left the White House in 2001, even though the couple purportedly made $109 million from 2000 to 2007 from speaking engagements and book deals. Hillary has also owned four multi-million dollar homes — one valued at $13 million.
(H/T: Washington Post)