The decision to remove dozens of American flags and other patriotic emblems from grave sites just days before the Fourth of July had Los Angeles-area residents demanding an explanation — and volunteering in a big way to help make sure every deceased veteran has a flag for the upcoming holiday.
Ted Dirkam, a spokesman for the La Verne Cemetery, said the flags are removed every Wednesday so the grass can be cut. But while acknowledging all the anger and frustration over the company's decision to remove the flags just hours before a patriotic holiday, Dirkam told KABC-TV, "I have no comment."
Photos show the removed flags lying on the ground nearby, discarded as if they were trash. When family and friends of those who are buried at the cemetery noticed what someone had done with them, they were livid.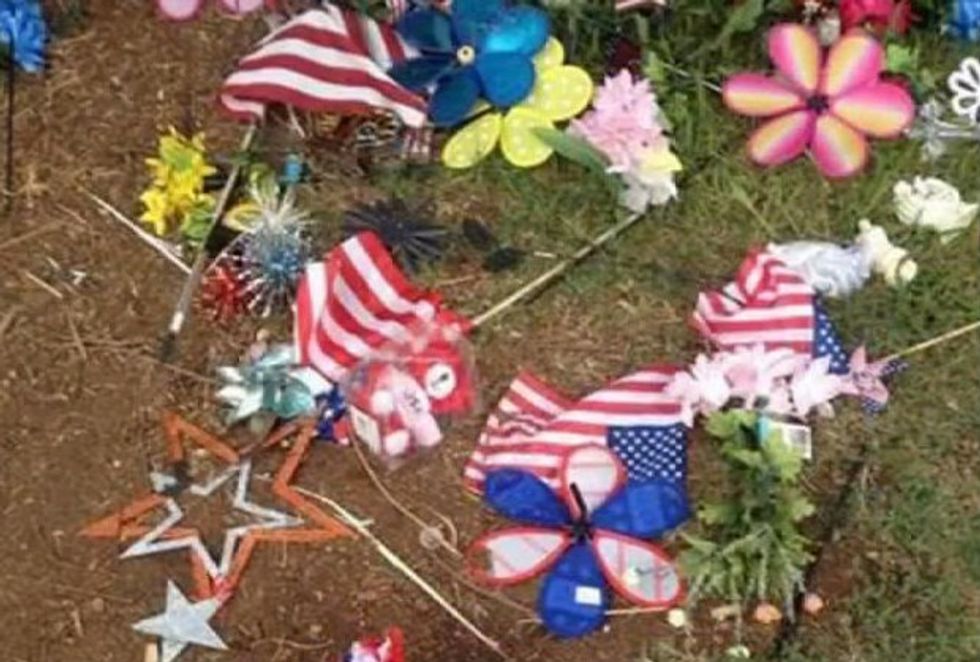 Image source: KABC-TV
Ty Helman, who grew up in La Verne, said he has a lot of family members and friends who are buried at the cemetery and the idea that anyone would remove those flags is just "utterly disrespectful."
"It's irritating because she showed me the pictures of all the flags in the trash can and on the floor being disrespected, come to find out there's nothing on the grave sites at all," Kacy Thompson, whose brother is buried there, told KABC.
Christopher Varela, whose grandfather's and grandmother's flags were two of the ones removed, said "it's just not right." And Varela's feelings were shared by plenty of others who showed up to replace flags at the graves.
Ronald Ballenger was among those who pitched in to replace the flags. But Ballenger, a Navy veteran, said he was just doing his "patriotic duty."
"Having the American flag – you know we are American citizens, we are on American soil and it's a big grateful thing that we have people who are willing to help out and put flags up for all the veterans that actually deserve it.," Ballenger said.
The group of volunteers placed nearly 200 flags at the cemetery, all of which were donated by area businesses, KABC reported.
(H/T: KABC-TV)
–
Follow Jon Street (@JonStreet) on Twitter