They may be "just'a good ol' boys, never meanin' no harm," but it appears that Bo and Luke and their trusty General Lee are no longer in the good graces of TV Land.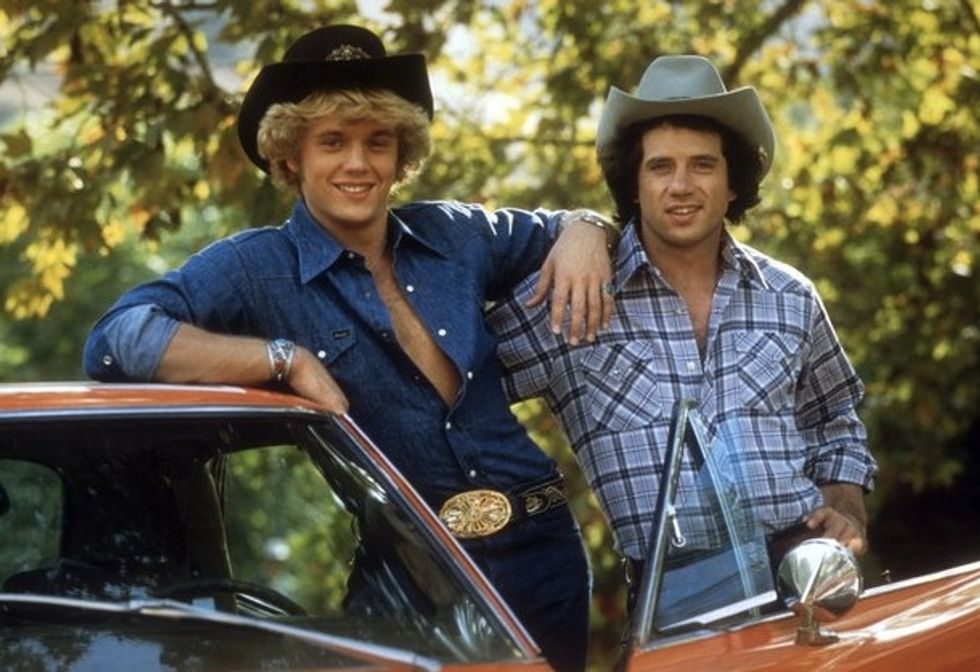 Image source: Digitalspy
"The Dukes of Hazzard" has been pulled from the network's schedule, several news outlets have confirmed, but no reason for the action has been reported.
TV Land did not respond to TheBlaze's request for comment as to why the iconic comedy has been booted off the air, but the news follows increasing national outcry against displaying the Confederate flag after the massacre at a black church in Charleston, South Carolina, last month.
Many retail outlets stopped selling the flag in response to protests, including Warner Bros. Consumer Products, which ended production of die-cast replicas and vehicle model kits of the 1969 Dodge Charger — "The General Lee" — with a Confederate flag on its roof that was famous on "Dukes."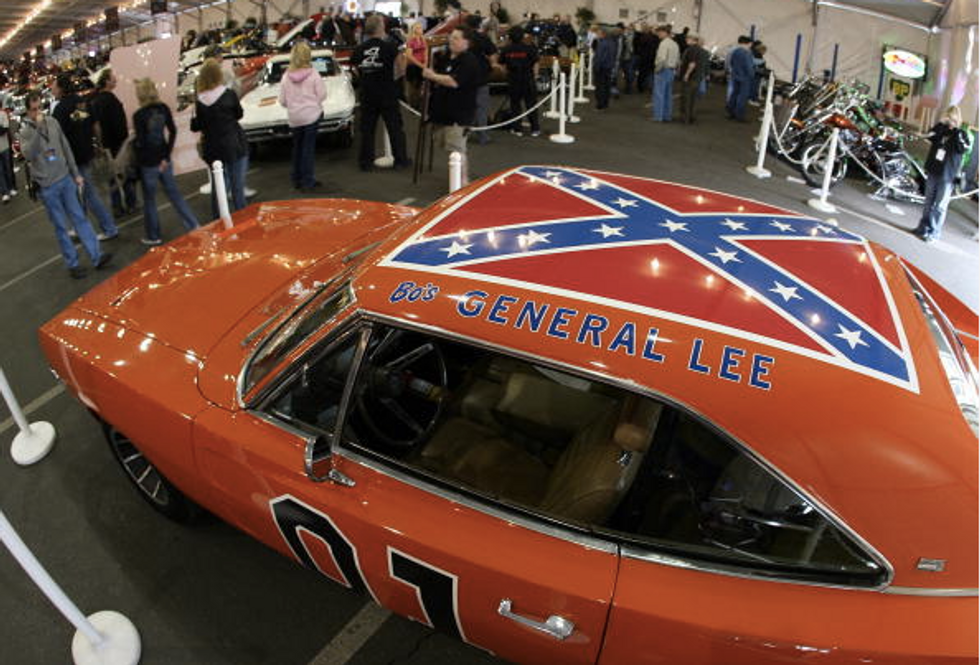 A 1969 Dodge Charger, dubbed 'The General Lee" from the TV series "The Dukes of Hazzard," displayed during the annual Barrett-Jackson Collector Cars auction in Scottsdale, Arizona, Jan. 16, 2008. (Getty Images/Gabriel Bouys)
It isn't clear when the series, which ran from 1979 to 1985, began airing on TV Land. But a classic television blog noted on June 11 that the network had started showing reruns and was on the schedule through June 23. The Charleston church shooting took place June 17; the Confederate flag controversy followed days later with a weekend protest and escalated afterward.
But a change.org petition — "Stop Banning Dukes of Hazzard" — has hit back, noting the show "was about family values, fighting corruption, helping friends, neighbors and even strangers... no matter what color they were."
Ben Jones, who played Cooter Davenport on the show and owns stores in Tennessee and Virginia that sell related memorabilia, spoke about the controversy.
"That flag on top of the General Lee made a statement that the values of the rural south were the values of courage and family and good times," Jones posted to his Facebook page in all capital letters. "Our beloved symbol is now being attacked in a wave of political correctness that is unprecedented in our nation of free speech and free expression. Activists and politicians are villifying [sic] southern culture and our heritage as being bigoted and racist. We know that is not the case. And we know that in Hazzard County there was never any racism."
Jones said he'll keep selling products with Confederate symbols on them "until hell freezes over."
—
Follow Dave Urbanski (@DaveVUrbanski) on Twitter