A new survey conducted in the wake of the Supreme Court's legalization of same-sex marriage last Friday found that 19 percent — or one in five Americans — believe that "religious institutions or clergy should be required to perform same-sex marriages."
More specifically, 26 percent of Americans under the age of 40 believe that churches and clergy should be forced to preside over gay nuptials.
The survey, conducted by the Barna Group, a polling firm that studies religion, also found that 94 percent of evangelicals oppose legalization of same-sex marriage, with only 2 percent expressing support for the measure. Meanwhile, 86 percent believe that the decision will have a negative impact on American society, with just 10 percent saying that they believe offering marriage rights is morally acceptable.
Sixty-six percent of practicing Christians overall believe that the Supreme Court erred in its decision. More broadly, 49 percent of Americans agree with the decision, with 43 percent expressing disagreement.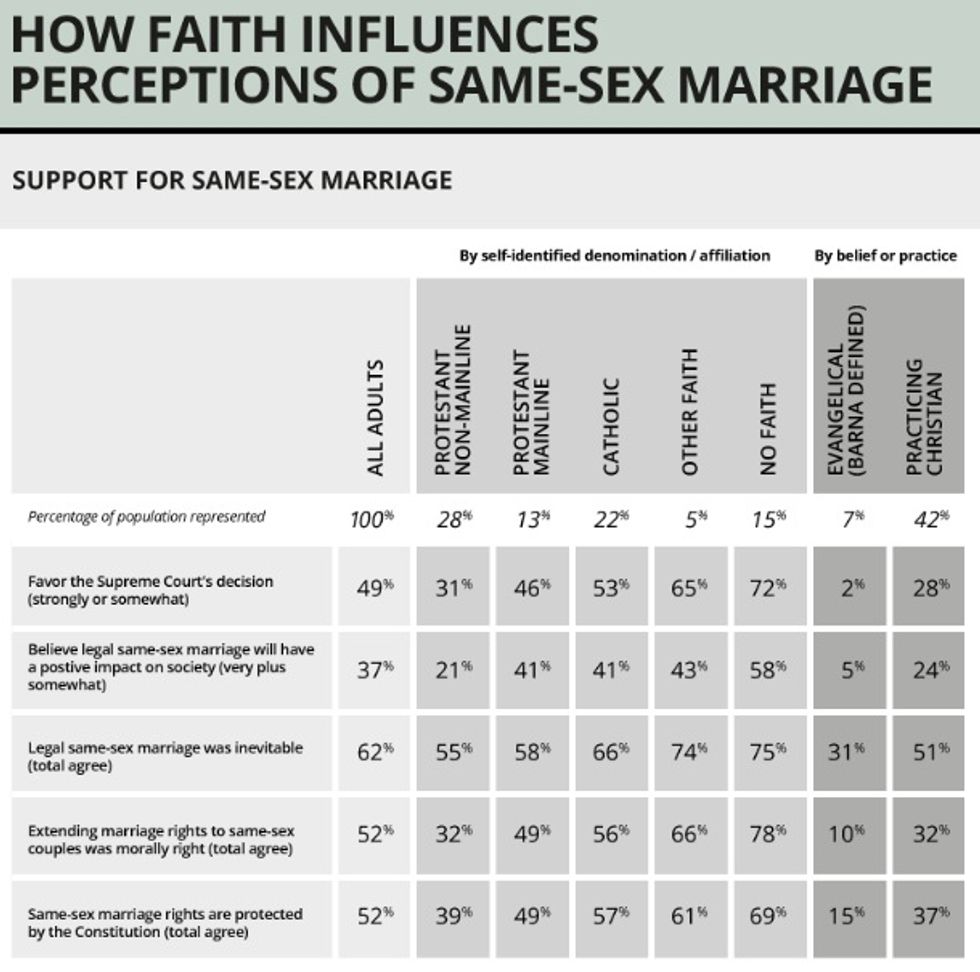 Barna Group
Much has been said about the divide between Millennials and older Americans when it comes to same-sex marriage, but it appears that practicing Christians under the age of 40 are substantially more likely than their non-practicing peers to reject the Supreme Court's decision.
"Age has been—and continues to be—a defining fault line on this issue. Younger practicing Christians, however, have more in common with their older counterparts than they do with the general population," reads the Barna report. "One-third of practicing Christians under 40 favor the ruling (35%), compared to six in 10 among all adults in their age cohort (61%) — a gap of 26 percentage points."
Twenty-six percent of practicing Christians aged 40 and older agree with the ruling, meaning that younger Christians are only nine percentage points behind older practicing believers on that metric; 73 percent of non-practicing Christians under 40 support the decision.
Read more about the survey here.
(H/T: Barna Group)