The unlikely duo that may have saved a 78-year-old Terry Smith's life got a surprise visit recently from a woman they had never met. The visitor was Smith's daughter, who said the call she got from her dad the night of his rescue was the "most terrifying" she'd ever received.
Smith was in his car near a Chick-fil-A restaurant in Oklahoma City back in May when flood waters began to fill his car. He called his daughter, Stacey Weddington, for help.
"He called me and he said 'I need help' and I was thinking let's change a light bulb or something and he said 'My car is floating away and filling up with water," Weddington told KFOR-TV.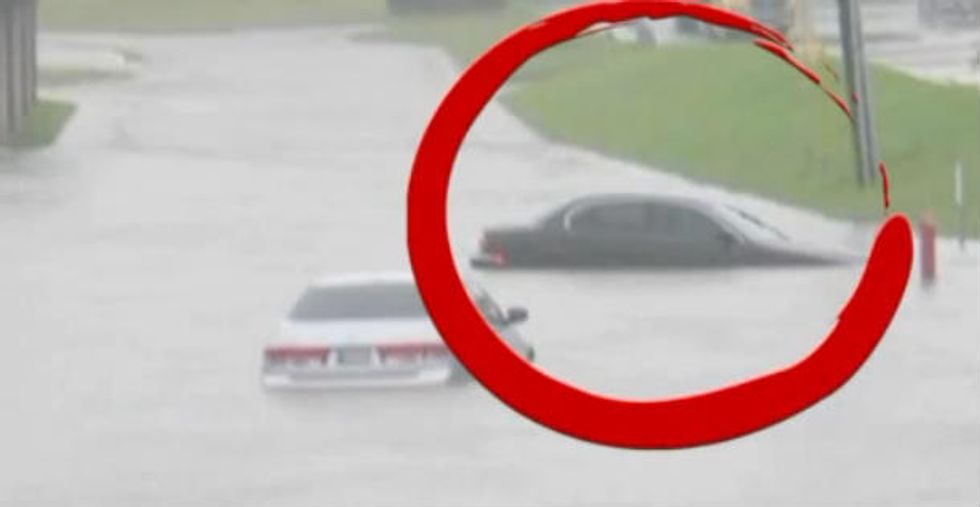 Image source: KFOR-TV
Realizing the need to act quickly, Weddington hung up and called 911. But even emergency responders didn't act as fast as two unlikely heroes.
Chick-fil-A employees Luis Torres and Jessica Gernandt watched from the restaurant as flood waters began ravaging the community. But the two just couldn't stand back and do nothing.
"He [Luis] and I went and got him and we just walked him up here to the store," Gernandt said.
That was May. Now fast-forward to July when Weddington dropped in on the Chick-fil-A workers with her own way of saying thank you.
Weddington told her story to KFOR-TV for its "Pay It 4ward" segment. Up for grabs is $400 to viewers who have gone out of their way to help others. This time around, it was Torres and Gernandt.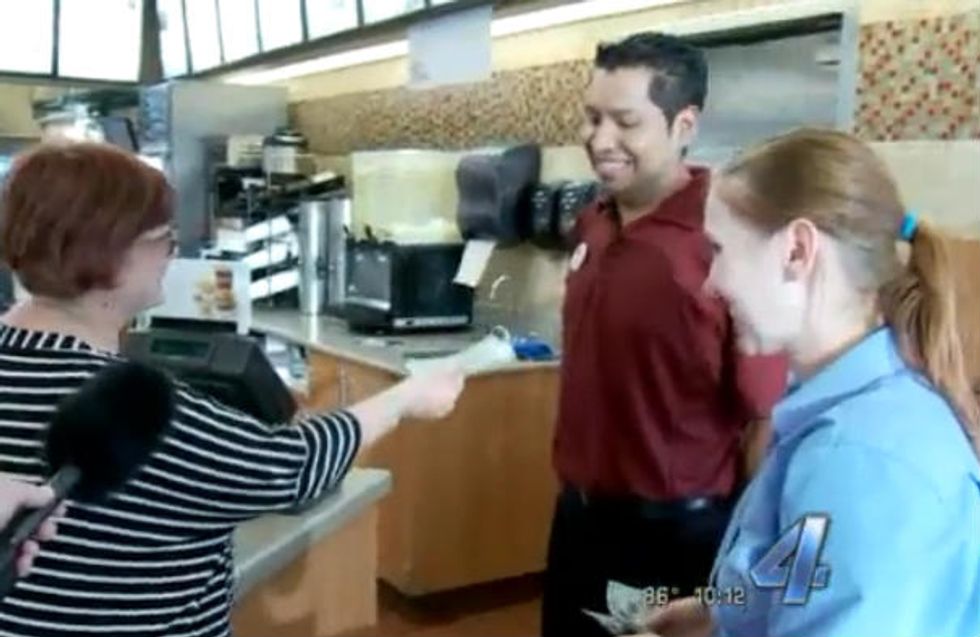 Image source: KFOR-TV
Weddington and her dad dropped by the restaurant while the two were working to give each of them their share of the prize. But first, she gave them something by which they'll be able to remember their acts of heroism.
"Do these towels look familiar?" Weddington asked. "You all used these towels to dry off my dad when you rescued him when his car was filling up with water and floating down the street."
Moments later, Weddington handed them each $200 in cash from First Fidelity Bank. Torres said he'll use the extra money to buy toys for his 7-year-old son while Gernandt said she'll spend the extra money on her family, too.
"You are heroes and angels to our family. You did not have to do what you did, but you guys really stepped up and showed your heart and our family is forever grateful, "Weddington told the Chick-fil-A workers.
Smith stood in the background as his daughter expressed her thanks, but when he had a chance made known his own gratitude to the two people who may very be the reason he is alive today.
"I was up to here in water," Smith said with his hand to his chin. "I didn't know how I was going to get out, but they came to the rescue. God bless them."
See them express their heartfelt thanks to the two heroic Chick-fil-A workers:
Oklahoma City was one of several areas hit hard by severe flooding in May. The heavy rains killed at least three people across parts of Oklahoma and Texas.
According to the National Weather Service, it was the most rainfall ever to be recorded in Oklahoma City in one month. The city received 18.19 inches of rain through May 23. The previous all-time monthly record was 14.66 inches, set in June 1989.
(H/T: KFOR-TV)
–
Follow Jon Street (@JonStreet) on Twitter