It might only take a small percentage of votes to win a crowded Republican presidential contest that includes four senators and one former senator; four sitting governors; four ex-governors; a brain surgeon; an ex-CEO; and a billionaire reality TV star. The winner could depend on which group of Republican voters turn out.
"There is a little bit of an identity crisis in conservatism now. Conservative voters are trying to figure out who the conservative candidates are and the candidates are trying to figure out who the conservative voters are," said Robert J. Arnakis, a senior director at the Leadership Institute, which trains conservatives candidates and activists. "This election is about who can govern and make a difference. Competence is a central theme."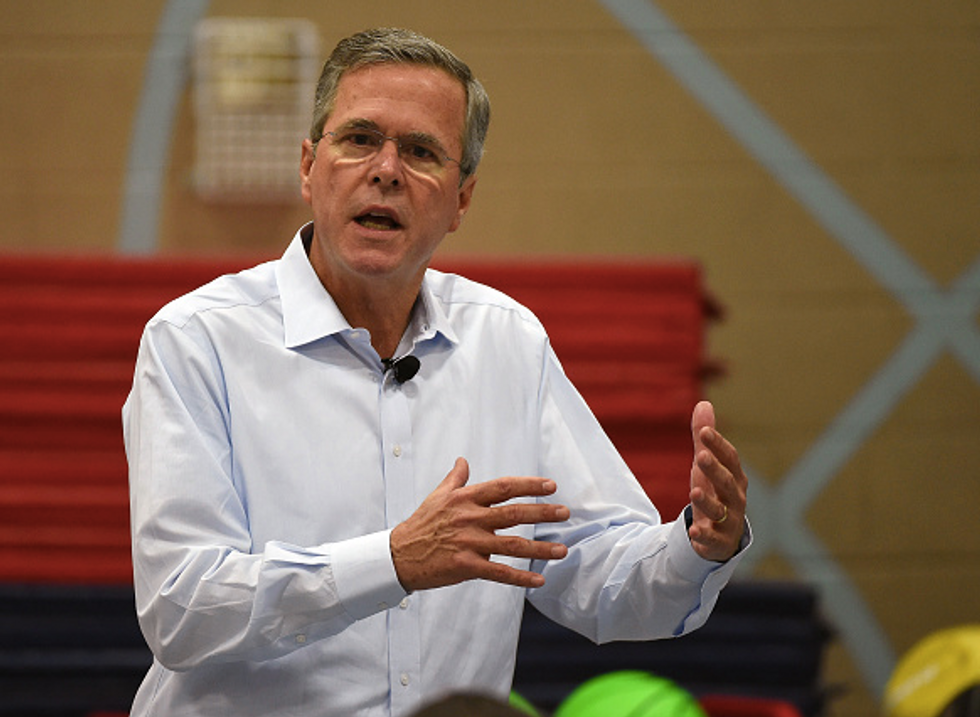 Republican presidential candidate and former Florida Gov. Jeb Bush speaks at a town hall meeting at the Valley View Recreation Center, June 27, 2015 in Henderson, Nev. (Ethan Miller/Getty Images)
So far, former Florida Gov. Jeb Bush appears the favorite among establishment Republicans, but annoys many conservatives. Kentucky Sen. Rand Paul is the main candidate with appeal to libertarian Republicans, while also being a leading contender for the Tea Party vote, which – like the social conservative vote — is up for grabs among several candidates.
Paul has alienated national security hawks (also divided) as much as Texas Sen. Ted Cruz has agitated establishment Republicans. Wisconsin Gov. Scott Walker and Florida Sen. Marco Rubio appear to have potential crossover appeal, analysts say.
"The crowded field is why we are having a primary within a primary," said Tim Hagle, a political science professor at the University of Iowa, who's on the frontlines of the presidential battleground in the first presidential caucus state.
Hagle warned against writing off candidates like South Carolina Sen. Lindsey Graham, Louisiana Gov. Bobby Jindal and former New York Gov. George Pataki, who aren't doing particularly well in polls right now. He recalled that former Pennsylvania Sen. Rick Santorum –back for another run – was largely ignored on a shoestring campaign budget before emerging as the runner-up for the GOP nomination in 2012.
"They will all have to try to appeal to more than one group," Hagle told TheBlaze. "No one wants to fit into the niche of 'I would never vote for that person.'"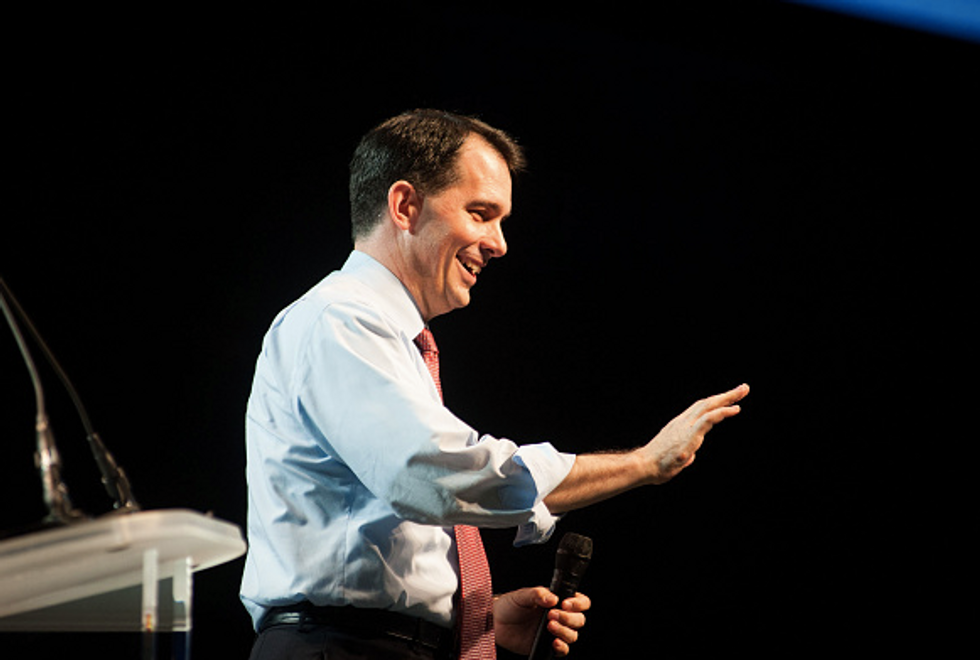 Wisconsin Gov. Scott Walker at the Western Conservative Summit in Denver, Colo., June 27, 2015. (Theo Stroomer/Getty Images)
Tea Party voters are looking for a candidate who will stand firmly against expanding the national debt, said Jenny Beth Martin, chairwoman of the Tea Party Patriots Citizens Fund.
"The issues Tea Party voters care about are economic liberty, personal freedom and a debt-free future," Martin told TheBlaze. "We want to see the repeal of Obamacare and we want to see the penny plan enacted within five years. We want a candidate who will embrace all these issues. If a candidate does that, it will help him win the primary and win the general election."
Paul, Cruz and Rubio all won their Senate campaigns backing Tea Party principles, Martin said.
Martin doesn't see momentum building for any single candidate yet, but citing the most recent GOP presidential nominees Mitt Romney and John McCain, she said some candidates could have a tough time getting out the vote.
"A general election candidate needs to embrace our values when it comes to a candidate that can unite America," Martin said. "We don't need a wishy-washy nominee. We are looking for someone who will embrace our solutions."
Though a larger field than normal, it's also a better GOP field than normal, said Americans for Tax Reform President Grover Norquist.
"In 2012, we had two or three serious people, and eight were running to be a talk radio host," Norquist told TheBlaze. "If half this field were hit by a bus this year, we'd still have the strongest Republican primary field probably since 1980. The depth and competency of the candidates is strong."
National polls are mixed, frequently showing a tie for first place, or a slight Bush lead. One poll found a small lead by famed neurosurgeon Ben Carson. But national polls generally matter far less than early primary state polls, where at least for now, things could be narrowing down to Walker vs. Bush.
Walker, who plans to formally announce his candidacy later this month, has moved into a decisive lead in Iowa, whereas Bush leads comfortably in New Hampshire, with real estate mogul and reality TV star Donald Trump pulling second.
As for South Carolina, the verdict is split. A recent poll showed favorite son Graham – a long shot for the nomination – leading by two. But other previous polls showed both Bush and Walker leading in the state.
In the last weekend in June, Carson won the Western Conservative Summit's Republican presidential straw poll in Denver, and former Hewlett-Packard CEO Carly Fiorina came in second place. The two have never won elected office before and straw polls are not scientific, but can indicate where the grassroots of the party stands.
"In primaries and caucuses, the candidate who can mobilize the most voters has an advantage. In the Iowa caucus, it doesn't take that much to win," said Gary Rose, the chairman of the political science department at Sacred Heart University, who is writing about book on the 2016 presidential race.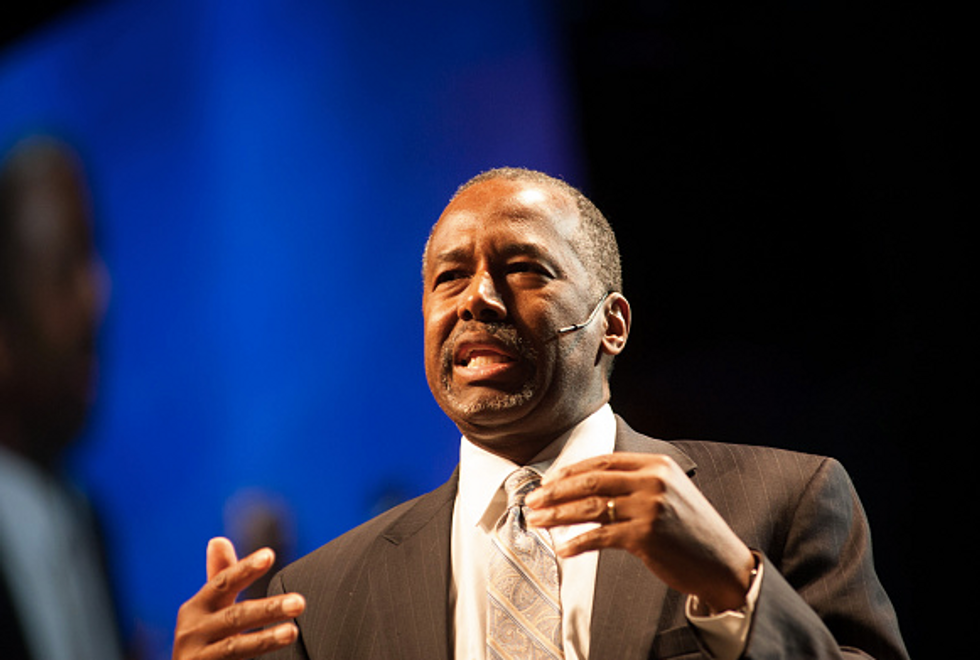 Ben Carson speaks during the Western Conservative Summit, June 27, 2015 in Denver, Colo. (Getty Images)
Rose sees three main four groups in what he calls a "fractured party": establishment Republicans inclined to support Bush or New Jersey Gov. Chris Christie; social conservatives inclined to support former Arkansas Gov. Mike Huckabee, Santorum or Carson; Tea Party Republicans inclined to support inclined to back Paul, Cruz or Carson; and libertarian Republicans basically backing Paul.
As for social conservatives, both Huckabee (2008) and Santorum (2012) can stake their claim as having been runners-up in previous primaries for a party with a history of nominating the second-place finisher.
"Scott Walker seems to be the one candidate right now with appeal to establishment, social conservatives and Tea Party Republicans," Rose told TheBlaze. "Jeb Bush has issues with immigration and people in the Republican Party still resent his brother. I don't think he is a shoo-in by any means."
"For Rand Paul, the libertarian faction of the Republican Party is a small but committed group," Rose added. "It's the youngest and least well-funded group. But in most hypothetical matchups against Hillary Clinton, Rand Paul does very well."
In most polls, Hillary Clinton holds a 3-point lead over Paul. She opens up a more sizable lead on Bush of 5 or more. The same is true of Clinton's lead over former Arkansas Gov. Mike Huckabee. A recent Wall Street Journal poll actually showed Clinton with a 10-point lead over Rubio, but most other polls showed the hypothetical race within 3 or 4 percentage points. Walker also doesn't do as well against Clinton in hypothetical matchups, trailing her by 14 points in an NBC/Wall Street Journal poll and by 8 points in a Quinnipiac poll. However, a CNN poll showed him trailing by just 3 points.