Amid Greece's financial crisis and looking toward Sunday's national referendum on a bailout, the country's finance minister accused creditors of "terrorism" against Greek citizens, Reuters reported.
"What they're doing with Greece has a name: terrorism," Yanis Varoufakis told Spanish newspaper El Mundo. "Why have they forced us to close the banks? To frighten people."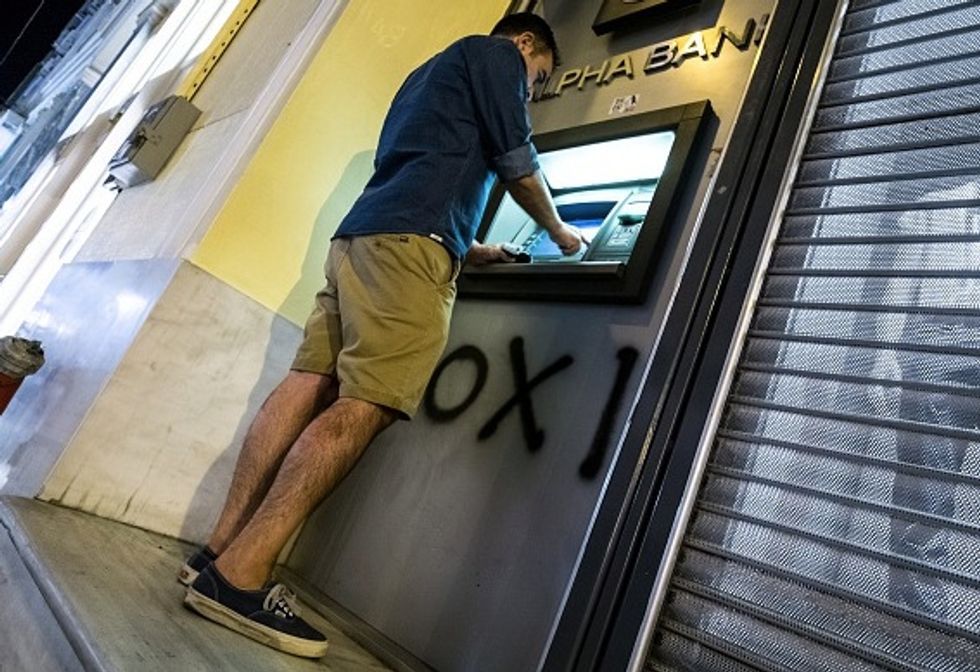 A man withdraws money from an ATM in downtown Athens on July 5, 2015. A referendum to decide whether or not Greece is to accept the bailout conditions proposed jointly by the European Commission, the International Monetary Fund and the European Central Bank will take place later on July 5. (Image source: ANDREAS SOLARO/AFP/Getty Images)
He added that he would resign if Greeks vote "Yes" on the referendum and noted that Europe has as much to lose as Greece.
"If Greece crashes, a trillion euros (the equivalent of Spain's GDP) will be lost," he told El Mundo. "It's too much money, and I don't believe Europe could allow it."
More from Reuters:
After a week in which Greece defaulted, shuttered its banks and began rationing cash, Greeks vote on Sunday on whether to accept or reject tough conditions sought by international creditors to extend a lending lifeline that has kept the debt-stricken country afloat.

The left-wing government is urging a "No" vote, saying Greece's European partners are bluffing when they warn that would mean a Greek departure from Europe's single currency, with unforeseeable consequences for Greece, Europe and the global economy.

Opinion polls on Friday gave the "Yes" camp, which favors accepting the bailout terms, a slender lead but all were within the margin of error and pollsters said the vote was too close to call.
(H/T: The Huffington Post)
—
Follow Dave Urbanski (@DaveVUrbanski) on Twitter