Democratic presidential candidate Hillary Clinton's campaign devised a unique way to keep the press from getting too close to her during Saturday's Independence Day parade in Gorham, New Hampshire.
A rope line.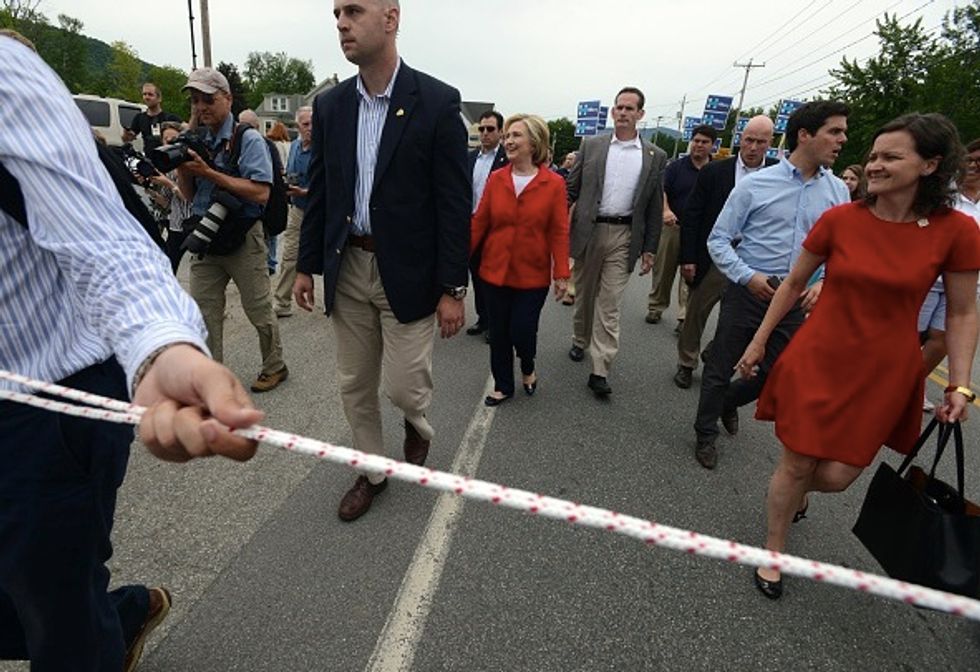 Democratic presidential candidate Hillary Clinton marches in the Gorham, New Hampshire, Fourth of July parade. (Image source: Darren McCollester/Getty Images)
Two lengths were apparently needed at one point:
Clinton advance aides create a rope line for the press, moving with the candidate pic.twitter.com/9S7CpVt7x4

— Maggie Haberman (@maggieNYT) July 4, 2015
And it appeared effective:
So many people trying to get close to Hillary her aides are using a rope to keep press at distance pic.twitter.com/PkIl0Pez98

— Philip Rucker (@PhilipRucker) July 4, 2015
Clinton reporters being roped down a parade route via @JaxAlemany snaps pic.twitter.com/mpNKofK7r7

— Peter Hamby (@PeterHamby) July 4, 2015
The Washington Post reported that the press was kept 10 to 15 feet away from Clinton — and couldn't hear what she was saying to people.
Although the paper noted that protesters could be heard shouting, "What about Benghazi?" and "Show us your emails!"
The New Hampshire Republican Party took issue with "the use of a rope line to protect the arrogant Democrat frontrunner on a public street," the Post reported.
"Hillary Clinton continues to demonstrate her obvious contempt and disdain for the Granite State's style of grassroots campaigning," Jennifer Horn, chairman of the state GOP, said in a statement. "The use of a rope line at a New Hampshire parade is a sad joke and insults the traditions of our First-in-the-Nation primary."
This story has been updated.
(H/T: Drudge Report)
—
Follow Dave Urbanski (@DaveVUrbanski) on Twitter