Republican presidential contender Donald Trump doubled down on his controversial immigration comments Monday, releasing a lengthy statement aimed at clarifying his position on the issue.
"I don't see how there is any room for misunderstanding or misinterpretation of the statement I made on June 16th during my Presidential announcement speech," Trump said at the offset of his statement.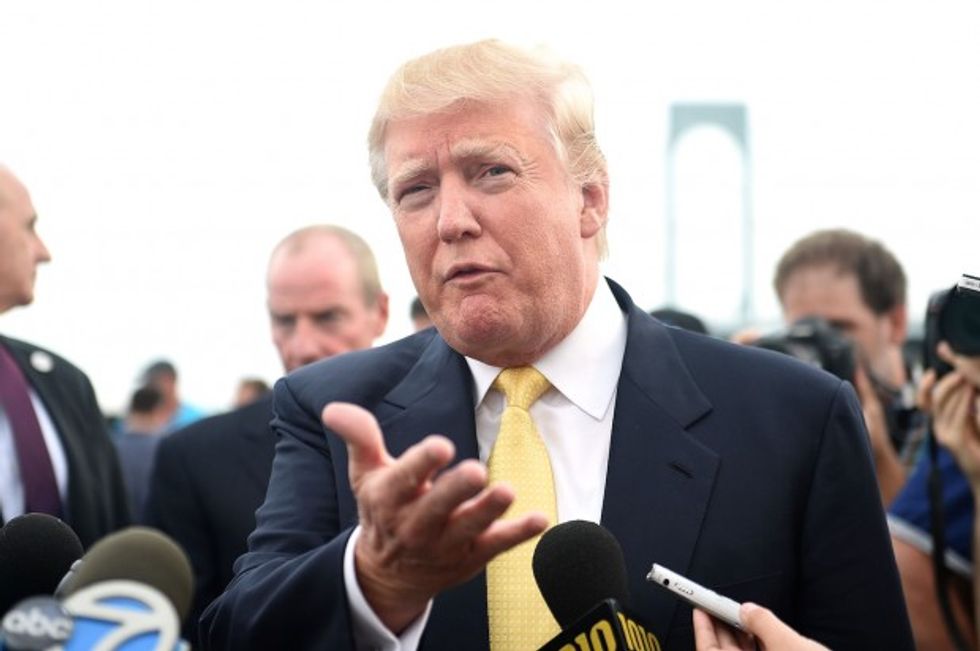 Andrew H. Walker/Getty Images
The real estate billionaire stirred controversy when he said during his 2016 announcement speech that most of those crossing the southern border into the U.S. are criminals. "They're bringing drugs. They're bringing crime. They're rapists," Trump said.
In a Monday statement, Trump doubled down on his comments, saying he respects the people of Mexico, but reaffirmed his position that immigrants are bringing crime with them. Trump also highlighted the recent killing of a San Fransisco woman allegedly killed by an illegal immigrant deported five times.
"The Mexican Government is forcing their most unwanted people into the United States. They are, in many cases, criminals, drug dealers, rapists, etc. This was evident just this week when, as an example, a young woman in San Francisco was viciously killed by a 5 time deported Mexican with a long criminal record, who was forced back into the United States because they didn't want him in Mexico," he said. "This is merely one of thousands of similar incidents throughout the United States."
[sharequote align="center"]"The Mexican Government is forcing their most unwanted people into the United States."[/sharequote]
"In other words, the worst elements in Mexico are being pushed into the United States by the Mexican government. The largest suppliers of heroin, cocaine and other illicit drugs are Mexican cartels that arrange to have Mexican immigrants trying to cross the borders and smuggle in the drugs. The Border Patrol knows this," Trump continued. "Likewise, tremendous infectious disease is pouring across the border. The United States has become a dumping ground for Mexico and, in fact, for many other parts of the world. On the other hand, many fabulous people come in from Mexico and our country is better for it. But these people are here legally, and are severely hurt by those coming in illegally. I am proud to say that I know many hard working Mexicans—many of them are working for and with me…and, just like our country, my organization is better for it."
The Republican presidential contender continued, "The Mexican Government wants an open border as long as it's a ONE WAY open border into the United States. Not only are they killing us at the border, but they are killing us on trade … and the country of Mexico is making billions of dollars in doing so."
Trump also accused Univision, which he is suing for $500 million, of being "dictated to by the Mexican government."
"The last thing Mexico wants is Donald Trump as President in that I will make great trade deals for the United States and will have an impenetrable border–only legally approved people will come through easily," he said.
The billionaire added that he has "lost a lot during this presidential run," but said the issues he has addressed are "vital steps to Make America Great Again!"
—
Follow Oliver Darcy (@oliverdarcy) on Twitter