Bill O'Reilly blasted local and federal lawmakers Monday evening over the death of a San Fransisco woman shot dead by a suspected illegal immigrant who had been deported five times.
"The mayor and city supervisors of San Francisco are directly responsible for the murder of Kate Steinle, and the Obama administration is complicit," O'Reilly said in a talking points memo which also asserted Republican presidential contender Donald Trump's immigration analysis was correct.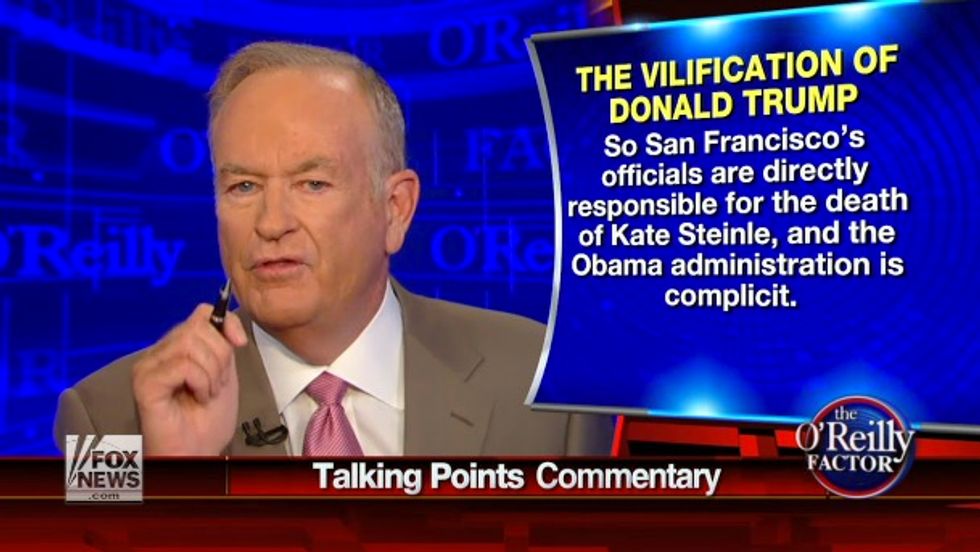 Image source: Screen grab
The Fox News host was reacting to news that 45-year-old Francisco Sanches, arrested for the shooting death of Kathryn Steinle, told authorities he chose San Fransisco to live in because of its status as a sanctuary city.
[sharequote align="right"]"The fact that a felon could be deported five times & still be walking around...should shame Congress!"[/sharequote]
"The feds asked the city of San Fransisco to keep Sanchez in custody! The city refused! Miss Steinle paid for that irresponsible and unconstitutional decision with her life," O'Reilly said.
The cable-news pundit placed some blame on the Obama administration for not not punishing cities that refuse to obey a 1996 immigration act which requires local authorities to cooperate with federal authorities when dealing with illegal aliens.
"Attorney General Loretta Lynch could order FBI agents today to arrest Mayor Lee and the supervisors for violating federal law. She is within her authority to do that," O'Reilly said. "I know that is not going to happen because racial politics drives the law these days."
"The fact that a felon could be deported five times and still be walking around San Fransisco should shame Congress — shame it!" he added.
O'Reilly called on lawmakers to pass a law that would require a five-year prison sentence for those who return to the U.S. illegally after being deported once.
"Congress should pass it and if President Obama doesn't sign it everything will be on the table," he said. "That legislation should be called the Kate law, much like Jessica's law. So who will sponsor the new law?"
"Talking points is disgusted with the cowardice of our elected officials," the Fox News host added. "Most of them are rich folks who could not care less about the violence and chaos out of control criminal activity south of the border is creating in this country! If Mexico does not crack down hard on border intrusions and drug trafficking, we should punish them economically. Punish them. Period."
O'Reilly's analysis came as billionaire Trump doubled down on his controversial immigration comments, pointing to Steinle's death as an example current immigration policy is not working.
—
Follow Oliver Darcy (@oliverdarcy) on Twitter