UPDATE: Evangelist Ray comfort apologizes after YouTube reinstates trailer and explains why he violated the platform's standards. Read the update here.
--
A trailer advertising a scripted movie about homosexuality has been removed by YouTube, with the company claiming that the content violated the platform's "policy against spam, scams, and commercially deceptive content" — a claim that the filmmaker behind the project is rejecting.
The clip about "Audacity," which was written and executive produced by evangelist Ray Comfort, was no longer available on YouTube as of Monday morning, with Comfort telling TheBlaze that he suspects that someone at the company "didn't like what they saw" and removed it.
Comfort, who previously told TheBlaze that the film presents the biblical view of homosexuality, said that someone notified him on Sunday that the trailer — which had already amassed 130,000 views — was no longer available.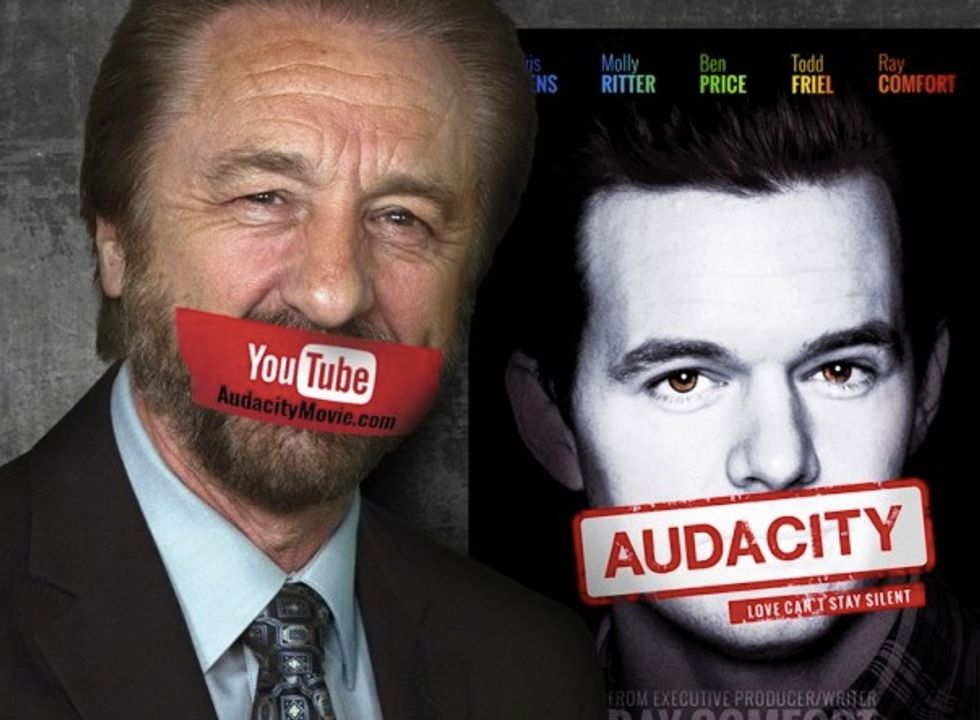 The trailer for Ray Comfort's "Audacity" has been removed by YouTube (Ray Comfort)
"As anyone who makes movies will tell you, the trailer can make or break the film. It creates interest and gets people excited," Comfort said. "So, we are continually keeping an eye on how many views they get. ... we monitor it daily to see how it's doing."
He was surprised to see that the clip was no longer active over the weekend.
A message now appears on the defunct trailer that reads, "This video has been removed as a violation of YouTube's policy against spam, scams, and commercially deceptive content," but Comfort said that there's nothing in the clip or the film that comports with that reasoning.
"Watch the two-minute trailer and see if you can find spam, a scam or anything commercially deceptive," he said, adding that he believes someone at YouTube simply saw the trailer, didn't agree with its contents and had it removed. "All we want is to be treated fairly."
Comfort said that the trailer shows numerous people changing their minds about whether individuals are born gay — something that he believes could be at the center of the controversial removal.
"The foundation for the gay argument is that homosexuals (like people of color) are born that way, and like someone's race, should never be discriminated against," he said. "The trailer shows a number of people changing their minds about homosexuals being born that way because I asked them two simple questions. It's pretty unnerving for the 'I can't help being gay argument,' and so they decided to censor us."
Comfort continued, "Or to put it another way, they discriminated against us because of our religion."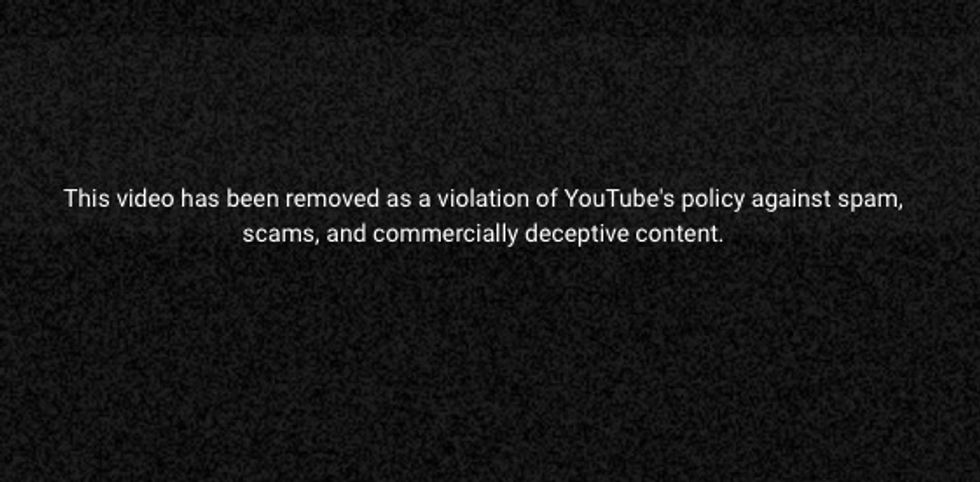 A screen shot of the message currently displayed on Ray Comfort's "Audacity" trailer
The evangelist has not spoken with anyone at YouTube about the removal, and in a statement issued to TheBlaze, a YouTube spokesperson declined to specifically address the "Audacity" trailer.
"While we don't comment on individual videos, YouTube does have strict spam and metadata policies," the statement read. "If a video is flagged by our community that violates these policies it is removed."
In a separate email, a representative said, "Videos are only removed if they violate our policies."
But Comfort said that he doesn't believe that there was any content that violated the company's standards.
"If the trailer did contain anything offensive we would be fine with it being removed," he said. "But it doesn't."
He's hoping that the "Audacity" trailer will be reinstated on YouTube, though a version has now also been made available on Vimeo. Watch it below:
As TheBlaze previously reported, "Audacity" was released online earlier this month, with Comfort explaining that his hope is for the movie to better equip Christians to tackle homosexuality in an era that has become increasingly more favorable toward same-sex relationships.
Read more about "Audacity" here.