Just weeks after the U.S. Supreme Court legalized gay marriage in the contentious Obergefell v. Hodges ruling, Variety is reporting that there's a feature film in the works about Jim Obergefell, the lead plaintiff in the case.
The movie is being developed by Fox 2000 Pictures, with the company purchasing the rights to Obergefell's story as well as the life story of his attorney Al Gerhardstein.
The company also purchased the rights to a book proposal by Obergefell titled, "21 Years to Midnight," the outlet reported.
Producers Marty Bowen and Wyck Godfrey are being brought in to work on the film, with their past credits including "Twighlight" and "The Fault in Our Stars," among other well-known films.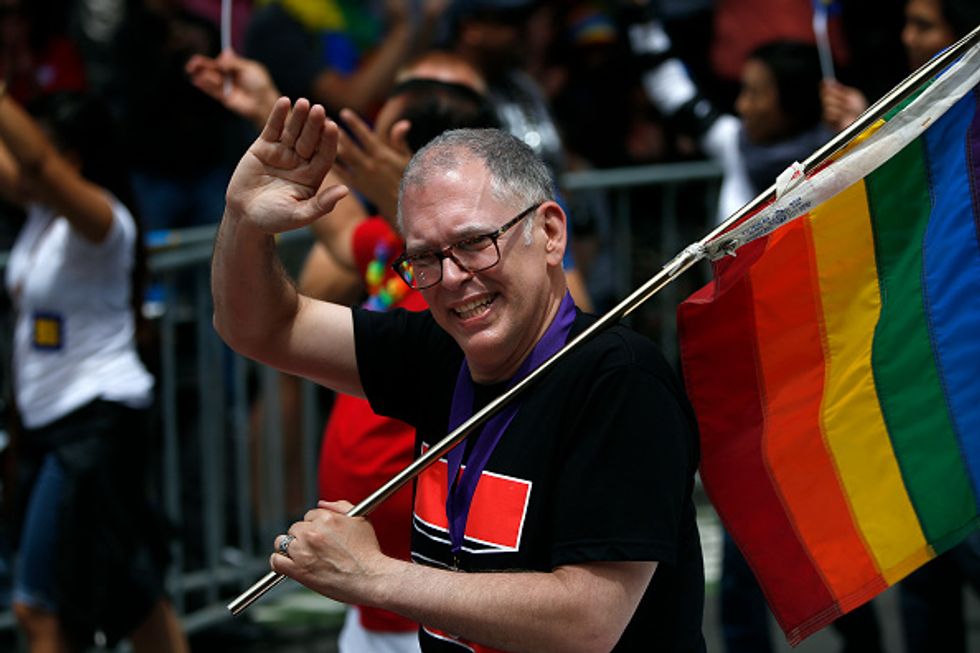 Jim Obergefell, the guest of honor at the San Francisco Pride Parade, was the plaintiff in the case that the Supreme Court recently decided on that brought the legalization of same-sex marriage to all 50 states. (Rick Loomis / Los Angeles Times via Getty Images)
As TheBlaze previously reported, Obergefell is a widower who took to the courts to battle Richard Hodges, the Ohio official charged with taking care of death certificates, in an effort to be named on his deceased husband John Arthur's death certificate; Arthur, died of ALS in 2013.
Obergefell recently wrote a piece for Variety recapping his battle against the government, noting that he had no idea that the journey would take him to the U.S. Supreme Court.
"We decided to stand up for our marriage and to no longer accept being treated as second-class citizens. We filed suit against the state of Ohio to demand recognition of our lawful, out-of-state marriage on John's impending death certificate," he wrote. "Our decision, motivated by pain and anger, created a chain of results I never expected. The obvious result of that decision is my trip to the United States Supreme Court as the named plaintiff in Obergefell v. Hodges, the landmark case about the right to marry throughout our country."
(H/T: Variety)