The U.S. Supreme Court will hear oral arguments on Tuesday for Obergefell v. Hodges, a same-sex marriage case whose outcome could have profound implications for the definition of marriage across America and the ability of states to handle the rules and regulations surrounding matrimony as they see fit.
The justices will assess whether states should be permitted to ban gay marriage — or whether the Fourteenth Amendment requires it. They will also examine whether those states that do not permit same-sex nuptials are allowed to refuse recognition of gay unions performed in other locations, according to a press statement by the Thomas Moore Law Center.
Obergefell v. Hodges involves six lawsuits from Tennessee, Kentucky, Michigan and Ohio, with each state defending its ban on same-sex marriage. The case specifically focuses on the Fourteenth Amendment's Equal Protection Clause, which disallows states from refusing people within their borders equal protection under the law.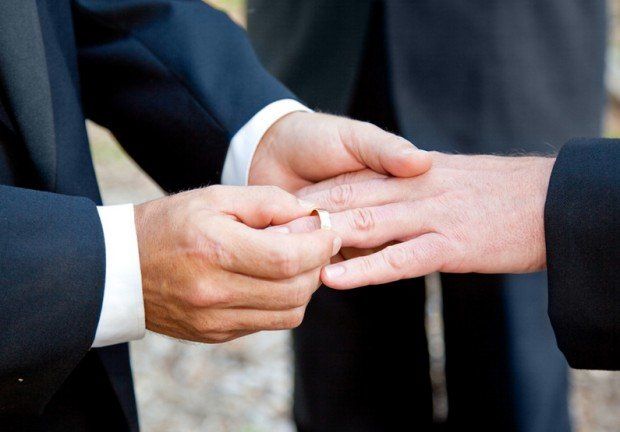 Photo credit: Shutterstock
During the three hours set for oral arguments, each side will focus on the equal protection issue and whether states must recognize the gay marriages performed in other states. 
The consolidated case is named for Jim Obergefell, a widower who is in a battle over being named on his deceased husband's death certificate, and Richard Hodges, the Ohio official charged with taking care of death certificates, according to NPR.
Another case among the six included in Obergefell v. Hodges involves Jayne Rowse and April DeBoer, a lesbian couple from Michigan who want to share custody of four adopted children. At the moment, each woman has adopted two of the kids and is hoping to ensure protections under the law that would allow both to have joint custody of the four.
The states are defending their crackdowns on gay unions, with attorney John Bursch representing them in front of the high court to show just reasoning for declining to recognize same-sex marriages, NPR reported.
"It's really not possible to say that the marriage definition Michigan has had since 1805, when it was still a territory before statehood, has all this time been irrational," Bursch said. "Michigan has a legitimate interest in encouraging opposite-sex couples to enter into permanent, exclusive unions within which to have and raise children."
But Mary L. Bonauto, a lawyer who will argue in favor of gay marriage, naturally has a very different view.
"We think that both equal protection and liberty are at play here, and they're both bound up together," she said.
Gay advocacy groups have reportedly spent months preparing for the case, exploring old transcripts from similar gay marriage battles to improve upon answers and to secure their best possible chances of winning in front of the Supreme Court, with Bonauto and another attorney practicing in moot courts along the way, the New York Times reported.
Gay rights supporter Vin Testa waves a rainbow flag outside the U.S. Supreme Court building, June 26, 2013 in Washington. (Getty Images)
The showdown comes as the gay marriage debate has intensified in recent years, with court battles driving many of the legal changes unfolding in states across America.
In recent years, U.S. courts have struck down bans on same-sex marriage, setting up the current battle that is set to unfold before the Supreme Court on Tuesday. But the high court's 2013 United States v. Windsor decision likely also played a role in and expedited the overturning of these state bans and set up the showdown that will come with Obergefell v. Hodges, the Pew Research Center reported.
While Obergefell v. Hodges will focus on gay marriage legalization, the previous case dealt with a key part of the Defense of Marriage Act — a provision that denied benefits to legally married gay couples. The case allowed same-sex couples, under federal law, to be considered "married." Previously, the law confined marriage to unions only between men and women.
Another portion of DOMA that was left untouched was the ability of states to deny recognition of marriages in other states and localities where gay unions are legal.
Same-sex unions are currently legal in 36 states and Washington, D.C., following the federal court decisions in 19 of those states in which laws and constitutional provisions have banned same-sex unions, according to Pew.
AFP/Getty Images
The ramifications of the current case before the Supreme Court are massive, considering that the decision will mean that same-sex unions are either legal in all 50 states — or potentially rolled back in many of the states where legalization has unfolded.
The sweeping power of the Supreme Court's impending decision has led 19 states to file court papers backing gay marriage, with 17 others filing paperwork defending the four states that are fighting to uphold bans on same-sex nuptials.
Polls have shown increases in the proportion of Americans who support gay marriages over the past decade, with that percentage passing the 50 percent threshold in some of these polls. A Pew Research Center survey conducted late last year found that 49 percent favor same-sex nuptials, with 41 percent opposing.
A Supreme Court decision is expected in June.