PHILADELPHIA (TheBlaze/AP) -- The Philadelphia Police Department has opened an internal affairs investigation into an April arrest after video surfaced showing "mostly white" officers repeatedly punching and kicking the black suspect, the Associated Press reported.
The department launched its inquiry into the forceful apprehension of 22-year-old Tyree Carroll on Thursday, a day after a political commentator who chronicles police conduct posted the video to YouTube. It has been viewed nearly 33,000 times.
You can watch the video below (Warning: Very strong language)
The department said it is working to gather facts and identify all officers shown in the five-minute clip. So far, none has been reassigned or taken off the street, a police spokesman said.
Lawyer Berto Elmore, who agreed to represent Carroll after a friend sent him the video, said he was frightened and upset by the officers' conduct.
"Arrest somebody. You don't have to beat him like that. You don't have to keep punching and punching and punching," Elmore told The Associated Press. "I'm at a loss. These guys get handcuffed and still get beat."
The president of Philadelphia's police union did not return a telephone message Thursday.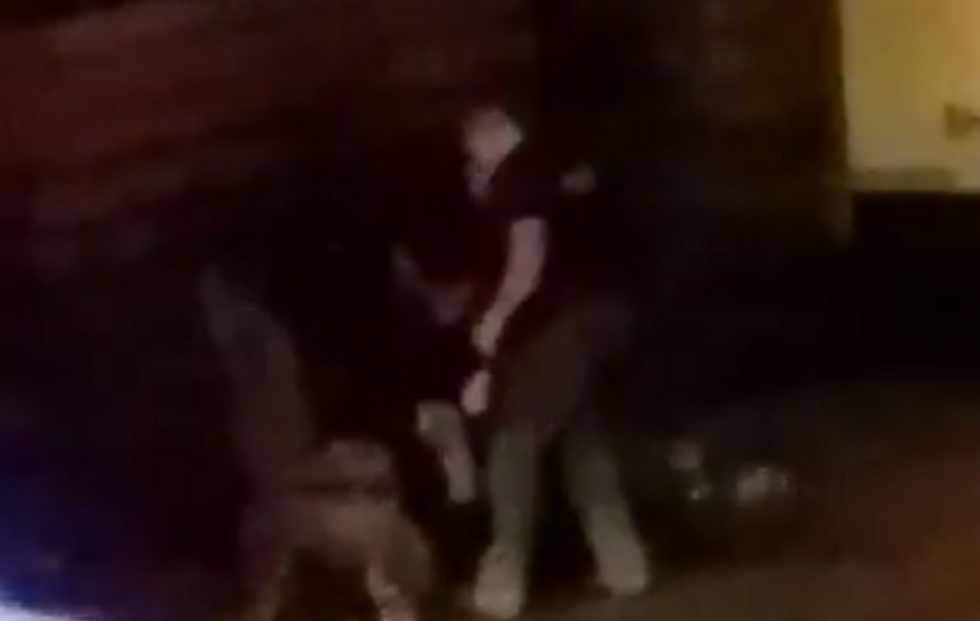 (YouTube)
Mayor Michael Nutter said Thursday afternoon he had not yet viewed the video. He said any complaint about officer conduct "will be taken very, very seriously."
The Philadelphia District Attorney's office said it normally does not enter a police conduct case until internal affairs completes its investigation. Occasionally, spokesman Cameron Kline said, internal affairs may ask prosecutors to empanel a grand jury or provide other assistance.
The video of Carroll's arrest has reignited criticism of the Philadelphia police Department, which has had more than 400 officer-involved shootings since 2007. They include one last December in which the department changed its original story that the man killed was reaching into his car for a gun.
The police department said Thursday that preliminary information about Carroll's arrest showed he had fought with plainclothes officers who stopped him just before midnight on April 3 for a suspected drug violation.
Police said he had crack cocaine - less than a quarter-once - in his possession at the time.
"These are all allegations that always come up," Elmore said. "Like that has something to do with being beaten. What relevance does that have to police behavior?"
Carroll bit one officer in the thigh, hand and arm and another on the forearm, police said. They were treated at a hospital for bleeding bite wounds and released, police said.
Several more waves of officers arrived - about two-dozen in all, according to the video. Some are shown striking Carroll with their hands and feet and cursing at him. He is heard yelling for his grandmother. At one point, an officer is heard saying, "Here comes the Taser," but police said Thursday there was no indication one was used.
"Since when does it take that many police officers for one young man? He's not packing. He's unarmed. He's not running. He's lying on the ground saying, `I'm sorry, I'm sorry,'" Jasmyne Cannick, the Los Angeles-based political commentator who posted the video, said. "It was like some kind of team sport was taking place in that video, and Tyree Carroll was the ball."
Cannick said Carroll's family sent her the video.
Police said Thursday that officers completed use-of-force reports at the time of Carroll's arrest "indicating the strikes and control holds" they used. Despite that, Cannick said, the department appeared to take no action until the video appeared online.
"It's videos like this that give all cops a bad rap," she said.
After Carroll was subdued and placed in a police vehicle, police said he intentionally banged his head against the protective shield. He was treated at a hospital for unspecified injuries and released into police custody.
A judge last month ordered Carroll to stand trial on charges stemming from the arrest, including drug possession, aggravated assault and resisting arrest. He remains jailed, court records show.
Elmore said Carroll still is in pain.
"It's frightening for an African-American male because at any time we can be that individual getting beat," he said. "It doesn't matter if you're a doctor, a lawyer or Barney the bum."
---