A UPS driver in California is show on newly released surveillance video kicking a small dog after running up to him.
Tim Paulsen, the owner of the dog, said the driver kicked his 10-year-old small white dog Patch in the chest. The incident occurred May 28 at a senior living facility in Atascadero, where Paulsen was working at the time. Paulsen had brought his dogs there to console Alzheimer's patients, KSBY-TV reported.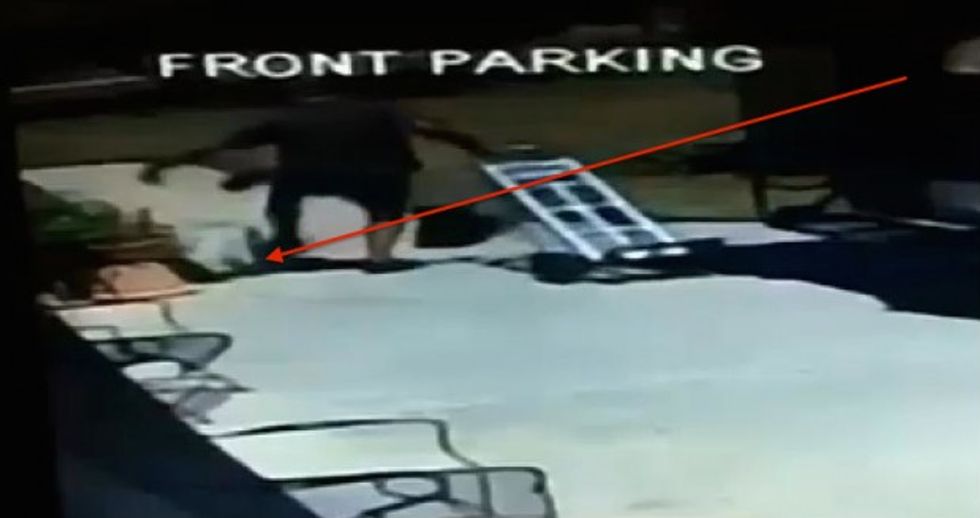 Image source: KSBY-TV
It didn't appear that the tiny pooch posed any threat. As you can clearly see from the video, the driver just hauls off and swings his foot at the dog as the animal then scrambles to get away.
But it didn't end there. Moments later, you can see Paulsen confronting the driver but then getting pushed back toward the grass.
"He didn't say a word. I wasn't prepared for it. He just clobbered me twice, not once," Paulsen told KSBY-TV.
As for the dog, Paulsen thought the driver had killed him.
"When I saw him spin around like that, I thought, 'Oh man, that's it,'" Paulsen said.
Paulsen's fist did appear to be clinched but he told KSBY-TV that because he didn't consider the posture to be a threat because he had his thumb out.
When asked about the video, a UPS representative said the company encourages its drivers to be cautious of dogs that approach them but in now way does it condone the behavior of the driver seen in the video. Cardillo said the company took "disciplinary action" against him and called the customer to apologize.
Meanwhile, Paulsen has filed battery charges against the driver and is urging UPS to "reevaluate."
"He definitely needs some sort of therapy," Paulsen said of the driver.
(H/T: KXAS-TV)
–
Follow Jon Street (@JonStreet) on Twitter