Wisconsin Gov. Scott Walker said he wants to bring his formula of fighting and winning big fights as a conservative in a blue state to the nation, as he formally announced his candidacy for president Monday.
"It doesn't matter if you're from a big city, a suburb or a small town, I will fight and win for you," Walker said at his campaign launch in Waukesha, Wisc. "Healthy or sick, born or unborn, I will fight and win for you. Young or old - or somewhere in between - I will fight and win for you."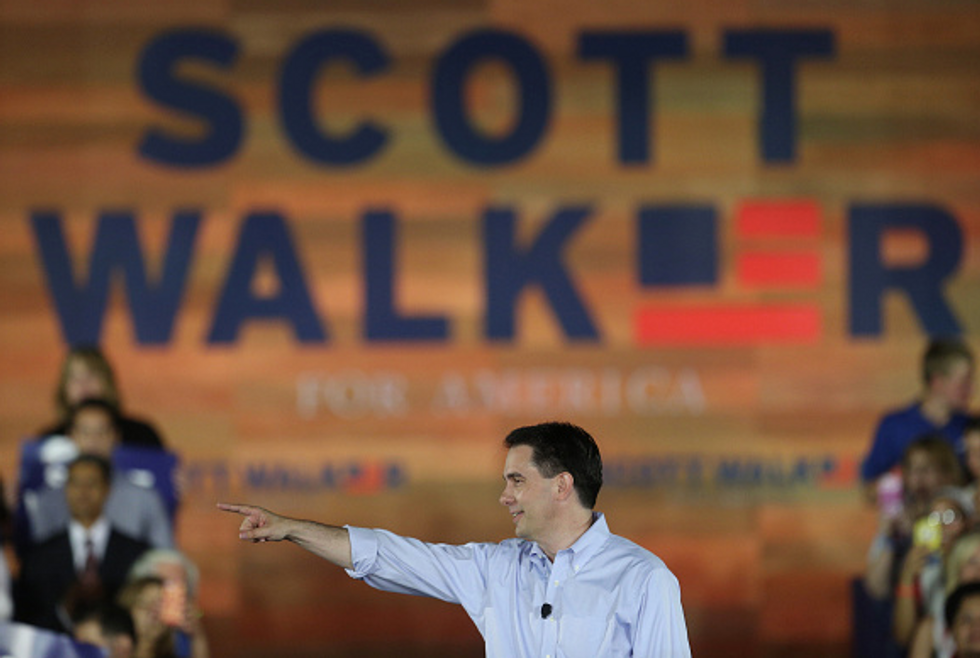 Scott Walker, governor of Wisconsin, takes the stage during his presidential campaign announcement in Waukesha, Wisconsin, U.S., on Monday, July 13, 2015. Walker officially unveiled his White House campaign in the same venue where he celebrated a June 2012 victory as the first U.S. governor to survive a recall election, after successfully confronting organized labor the previous year. (Luke Sharrett/Bloomberg via Getty Images)
The sentiment reflected how Walker sought to separate himself from the crowded GOP field in a campaign video released Monday morning.
"In the Republican field, there are some who are good fighters," he said in the campaign video. "They haven't won those battles. There are others who won elections but haven't consistently taken on the big fights. We've showed you can do both."
He became the 15th Republican to formally announce he is running for president, though it has been well known for some time that the battle-tested governor would enter the race after he has soared to top-tier status in most GOP polls.
Walker has become a superstar among conservatives, first for taking on powerful public employee unions in Wisconsin to reign in the public pension spending and to curb some union organizing rights for state employees. It prompted a statewide recall effort, a campaign that gained national attention and heavy spending from organized labor across the country. For Walker, it meant a higher political profile and an established a national donor base. He won a decisive victory as the only governor in American history to survive a recall election, and went on to win re-election again in 2014.
"Since I've been governor, we took on the unions and won," he said.
He added that the signed bills defunded Planned Parenthood, allow concealed carry and to enact voter ID.
"If our reforms can work in a blue state like Wisconsin, they can work anywhere in America," Walker said.
He talked about a numerous issues, that he said would focus on safety in national security, reforming government and growing the economy.
"First, we must repeal ObamaCare," Walker said. "That's right, repeal the so-called Affordable Care Act entirely and put patients and families back in charge of their health care decisions - not the federal government."
"We need a President who will approve the Keystone pipeline on the very first day in office and then seek to level the playing field for all sources of energy," Walker continued.
Hitting Obama on his biggest key issue of late, Walker said, "We need to terminate the bad deal with Iran on day one, put in place crippling economic sanctions and convince our allies to do the same."
Walker holds a comfortable lead in in most recent Iowa polls ahead of the first presidential caucus there, though he is trailing former Florida Gov. Jeb Bush in most polls in New Hampshire.
Many analysts view Walker as a candidate who could unite the conservative wing of the Republican Party with the establishment. Even before becoming governor, Walker was elected county executive in the heavily Democratic Milwaukee County.
He has come under fire for changing his position on immigration, having shown openness to a "pathway to citizenship" for illegals in the past. Earlier this year, he called for taking a look at even legal immigration based on what is in the best interest of American workers. His proposal for $220 million in state funding for a new Milwaukee Bucks arena has also drawn the ire of some conservative critics.
During the announcement speech, he further delved into education, and denounced the controversial Common Core standards
"I believe that every child deserves access to a great education - be it in a traditional public, charter, choice, private, virtual or home school environment," Walker said. "We want high standards, but we want them set at the local level. No Common Core. No nation-wide school board."
This post was updated to include Walker's remarks at his announcement speech Monday evening.