White House press secretary Josh Earnest said it's Republicans who will have explaining to do if they oppose an agreed nuclear deal with Iran.
"When it comes to a tough sell, I think the tough sell is going to be on the part of Republicans if they try to tank the deal," Earnest said Monday. "It could be a tough sell to say the United States should back away from its international agreements. It could be a tough sell to say that the United States should throw away the best possible avenue to prevent Iran from obtaining a nuclear weapon."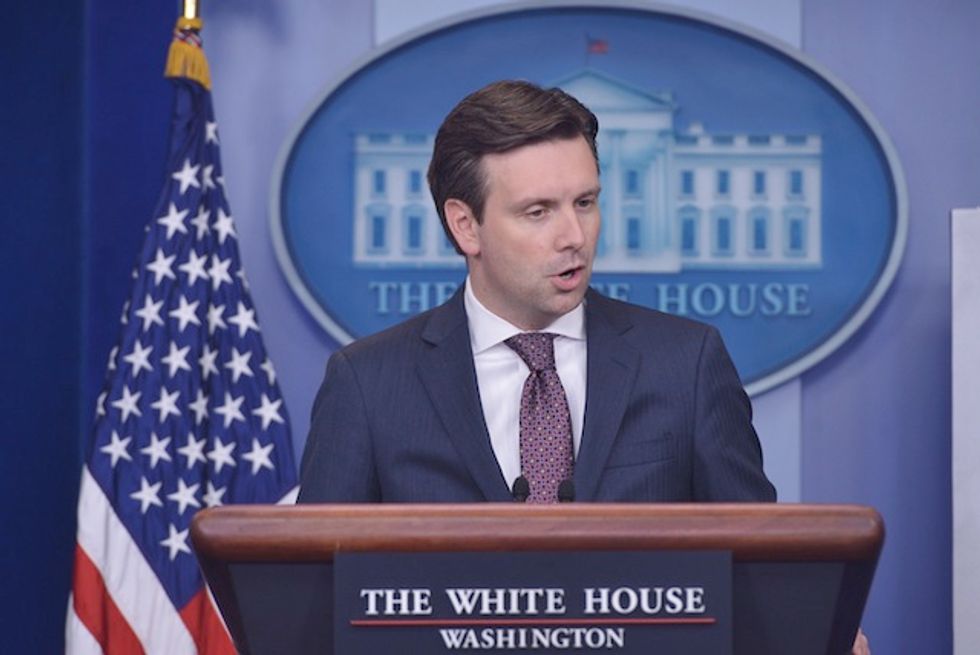 Mandel Ngan/AFP/Getty Images
Earnest was responding directly to Senate Majority Leader Mitch McConnell (R-Ky.) who said on Fox News Sunday that an Iran deal would be a "hard sell" in Congress.
"It could be a tough sell to suggest we should undermine international sanctions that have been so effectively put in place thus far," Earnest continued. "It could be a tough sell to say, you know, if we can just foreclose the diplomatic option and only consider the military options before us."
U.S. negotiators are leading five other countries Vienna talks with Iran. The political framework would prohibit Iran from building a nuclear weapon, but would allow it to continue to enrich uranium for energy purposes. The framework requires international inspections and would also include a gradual easing of economic sanctions on the country.
Earnest said Monday that an agreement has not yet been reached, after several deadlines have been extended since the initial June 30 date to hammer out details of the framework reached in April.
The Joint Plan of Action that has put limits on Iran's nuclear program will remain in place if a deal is not reached, Earnest said.
"Obviously, if we could reach a final agreement, then that would supersede the interim agreement but the talks continue in Vienna," Earnest said. "What I can tell you is that they have made genuine progress in these talks."
Earnest said he is unaware of any plan for negotiators to take a break from talks before reaching a deal.
"Even over the last week or so, there is important progress that has been made. Some sticking points remain unresolved," Earnest continued. "The president has directed his team to remain engaged and participated in conversations as long as those conversations remain useful."