President Barack Obama said sometimes the punishment doesn't fit the crime and expressed strong optimism about achieving criminal justice reform because of the bipartisan support behind getting rid of lengthy sentences for non-violent drug offenders.
He even went on to quote Sen. Rand Paul (R-Ky.), when addressing the 106th NAACP National Convention in Philadelphia Tuesday.
"As Republican senator and presidential candidate Rand Paul has said, to his credit he has been consistent on this issue, 'imprisoning large numbers of non-violent drug offenders for long periods of time costs the taxpayers money without making them any safer,'" Obama said.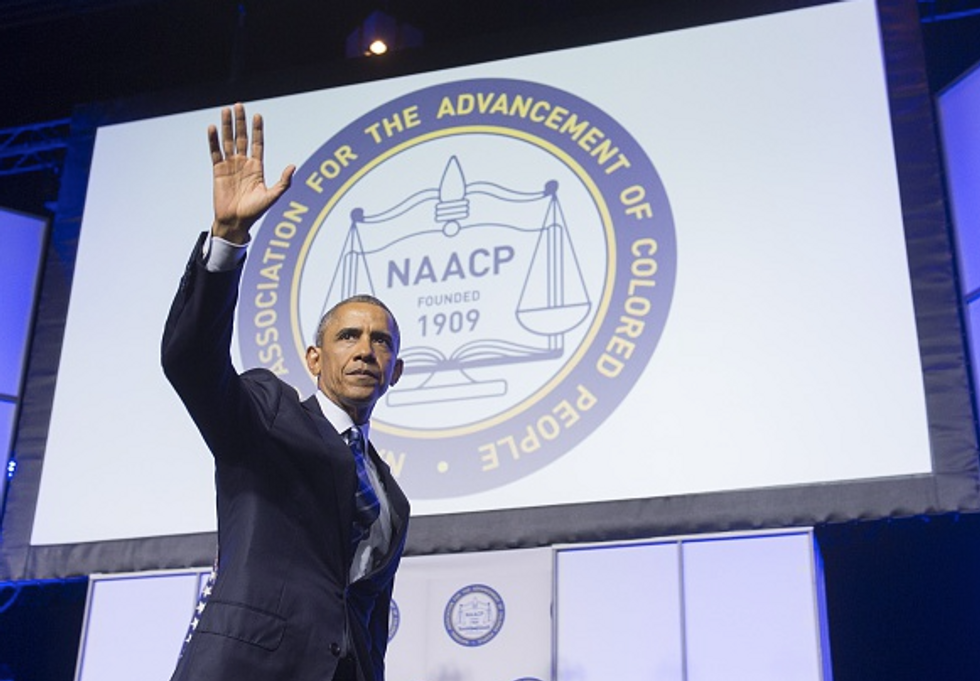 President Barack Obama waves after speaking during the NAACP's 106th National Convention in Philadelphia, Pennsylvania, July 14, 2015. AFP PHOTO / SAUL LOEB (Photo credit should read SAUL LOEB/AFP/Getty Images)
Obama called for spending more on what he said would reduce crime, such as universal pre-school and summer jobs programs for youth; reforming laws on mandatory sentences; making prisons more about rehabilitation and finding alternatives to incarceration and doing away with solitary confinement.
"And, if people have served their time, they should be able to vote," Obama added to applause.
Obama delivered remarks on the issue one day after he commuted the sentences of 46 criminals in federal prison. It also comes two days before he becomes the first sitting president to visit a federal prison. He is going to a facility in Oklahoma where he will also do an interview with Vice.
Obama said that blacks and Latinos make up 30 percent of the population but make up 60 percent of incarcerations in the United States. He added that in 1980, there were 500,000 Americans incarcerated. Today that number has reached 2.2 million.
"Our criminal justice system isn't as smart as it should be. It's not keeping us as safe as it should be," Obama said. "It's not as fair as it should be. Mass incarceration makes our country worse off and we need to do something about it."
Reforms have momentum, from a bipartisan coalition in Congress, while states as politically divergent as Texas and California have passed reform, Obama said.
"Even now, when – let's face it – it seems like Republicans and Democrats cannot agree on anything, a lot of them agree on this," Obama said. "In fact today in Washington, Republican senators from Utah and Texas are joining Democratic senators from New Jersey and Rhode Island to talk about how Congress can pass meaningful criminal justice reform this year. That's good news."
Obama further made a fiscal argument for the changes since it costs $80 billion per year to keep so many Americans in prison.
"For $80 billion, we could have universal pre-school for every three-year-old and four-year-old in America," Obama said. "For $80 billion, we could double the salaries of every high school teacher in America. For $80 billion we could have new roads and new bridges and new airports, job training programs, research and development. We're about to get into a big budget debate in Washington and what I couldn't do with $80 billion. For what we spend to keep everyone locked up for one year, we could eliminate tuition at every single one of our colleges and universities."