A Texas judge who opposes same-sex nuptials said that he won't join other clerks and public officials who are refusing to grant gay weddings, but there's a catch: he's asking individuals seeking marriage ceremonies — both gay and straight — to sign a form acknowledging his stance.
The form for Judge James R. DePiazza, justice of the peace in precinct two in Denton County, states that the Supreme Court's Obergefell v. Hodges gay marriage decision doesn't change his "personal convictions on marriage," though it also notes that he won't turn gay couples away.
"Judge DePiazza prefers to NOT conduct same-sex ceremonies, but will not decline anyone who chooses to schedule with him," it reads.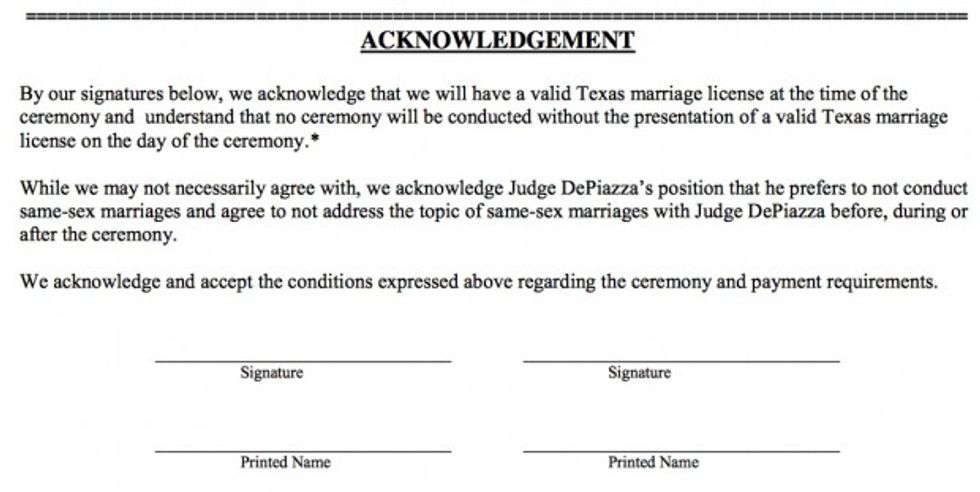 Screen shot from Denton County website
An acknowledgment that participants are asked to sign has a clause that reads: "While we may not necessarily agree with, we acknowledge Judge DePiazza's position that he prefers to not conduct same-sex marriages and agree to not address the topic of same-sex marriages with Judge DePiazza before, during or after the ceremony."
DePiazza initially considered no longer conducting marriages before instead opting for the form, the Houston Chronicle reported.
The judge, who is a Catholic, told the outlet that he implemented the document to let those seeking marriages from his office know exactly where he stands.
"There are some couples of the same sex who don't want to be married by someone who doesn't believe in same sex marriage," DePiazza said.
The document has sparked debate, despite the judge's claim that he created it in an effort to also respect gay couples' wishes. The form also bans pictures or video from being taken during ceremonies, though the courtroom can be used afterward for this purpose.
"It's my personal belief that individuals who want to conduct a marriage ceremony understand my convictions," DePiazza told WFAA-TV. "If it was me, I would prefer to have someone who was in agreement with me."
(H/T: Mediaite)