A New York City police officer was on her way to work early Wednesday morning when a suspect jumped her and tried to grab her purse, police told the New York Daily News.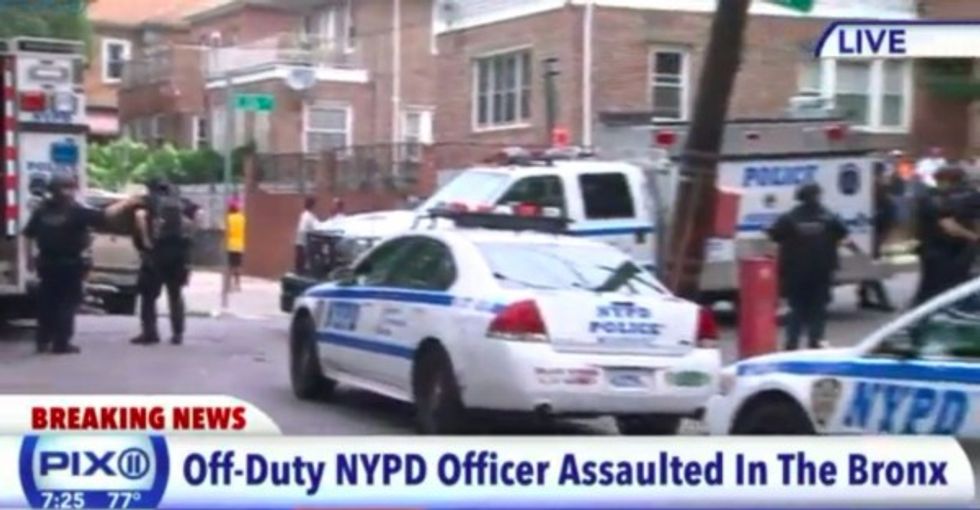 Image source: WPIX-TV
The officer was entering her vehicle at her Bronx building when the 5:35 a.m. attack began. But after the 41-year-old mother of two refused to give up her purse, the suspect repeatedly punched her.
"She was putting up a struggle, but this guy got the best of her," building supervisor Robert Rodriguez, who saw surveillance video of the attack, told the Daily News. "He kept punching her and punching her, but she didn't want to let go of her purse."
The Manhattan officer with more than a decade of experience tried to grab her I.D. card from her purse, but her purse fell to the ground, dislodging her 9mm service weapon. The suspect picked it up and ran away, police told the Daily News.
Rodriguez told the paper that the thief doesn't live in the building but has been seen hanging around outside.
"Around 4 to 6 p.m. every night, I go downstairs to ward off people who linger around the building, sometimes trying to smoke weed," Rodriguez told the Daily News. "What really gets me is that he hit a woman. You can't hit a woman. It's like hitting your mother. It's a sin."
WPIX-TV reported that the suspect is black, between 16 and 18 years old, and police are looking for him.
The officer refused medical attention.
—
Follow Dave Urbanski (@DaveVUrbanski) on Twitter