The prank known as "swatting" is not only costly — taking up law enforcement's time and resources to investigate false reports — but it can have disastrous consequences for the prank's target as well.
Take 20-year-old Tyran Dobbs of Ellicott City, Maryland, for example.
According to WJLA-TV, five months ago a Howard County Police SWAT team descended upon his apartment building. In the incident, Dobbs was shot with a rubber bullet in the face and has had to endure surgeries as a result.
It turns out Dobbs did nothing wrong. He had been "swatted."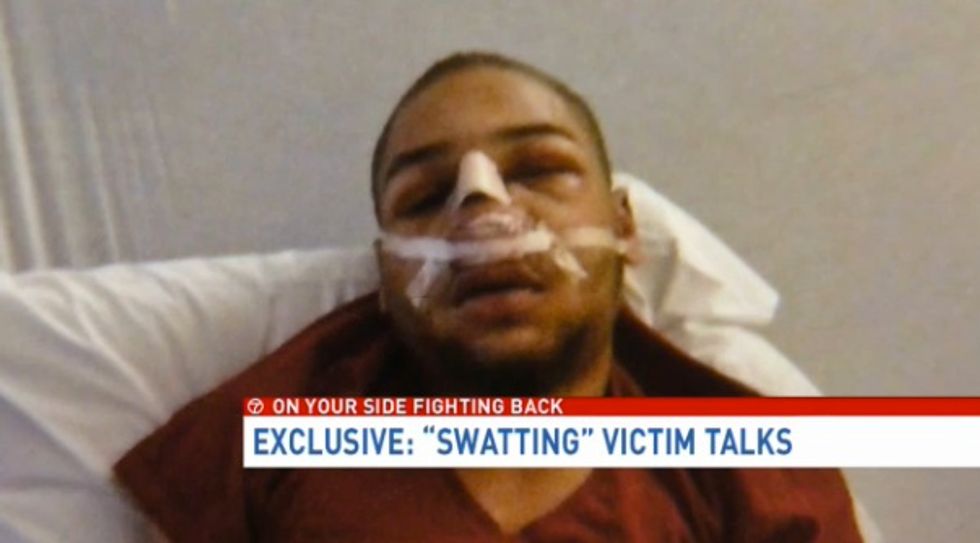 Tyran Dobbs was shot by a rubber bullet in the face after a "swatting" call was made and brought a police SWAT team to his apartment. (Image source: WJLA-TV)
Swatting is when someone makes a 911 call reporting an emergency — a fake one — that would result in a response from law enforcement.
According to the FBI, swatting incidents often result in the "deployment of SWAT units, bomb squads and other police units, as well as the evacuations of schools, businesses and residences."
The initiators of swatting calls face federal charges and in a 2013 post from the FBI about the issue, Dallas Division assistant special agent Kevin Kolbye said it was "only a matter of time before somebody gets seriously injured as a result of one of these incidents."
Like Dobbs.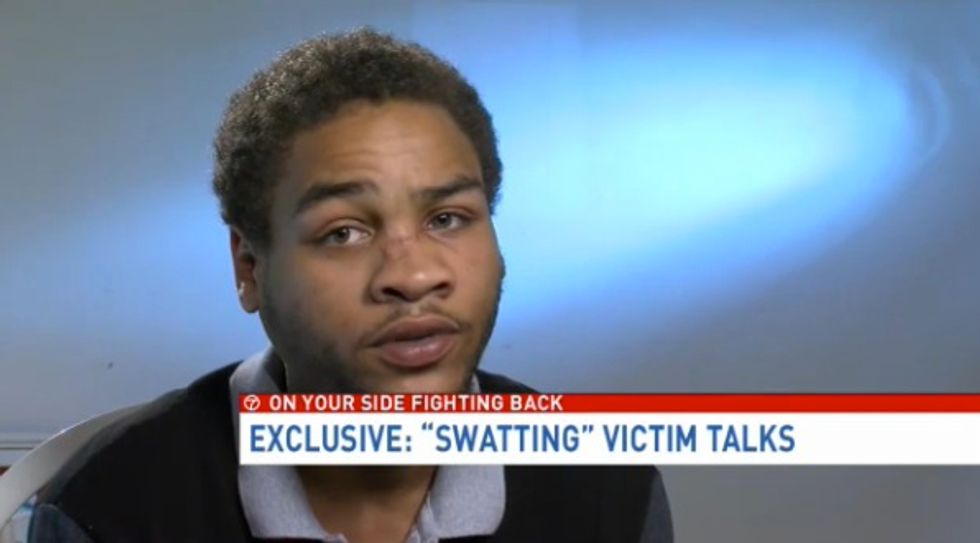 Dobbs wants the county to pay for the medical treatment he's had to receive after he was hit with two rubber bullets in an incident involving a 911 call he never made. (Image source: WJLA-TV)
In a statement to WJLA, Howard County Police explained that a man who claimed to be Dobbs called 911, saying he had three hostages that he would execute if he were not given $15,000 within a certain timeframe.
When police arrived at the apartment, they determined that Dobbs was inside with three women. Contacting the person on the lease, Dobbs' father, the police were told he could not tell if the threat was credible or not and noted that there was a gun in the apartment.
Here's more from the police statement regarding Dobbs' activity before he came outside that might have made police more wary, despite a woman telling them from the front door that there was no emergency:
Mr. Dobbs was initially seen by officers crawling on the floor in front of a sliding glass door. He then came to the open slider twice and both times police repeatedly directed him to come out and show his hands. Mr. Dobbs did not comply and walked back into the apartment.

The third time he walked to the glass slider, Mr. Dobbs was given the same direction by officers,  but kept his hand inside the lower front of his shirt. Before he could again walk back toward the  bedroom, where a woman who may be a hostage was still inside, he was struck with two non-lethal rubber rounds to prevent him from retreating back inside the apartment.
The police statement went on to say that after Dobbs was struck, treated and transported to the hospital, the apartment was searched with consent and a small amount of drugs were found.
"This is relevant because after interviewing all of the parties involved, it was clear that the people inside the apartment believed the drugs were the reason the police were at the residence. They were not aware of the alleged hostage situation. It was determined that this was a swatting incident," the statement said.
This was the fourth case of swatting in Howard County within a year, the other calls determined to be a hoax without any physical harm done, according to police.
The police department is still trying to track down who was responsible for the false call in Dobbs case. He not only wants justice for this person but from the police department as well.
"I want them to pay for my medical damages and I want whoever shot me in my face to have to do some time," he told WJLA.
The police statement said the county's attorney's have received his lawyer's request for medical payment for his injuries.
"Without question, Mr. Dobbs was targeted and victimized in this case by a fellow online gamer," the police stated. "The incident demonstrates the extreme risk and danger of swatting calls. Police would urge  people to never provide personal information online. Police also urge anyone who is contacted  by officers to comply with their requests, even if they are confused about the police presence and don't know or understand the reason for the contact."
An FBI agent, who said swatting was a "widespread issue" around the country, told WJLA if you're threatened by another person saying they're going to "SWAT your house," you should tell your local police department.
"So if they are responding then they will know that there is a threat out there, and they will try to make a telephone call into the house and see what the situation is before responding with a SWAT team,"Jennifer Leonard in the D.C. field office advised.
Watch WJLA-TV's report: