Tensions were high Saturday as members of the Ku Klux Klan descended on South Carolina's Statehouse to protest the removal of the Confederate flag, but not everyone let the heat and their differences get the best of them.
A powerful photograph captured by photographer Rob Godfrey is quickly going viral on social media, showing a black police officer helping an elderly man, who is reportedly a member of the KKK group. According to Mic, South Carolina Director of Public Safety Leroy Smith was helping the man to safety amid intense southern heat that was around 95-97 degrees Fahrenheit.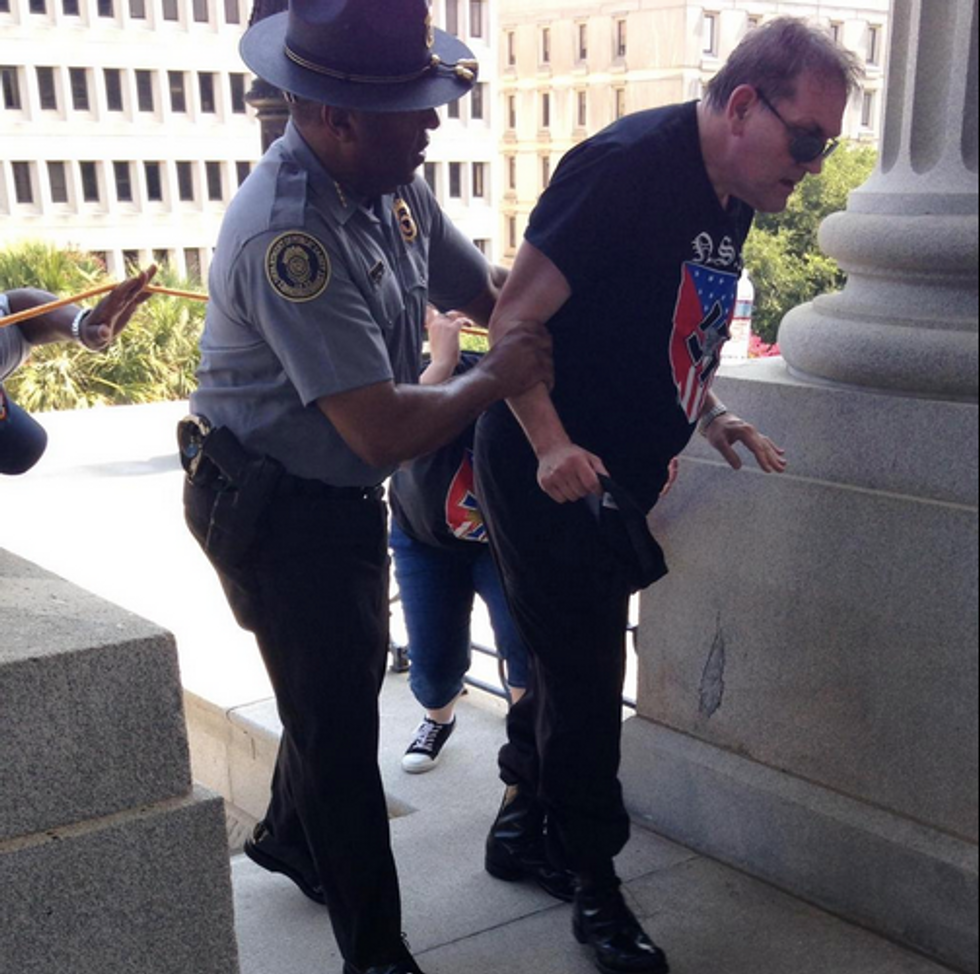 Image via Twitter @RobGodrey
Those on Twitter have both condemned and praised Smith for his act of humanity. 
not an uncommon example of humanity in SC: Leroy Smith helps white supremacist to shelter & water as heat bears down. pic.twitter.com/GoF23r3mRe

— Rob Godfrey (@RobGodfrey) July 18, 2015
@RobGodfrey @SydneyKayBee that cop is a cornball

— BIG BO$$ ROCK 106 (@YNGPfounder) July 18, 2015
@bijancbayne @RobGodfrey @robgreeneII This kindness chokes me up. How do SC people find that well of caring in the midst of so much hatred?

— Elizabeth (@ElizabethQuaker) July 19, 2015
@RobGodfrey Just curious..Put this in reverse..Would that White Supremacist have done that for Officer Smith at a Black Panther rally? Hmmm

— Fay Wright (@faygirl51) July 18, 2015
@RobGodfrey THIS is the epitome of black forgiveness. And it needs to stop

— HotepHeartbreak (@Seven_Duece) July 19, 2015
@RobGodfrey Amazing! I couldn't find it in my heart and I am white. https://t.co/iBBjiMXeio

— Eileen Swank (@eileenswank) July 19, 2015
@RobGodfrey @TampaBayFamily I'm going to be judged but I think when blacks help these idiots they are stupid!

— ChaseWillFightMe (@Kim__Barbie) July 18, 2015
@RobGodfrey Another reason why I will be living in South Carolina in 3 weeks from my entire life in the North!!! My family and I can't wait!

— Thomas Sullivan (@rtcsullivan) July 19, 2015
@RobGodfrey @FrankCraig That cop deserves a service award.

— steve (@atzlz) July 18, 2015
@RobGodfrey @SCDPS_PIO That is not just any officer. It is the DIRECTOR of the Department of Public Safety leading us all by example.

— Robert Bogan (@RobertEBoganEsq) July 18, 2015
Mic reported that the KKK group was the North Carolina's Loyal White Knights, fueling many South Carolinians argument that rising tensions over the past month has largely stemmed from those outside of the Palmetto State.
During yesterday's protest, the KKK faced off against a New Black Panthers protest which resulted in rock-throwing at one point. The rallies, which attracted around 2,000, culminated in five arrests on charges that included breach of peace, disorderly conduct and simple assault.