Taking to Facebook, actor Ashton Kutcher blasted New York City Mayor Bill de Blasio's stance on the car service Uber, calling de Blasio's opinion "corrupt shortsighted politics."
"I am beside my self with the regulation that Mayor DeBlasio is trying to force upon Uber and the citizens of NYC," Kutcher wrote on his Facebook page Monday night. "He clearly has his pockets lined by the cab co's."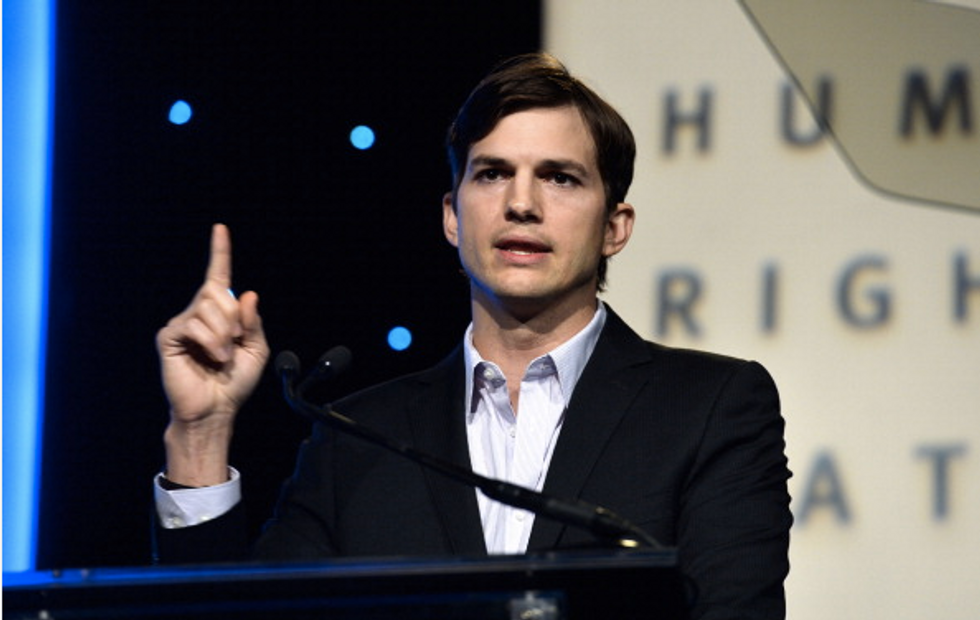 BEVERLY HILLS, CA - NOVEMBER 12: Actor Ashton Kutcher speaks at the Human Rights Watch Voices For Justice Dinner at The Beverly Hilton Hotel on November 12, 2013 in Beverly Hills, California. (Photo by Frazer Harrison/Getty Images)
"He talks about discrimination in NYDailyNews OP ed but has no idea how hard it is for ethnic people to get a cab. He talks about protecting drivers but has no idea about the people who drive for Uber to subsidize their income," Kutcher continued. "He talks about congestion but doesn't even recognize that Uber is a fraction of a fraction of the traffic in the city. He talks about data but fails to recognize that he has none. He's trying to regulate a problem with out providing a single solution other than putting a target on a companies back so he can keep getting political funding from another. This is the kind of corrupt shortsighted politics that is destroying innovation."
Kutcher also condemned de Blasio's proposed legislation on his Twitter page over the past few days.
Potential Uber cap scam. If you had received 1/2 million $ from cab co's would that effect your vote? @deBlasioNYC http://t.co/XLyGzESWtc

— ashton kutcher (@aplusk) July 19, 2015
Mayor @BilldeBlasio supports NYC bill that destroys job opps for over 10K NYers by placing strict limits on new for-hire vehicle licenses

— ashton kutcher (@aplusk) July 20, 2015
Mayor @BilldeBlasio + the City Council are supporting NYC bills that take jobs away from over 700 ppl who had signed up to drive since 6/15

— ashton kutcher (@aplusk) July 20, 2015
This bill would limit #UberNYC'S ability to add supply to ~200 new cars over the next year, vs. the 10K that are needed to keep up w/ demand

— ashton kutcher (@aplusk) July 20, 2015
Proposed bill singles out 1% of the 2.7M cars+trucks on NYC roads every day, ignores buses, bikes, pedestrians + yellow or green cabs.

— ashton kutcher (@aplusk) July 20, 2015
Please do not prejudge the solution before fully examining the question, Mayor @BilldeBlasio #UberNYC

— ashton kutcher (@aplusk) July 21, 2015
Proposed bill will result in longer wait times, higher prices, and less reliable service for riders. #deBlasioUber pic.twitter.com/5R2ToNhEuY

— ashton kutcher (@aplusk) July 21, 2015
Rationale for this legislation and its methodology are inherently flawed #UberNYC

— ashton kutcher (@aplusk) July 21, 2015
Uber NYC General Manager Josh Mohrer also slammed de Blasio's editorial in the New York Daily News, during which the Democratic mayor claimed Uber needed more regulation in order to protect riders and New York City.
"When your proposal to cap Uber was introduced, your administration said it was about congestion. The op-ed you wrote in the New York Daily News this weekend was about everything but congestion," Mohrer said in a letter to de Blasio. "If you have new concerns, we want to discuss them, face-to-face, and invite you to do so in a live-streamed conversation so all New Yorkers can watch."
WNBC-TV reported that de Blasio has declined Uber's offer to debate, claiming that he doesn't debate private corporations.
"Uber is a multibillion-dollar corporation, and they're acting like one," he said.
Last week Uber added a new feature to its app just for New Yorkers — the de Blasio option. When riders choose that option, the black bar reads "SEE WHAT HAPPENS" with a long wait time. When riders click the bar, the app says "This is what Uber will look like if NYC passes Mayor de Blasio's Uber cap bill passes." It then encourages riders to email de Blasio and city council members in support of the company.
De Blasio and his administration have proposed legislation that would halt the expansion of ride-hailing companies such as Uber and Lyft, saying that Uber could be contributing to congestion, pollution and traffic in the city.