President Barack Obama used a playful environment Tuesday to hit his critics on the Iran nuclear deal.
He said that critics of the deal apparently think, "if you had brought Dick Cheney to the negotiations, everything would be fine," according to the White House press pool report.
"The Daily Show" will air at 11 p.m. on Comedy Central.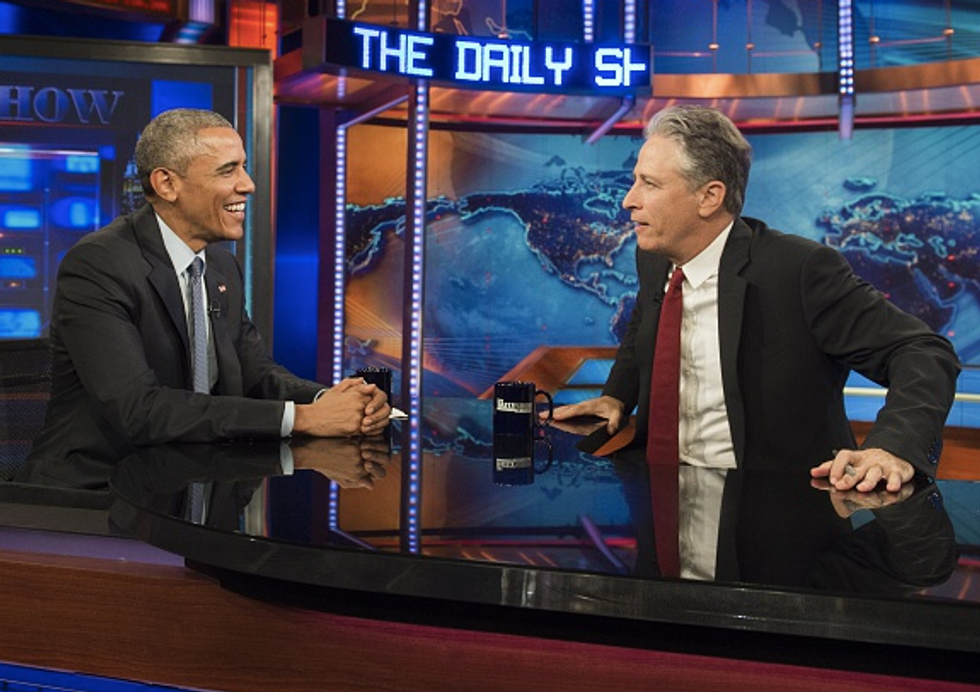 President Barack Obama speaks with Jon Stewart, host of 'The Daily Show with Jon Stewart,' during a taping of the show in New York, July 21, 2015. The appearance marks Obama's third time on the show as President, and seventh overall. AFP PHOTO / SAUL LOEB (Photo credit should read SAUL LOEB/AFP/Getty Images
Daily Show host Jon Stewart joked that the United States had tried various approaches in the Middle East, including sending 100,000 troops and arming militant groups, then added, "This new thing, you called it earlier, diplomacy. That sounds interesting."
Obama asserted that Iran nuclear deal reached last week between Iran, the United States and five other countries does not mean the nation will no longer be a problem.
"We have taken off the table what would be a catastrophic problem if they got a weapon," Obama said.
Stewart went on to ask Obama about the news media.
"The media are a bunch of different medias. Some get on my nerves more than others," Obama said. "What I'm most concerned about is not that it's unfair or too tough on government …but that it gets distracted by shiny objects and doesn't always focus on the big tough choices and decisions."
Obama went on to add, "It's tough for folks to do an hour-long special on urban America. …tough to get everyone focused the same way."
So, Obama said, "We then operate in sound bites."
Before the president came on the set, Stewart was doing his opening monologue and then said, "no one's interested in my bullsh-- tonight. Let's get right to it I'm sure there's a fundraiser he has to be at."
Obama was in fact scheduled to attend a Democratic fundraiser at a private residence in New York after the taping.
The president and the comedian mused about Stewart's pending departure from the program that Obama has appeared on seven times, four of them as president.
"I can't believe you're leaving before me," Obama told Stewart. "I'm going to issue an executive order. Jon Stewart cannot leave the show. It's being challenged in the courts."
The joke reportedly got laughter.
"To me this is a state's rights issue," Stewart responded.
Stewart talked about Obama's streak of late, with the Iran deal, a win on the Supreme Court on Obamacare, and fast track trade authority.
"Do you feel like seven years in— "
Before he could complete the question, Obama, "I know what I'm doing?"
"Yeah you're figuring this thing out," Stewart said.
Obama eventually joked, that you get better as "you get experience."
---