After a Los Angeles area Nissan dealership filmed a commercial featuring at least one employee beating a Donald Trump piñata, Nissan is making sure customers know it didn't condone the advertisement.
As originally reported by TheBlaze, Nissan of Van Nuys general sales manager Martin Cuevas starred in the commercial, during which he promoted a 2015 Nissan Altima while he and an unidentified man beat a Trump piñata. The commercial refers to a replica of the controversial Republican contender for the 2016 presidency, as "Trumpudo" — potentially a play on the Spanish adjective "trompudo" which means thick-lipped or blubber-lipped.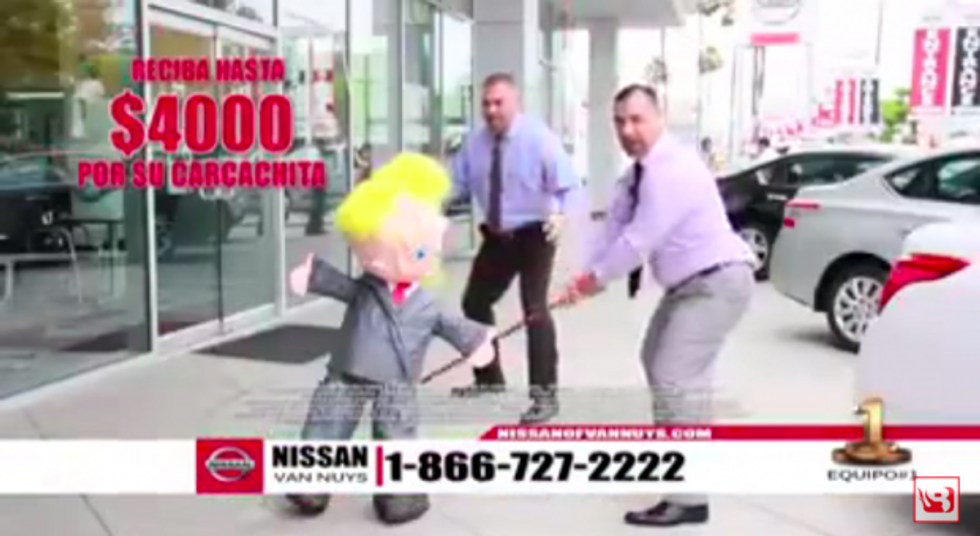 Image via YouTube
In a statement sent to TheBlaze, Jeannie Whited, senior manager of Nissan Brand Communications, said the company operates as an independent business with more than 1,200 dealerships around the country.
"We expect our dealers to establish advertising that is responsible and respectful and represents the best interest of the Nissan brand," the statement said. "As a company, Nissan respects the right of both individuals and private businesses to practice free speech in a responsible and respectful manner. In this case, we find these advertisements to be neither responsible or respectful, and we do not condone what they represent."
According to Cuevas' Facebook page, the commercial was to air on KVEA-TV, an affiliate of the Spanish-language Telemundo. Employees at the station have not been able to confirm if the commercial has yet aired.
Messages for Cuevas at the Nissan dealership have gone unreturned, and other managers at the car dealership have declined to comment on the advertisement.
Whited was not able to confirm if Cuevas was still employed at the company or not.
Disgruntled Nissan customers have complained on the dealership's Facebook page, which does not appear to have been active since November 2014.
Employees at the California Nissan dealership aren't the only people to promote products — or events — by using a Trump piñata. Ignacio Padilla, treasurer of the Santa Fe County Republican Party, organized an event last week with some literal Trump bashing, according to the Albuquerque Journal.
And according to KHOU-TV, a Texas piñata shop has been taking special orders from customers requesting Trump piñatas.
Watch the Van Nuys Nissan commercial, which was obtained exclusively by TheBlaze, below.